Twickenham Blackout
The All Blacks are coming and Miles Harrison can't wait to see the likes of Dan Carter play at Twickenham.
Last Updated: 30/11/12 1:38pm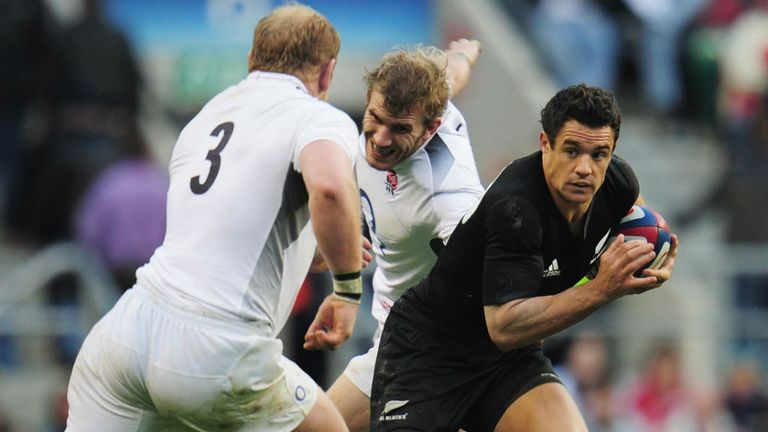 This is it. England have one more chance to measure themselves up against the best teams in the world and they don't come better than New Zealand.
The current World Champions have seen off all-comers since lifting the Webb Ellis trophy in 2011, and apart from one draw against Australia, are closing in on 21 games unbeaten.
They may have 788 caps compared to England's 206 and are coming to the end of a long season, but this All Black side will want to finish their tour on a high.
England were hoping to go into this game with at least a win against either Australia and South Africa - and arguably should have beaten both - however New Zealand are on a different level and while it would take a brave man to bet on England to win, Miles Harrison says they could push the All Blacks all the way.
The only change for England has been Owen Farrell to start in place of the injured Toby Flood. There has been a lot of talk about who should play fly-half for England but would Farrell have started if Flood was fit?
MILES REPLIES: There was a call for Farrell to start; there were also calls for Freddie Burns to start and, had he not been injured, I'm sure there would have been calls for Toby Flood to try and finish the job as England have been getting close but not crossing the line in the last couple of weeks. England fly-half has become a big area of debate. To quote Stuart Lancaster though, Owen Farrell has 'a lot in the bank' with England and once Flood was injured, he was always going to get the nod. He is only a young man but he has done an awful lot this year in an England shirt, albeit at the start of 2012 and, whilst England are investing in him for the future, they also regard him as the current man. Importantly, Farrell was the next in line and if they had not picked him after he had sat on the bench over the last three games then that would have sent a very strange message to him. Whether he would have started if Toby Flood was fit is an irrelevance now but the argument over whether Freddie Burns should be starting certainly is not.
Yes, as you say Miles, there has been a huge call for Freddie Burns to start but would that have been the right call for the toughest challenge of the Autumn?
MILES REPLIES: I think if the Flood injury had happened before any other game, then the call for Burns to start would have been even greater. However, England are playing against the world champions, a side who have not lost in their last twenty matches. Freddie Burns is playing exceptionally well but there has to be a consideration as to whether this is the right time to expose him from the off. So, I can understand why Farrell has won the starting vote.
However, there is a counter argument. Of the two, Burns is the form ten in the Premiership and maybe England missed a trick by not putting him in at the start of the series against Fiji to get him used to international rugby. But, then again, Flood would have wanted that game to get him up and running for the bigger tests to come. It's not easy is it! Also, let's not forget that if you are on the bench then you could be called up at any time because of injury, so you could say that if you are going to have him on the bench this Saturday then why not start with Burns? As regular readers of this column may know, I was disappointed not to see Burns in the original squad and I have been championing his cause for some time and, even more so, after that terrific performance for Gloucester against Leicester recently. Yet, in that match, there were clear moments too when he didn't look quite ready for international rugby. Since then, his consistency has been good though and he has done it alongside Billy Twelvetrees, who is another player that I feel could make the grade with England - the ball playing twelve with a long place kick to boot. But, to parachute them both in this weekend against the All Blacks would have been not only brave but arguably foolhardy for the reasons stated above.
All these arguments are going around at the moment but ultimately it comes down to Stuart Lancaster to make the call and, on Saturday, we will find out how Farrell goes and, should he come on, how Burns goes. It's fascinating.
The good news for England is that Courtney Lawes is on the bench. What does he bring to the team?
MILES REPLIES: There is no debate here; I think it is a unanimous view that Courtney Lawes brings something special to England. Speaking to the Kiwis this week, they really do rate him and there was only one reason that he has not been involved in this series and that was down to injury. He has only had sixty minutes of rugby for Northampton since returning from injury and understandably he was a little rusty according to Dorian West, his coach at the Saints. There is no room for rustiness this weekend though and is that 60 minutes enough? He won't be expected to play the whole of the match but he could have an important part to play when he comes on. Going back to my previous point about Burns and the bench, Lawes too could find himself on the pitch within the first minute if an injury occurs. Asking him to come back and play 79 of the eighty against the All Blacks would be asking a lot of him. But, fingers crossed, England can bring him on when they want to and, on that basis, he is definitely the right selection on the bench.
This All Blacks side just seems to get better and better. How good are they?
MILES REPLIES: It's amazing, isn't it, how there is always a transition happening in the New Zealand side? The team has a natural evolution with some great players coming to the end of their careers being replaced by really good players who quickly get the experience alongside the seasoned pros to become great players as well. I think this side is still to get to that point of being considered the best that there has have ever been but that is a debate that you can never really reach a final conclusion on anyway. They have won a World Cup with all that pressure and have gone on and beaten just about everyone since then - just that one draw against Australia. As I say, if you compare this team man-for-man with other All Black sides, you could argue that there have been better New Zealand teams but, remember, some of those sides did not deliver what they really wanted and that was a World Cup. The feeling about this squad is that now that the World Cup monkey is off their back, they might just roll and roll and there may not be such a thing as a World Cup blip for New Zealand. Back to back World Cups is their aim and they are certainly on the right track. I don't think the gap between the AB's and the rest has ever been as big as it is at the moment.
It is great to see Dan Carter back for the All Blacks, isn't it?
MILES REPLIES: Yes it is. I was gutted when he was ruled out of the World Cup because as a rugby fan you want to see the best players. I just didn't get it when some said that they were pleased to see him out because it evened things up. He is undoubtedly one of the greatest players ever to play the game. He has this capacity, like all great sportsmen and women, to make it look so easy when it is clearly not. There is always a level in sport when someone is better than you - be it at school level or club level or even international level. It means no one should ever get too big for their boots in sport - that is why sport is such a great character builder. But, this is true until you get right to the very top of the tree and people like Dan Carter come along - once in a generation masters of their craft. Enjoy them when they are here and he is so humble with it.
What do England need to do to compete against this All Black side?
MILES REPLIES: They need to all play on or around optimum, maybe the best they have ever played and they need to channel all that frustration from losing to South Africa in the manner in which they did, in a positive way. They also need to genuinely believe that they can win - deep down - and only they will know that. If that all comes together, it will put England in a very good place but it still won't lead to victory against the best team in the world.
They also need to hope that New Zealand have a rare off day too. The All Blacks are so much further down the line in their development than this England team at the moment. But, England also need to show the clarity of thought and the creation of opportunity that has been lacking in their play this Autumn. And, the precision to take advantage of the openings has not been there either. Without this, they won't win the game, full stop. It is what New Zealand do so well. They pounce when it is on and they have the skills, everybody in the side, not just the backs, everybody, to grab the points when they are on offer. England are at home and, this is sport, there always has to be a chance. Unlikely, I know, New Zealand can do things at the moment that England are dreaming of, but I never say never in these situations - thankfully sport is not like that. I look forward to your company for one last Twickenham hurrah this Autumn - where have the last four weeks gone?