In safe hands?
Miles Harrison says that Northampton's destiny is in their own hands as they face Worcester on Saturday.
Last Updated: 04/05/12 1:14pm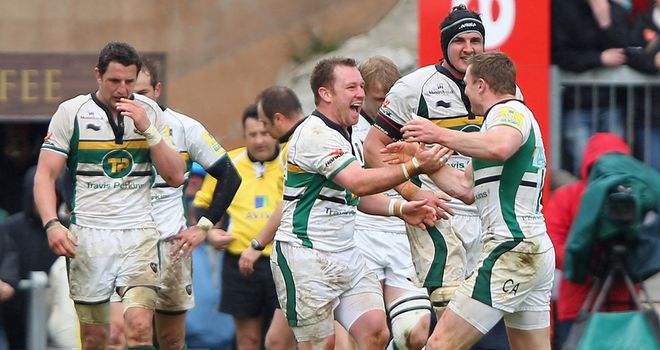 Northampton take a one-point advantage over the Exeter into their final game of the regular season against Worcester on Saturday.
A win would secure them that final spot in the play-offs as they look to better their semi-final exit of last season. Memories of what could have been last season will still haunt Saints after they lost to Leicester in the Premiership semi-final and then a week later lost a thrilling Heineken Cup final to Leinster.
Despite injuries to key players, Saints are still favourites to take that fourth place but Miles Harrison says they cannot afford to take it for granted.
Northampton fans should be pretty confident ahead of this game shouldn't they Miles? After all, Worcester have only won once on their travels all season.
MILES REPLIES: Yes - the Saints fans should be confident but what they will want to see is a performance that suggests their side can do it come the semi-final. Worcester actually have a good record over the years against the Saints in the Premiership but it is a while now since they won at Franklin's Gardens and, given that away record this season, a home win will be most people's pick this weekend, Saints fans or not.
Saints have been pretty vocal about how they are tired of being the nearly men - what do they need to do to go all the way?
MILES REPLIES: In short, they need to produce the rugby that we know they can, at the most important time of the year and for 80 minutes too. They need to show that they are fresh. There have been signs lately that things are moving back to where they should be - notably that win down at Exeter which has put Northampton's destiny in their own hands. But, the Saints squad will be aware that they need to produce more of that and for the eighty minutes, times three, if they are to walk away with this title at the end of this month. Northampton were 'nearly men' last year when they were too 'tired' to finish the job. This season injuries and suspensions to key players may prove to be the key factor but the squad should not be as tired as they look to come up on the rails this time.
What are the dangers of writing off Worcester? They are a proud side and will be disappointed with their performance against London Irish.
MILES REPLIES: The danger of writing off Worcester can be summed up in two words - Richard AND Hill! Having that man in charge won't permit Worcester minds to go anywhere else this weekend. However, Worcester have injury concerns of their own and, ultimately, no matter how much Richard will try and fire up the side, they don't have anything concrete to fight for. Yet, we have seen that can free up sides to produce something dangerous. But, Worcester have struggled to score tries this season, they have the lowest try total in the league and it would be a big turnaround, to say the least, if that changed this weekend.
Mathematically, Exeter still have a chance to claim that fourth spot ahead of Saints, but it sounds like you can't see anything else other than a play-off spot for Northampton, Miles?
MILES REPLIES: I can't see Northampton losing this and therefore claiming their place in the play-off positions. But sport does strange things and if things are going against Northampton come the hour mark and Exeter are showing themselves to be the never-say-die side that we know they are in their game at Saracens, then you never know. But, rest assured, we will bring you all the action from around the country as the final places in this year's Premiership table are decided, top and bottom, you will be right across the issues.