The perfect storm
Wasps must brace themselves as unbeaten Harlequins chase a 10th league win, says Miles.
Last Updated: 02/12/11 1:11pm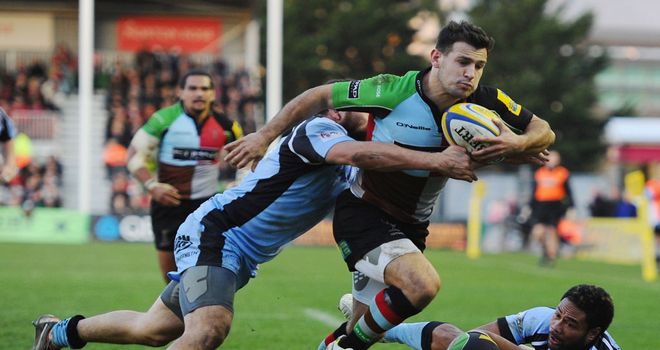 After back-to-back league defeats, things get no easier for London Wasps on Sunday when they host Premiership leaders Harlequins.
Dai Young, only a handful of months into his Wasps tenure, remains without several key players due to injury but can at least take heart from the club's form in the Amlin Challenge Cup, where they sit top of Pool 3 after two games.
Quins are also unbeaten in Europe, currently second in Pool 6 of the Heineken Cup behind Toulouse on points difference, but it is their form on the domestic front - where they are unbeaten this season - that is making the bigger headlines.
Can they make it a perfect ten out of ten this weekend? We asked Miles Harrison...
How damaging would a third straight league loss be for Wasps ahead of the European double-header against Bayonne?
MILES REPLIES: Yes, London Wasps don't want to be heading into that Bayonne game on the back of another defeat but they should be throwing all thoughts of Europe out of the window. Wasps need this win for the sake of their Premiership position and ambitions and nothing else. Also, there has and always will be, the local derby element to this match - if these two were playing in a lower league, this game would still matter. So, Wasps should forget Bayonne and I am certain they will.
Dai Young's options are already hampered by injury. How good a job is he doing under the circumstances and how much - if at all - is the uncertainty of the club's possible sale affecting things on the pitch?
MILES REPLIES: Indeed, the Wasps injury list is a long one and that makes life difficult. But, I never like focussing too much on the injuries when assessing a team; this is a physical game and every squad, at some point of the season, will be able to point to who is on the treatment table - nobody is different in that respect. It is the off-the-field uncertainty which worries me more because, no matter what coaches and players say, whatever the sport, off-the-field unrest does filter through to what happens on the field. Sporting clubs are no different to any other organisations in life in that respect. What is happening at Wasps, with the sale of the club, must be unsettling for all concerned. But, to answer your question on Dai Young - well, he is much respected in the game and most people would surely agree that, given time and the right backing, he is bound to make a team move in the right direction.
Conor O'Shea was pleased with the way his Quins side stood up to Newcastle's physical game last week. Can they expect another battering on Sunday?
MILES REPLIES: The derby element on its own will guarantee that and how Wasps would love to be the ones to stop the Quins' bandwagon from rolling. We mentioned Europe earlier and the thought of Bayonne being on the horizon for Wasps but, perhaps, we should focus more on Toulouse and that looming thought for Quins. The league leaders have to try and get their thoughts of playing the French giants back-to-back over the next two weeks out of their minds. I think for them therefore it is more of a mental challenge than the one facing Wasps when it comes to Europe. However, if the going gets tough on Sunday, Quins have this remarkable winning run to fall back on - they know how to win at the moment alright!
Nick Easter challenged the more inexperienced members of the squad to stand up against the Falcons and they did but do Harlequins have the strength in depth to do that week in, week out for the remainder of the season?
MILES REPLIES: Nick Easter obviously said some powerful things and they worked and it does look as if the Quins have the mind-set just right. However, the point of depth is the big one - can they fight on two fronts for nine months? Many of the great and the good have failed to do so in the past but Quins' philosophy this season has been not to look too far ahead and it has certainly worked so far. And, this week is the classic case of not wanting to look even as far ahead as next week. We know Quins are top of the pile but Sunday could be a very revealing game as to exactly where Quins are really at. If they win this one, which should be decidedly tricky, then they can throw themselves at Toulouse with as much confidence as you can possibly imagine at this stage of the season.