Ireland coach Declan Kidney was a relieved man after his side thrashed Argentina 46-24 in Dublin
Last Updated: 24/11/12 6:23pm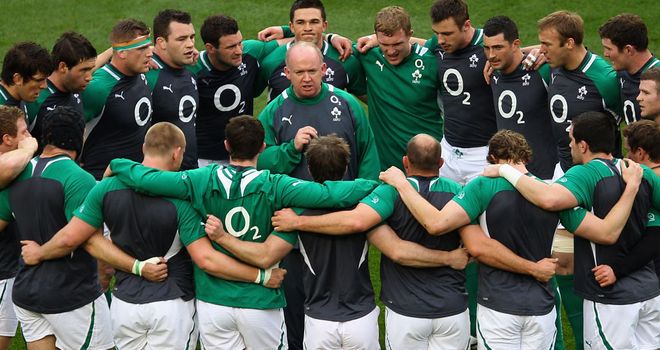 Kidney was delighted to run in seven tries against Argentina
Ireland coach Declan Kidney was a relieved man after his side thrashed Argentina 46-24 in Dublin.
The home side secured their place in the second tier of seeds for the 2015 World Cup draw on Monday week by running in seven tries against a surprisingly flaccid visiting defence.
"You never in your wildest dreams think you'll score that number of tries against Argentina," Kidney said afterwards.
"If things click then this team is well capable of doing that. Today was one of the good days.
"We didn't get too despondent after the defeat by South Africa two weeks ago and we won't be too disappointed following today.
"This result makes it a whole lot easier to go to training the next time we meet. If I say it was the complete performance I'll be out of a job! There's always things to be done."
Debutant Craig Gilroy, who impressed on the wing and snatched a try, also drew praise from Kidney, who said of the Ulsterman: "I've been saying for the last two weeks they've been a pleasure to work with," he said.
"The enthusiasm of the young lads who've come in - not just Craig but some of the others who didn't play - has been infectious.
"We talked about having a go at it and that paid off. We picked off a few good tries and that confidence flowed through the team."
Captain Jamie Heaslip added: "I'm proud of the effort and professionalism shown by everyone. It was a great shift from this group of players.
"This year there have been plenty of missed opportunities in Tests, so we've been introspective to see what we can change."