Lewsey backing for Johnno
Former England back thinks current boss can bring success
Last Updated: 26/10/11 5:35pm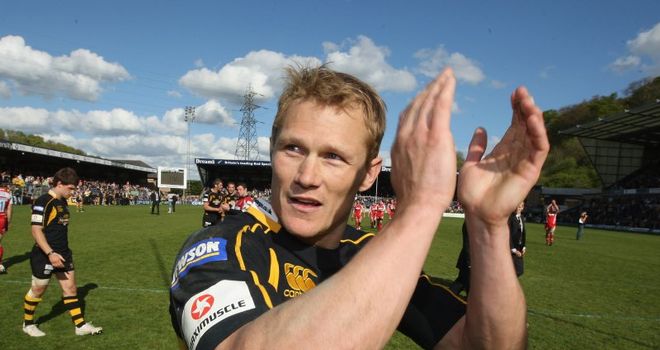 Josh Lewsey: Thinks Johnson should be given some more time
Former England international Josh Lewsey believes Martin Johnson will lead the national side to success if he is given enough time.
Lewsey, who was a part of the 2003 World Cup winning side which was captained by Johnson, retired from international rugby in December 2008 after winning 55 caps.
Johnson went on to become the team manager of England but his side suffered an underwhelming quarter-final exit at the hands of eventual finalists France at the latest World Cup in New Zealand.
That has prompted calls for him to be axed from some quarters, but Lewsey has faith in his former team-mate.
He said: "I'm away from it now so I'm not in the right position to comment on whether Johnno is the right person to lead England forward, but I know he will be hurting hugely from the performances on the field and some of the alleged behaviour off it.
"He is a good man and was a phenomenal captain and a good guy and I have no doubt that if given long enough he would ultimately have success."
The former Wasps star also believes Sir Clive Woodward could still have a part to play within the Rugby Football Union, as reports continue to suggest the former head coach is in-line for a return to the fold as director of rugby.
Review
Woodward guided England to their World Cup triumph eight years ago and has since had roles with Southampton Football Club and the British Olympic Association, but could soon be tempted back to rugby.
"I know the RFU are doing a review now and I'm sure they will come away with the right result," Lewsey added.
"Clive is a very professional guy and has always been very innovative in his ideas. He is exceptional and is a visionary but there is a review taking place that will come to its own conclusions."
England's disappointing World Cup did not diminish Lewsey's enjoyment of the competition during the latter stages.
He said: "I was really pleased with the overall tournament. I think the four best rugby-playing teams were in the semi-finals.
"I'm clearly disappointed in England's performances.
"I think in general Wales played some cracking rugby and the values they illustrated on and off the field, the way they conducted themselves, spoke volumes for what the game of rugby is all about.
"New Zealand have been the best team for the past few years and they got pushed all the way so great drama to the end."