Heaslip: Bright future ahead
No.8 believes Ireland are on the verge of "doing something great"
Last Updated: 14/02/11 3:16pm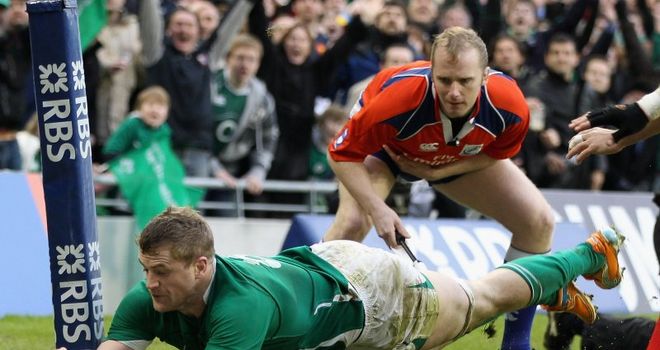 Heaslip: Believes Ireland are on the verge of ¿doing something great¿
Jamie Heaslip believes Ireland are on the verge of "doing something great" after he turned down the chance to move to France.
Heaslip rejected offers to play in the Top 14 next season to sign a new three-year deal with the IRFU.
And Heaslip, who also committed to Leinster at the same time, is confident Ireland have a bright future ahead despite the 25-22 RBS Six Nations defeat to France.
"We have a very good team which is on the cusp of playing its best rugby since I've been involved," said Heaslip. "There's no lack of belief or confidence in the squad.
"We have an exceptionally good group of players here in Ireland.
"One of the main reasons for me staying around is that we're on the verge of doing something great and playing some unbelievable rugby.
"There's no question of us losing faith in our style because we're still scoring tries."
Scoring tries certainly wasn't a problem for Ireland in Dublin as Fergus McFadden, Tomas O'Leary and Heaslip all crossed.
Frustrating
However Les Bleus made their hosts pay for a high error-count, something that has hurt the Irish squad.
"We scored three tries to one but still lost the game. It was frustrating. The penalties and turnovers hurt us," said Heaslip.
"We played some very good rugby and there are lot of positives. We created chances and caused problems with the ball.
"But the negatives are that when you score three tries to one you usually win the game.
"We have a very good defensive system and I have faith in it. We can take a lot of pressure from teams.
"We cause problems in the tackle and are very strong in the ruck area.
"On the flip side, in attack we can be very good. We played a very expansive game when we got close to their 22.
"We got quick ball and when we did that we scored tries. We're fairly comfortable on both sides of the coin."