Quartet commit to Leeds
Clark, Burrell, Paul and Nilsen agree two-year deals at Headingley
Last Updated: 07/05/08 1:44pm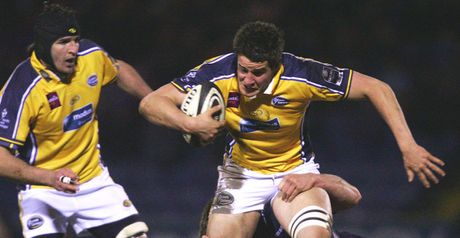 Clark: New deal
Leeds Carnegie have revealed that four of their highly-rated youngsters have agreed new deals at the club.
England Under-21 flanker Calum Clark, 20-year-old centre Luther Burrell, 21-year-old back row Danny Paul and 23-year-old hooker Phil Nilsen have all agreed new two-year deals at Headingley.
Clark made a huge impression on the Premiership, making 15 appearances despite still being just 18.
For Paul, the deal comes after he made a successful switch to the back row having initially been a prop.
A second shoulder reconstruction surgery a year ago saw Paul advised to switch positions and the move has paid dividends.
Paul said: "To be honest, I am over the moon to have agreed a new two-year deal, I'm ecstatic!
Development
"I have got another two years when I can hopefully take the club forward and get us back into the Guinness Premiership. I got my shot this year because of injuries and my own form and hopefully next year I can make sure that I am playing week in, week out to build on my development this year.
"Jon Dunbar has been great for me this year. I had played in the back row in the A team before this year but playing in the Guinness Premiership is completely different. Jon has been like a personal coach for me and what I have achieved this year is thanks to the people who have been around me and I know I still have a long way to go.
"This time last year after the shoulder operation I was a bit down in the dumps but hopefully I can go from strength to strength now and being offered a new two year contract gives me confidence that the people in charge have faith in my ability."