Classy Clermont
Despite impressive performances from Saracens, Munster and Toulon, Stuart Barnes cannot see anyone beating Clermont Auvergne to Heineken Cup glory.
Last Updated: 09/04/13 12:51pm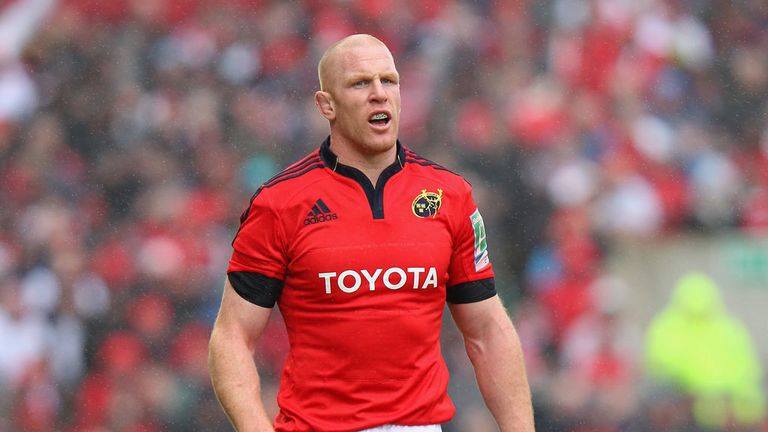 Toulon laid the 'mercenary' jibe to bed in no uncertain terms on Sunday.
It was not the quality of their performance which stood out but their reaction to the hardest fought of victories against a Leicester team that played with the ferocity of tigers and did nothing to let their club's name down in defeat.
Toulon had slightly more in the way of explosive individual skill and power and they had their 'Jonny'. His defence and leadership was good, his kicking from another world. He did miss one drop goal off his right foot from 45 metres but otherwise the metronomic manner in which he punished any Leicester indiscretion was awe inspiring.
The sense that he could not miss grew kick by kick and with it the determination of Toulon to drive the game deep into Leicester territory. They got there but only just and the fact that the Tigers kept them try less was more credit to the visitors than a question mark surrounding the hosts.
There are no question marks surrounding their commitment either. Mat Giteau leapt into the arms of Bakkie Botha, Juan Martin Fernandez Lobbe surged around the pitch hugging the next team mate. The players children were on the field as their owner raised the decibel levels from the crowd, dancing wildly in the middle of the pitch.
Yes, the Toulon team is well remunerated but the partisan nature of support demands loyalty to and beyond the wallet. The sight of the Toulon team bus arriving at the ground is surely one of the most exhilarating in the professional game. The sleek team bus wends its way through town as cars move out of its way, honking their horns in support as they make way.
Thousands of fans await the arrival of the gladiators as they emerge at the corner of the stadium. Every available balcony and perch is packed as the flags wave and the choruses grow in intensity. Leicester heard the arrival as they focussed their pre match thoughts on the pitch. Hugely emotional and utterly inspiring, the welcome is worth a few points and the blood and commitment of players fortunate enough to experience such an environment.
To watch Giteau, one of Australia's most subtle midfield operators throw himself into the aggressive Tiger tacklers was to see someone with more than a financial interest in his employment. No more mercenary jibes, folks, Toulon is a real and passionate club. Whether they would have beaten Leicester at Welford Road is another question. I suspect the answer is no. Whether they would have won had Tom Croft not been injured in the 38th minute is another matter for conjecture. He was undermining the Toulon line out and playing a Lion of a game. We will never know but Lions fans must be hoping that this particular Tiger will be available for Australia. He adds an element no other Lion flanker has with his spring and speed.
Munster magic
Earlier in the afternoon another Lion was experiencing more positive emotions. Paul O' Connell gave all of himself in an immense effort as Munster turned the tide back and knocked out Harlequins. England's champions are in turmoil for the first time since Conor O'Shea took over with three straight league losses and now a home Heineken elimination against a team most people expected them to beat.
Most people did not understand either the importance of psychological strength (lost to Harlequins when they needed it most) or the value of experience. Munster stopped messing around with their zealous pursuit of a new wide game for which they are not quite ready and knuckled down to taking Harlequins on in the tight. O'Connell could now emerge as a Lions captain while Ronan O'Gara gave a metaphorical two fingered salute to his legion of knockers as he did the Wilkinson job for Munster.
If O'Connell leads Munster to the final he is Superman. Clermont Auvergne in Montpellier would be up there with the very greatest of Munster victories. In their centenary year the Auvergne men are playing a level up from their domestic form and appear unstoppable. They are humans and beatable but I am struggling to see who or how they will lose in Europe.
Maybe Saracens can apply an even better pressure game than the one that suffocated Ulster. Certainly they will fancy their chances with Toulon forced from their fortress to Twickenham for the semi-final. They are a much better team than the one battered by Clermont in last season's quarter final but then again so are Clermont.
English woes
In the Amlin, the English clubs endured real suffering with the West Country taking the brunt of a French storm as mid table Biarritz overwhelmed Gloucester and struggling Stade Francais eased clear of Bath at the Recreation Ground. Wasps loss to Leinster was more expected. They will be stronger for their experiences next year although the home fans will have enjoyed seeing another burst of tries from their wingers. Whether Rob Kearney may have seen his Lions hopes dented by Christian Wade is an interesting one. Was the Irishman floundering or the Englishman flying? And should we be praising the positives rather than knocking the negatives?
Overall there was no doubt that the positives overwhelmed the negatives in what was an enthralling weekend of European rugby with Clermont the star side and O'Connell the main man.
Stuart answers your emails...
Got a question for Stuart? Email him at skysportsclub@bskyb.com or use the feedback form below...
Hi Stuart, I thought Jonny Wilkinson was terrific against Leicester. Not only was his kicking terrific but his defence and leadership was crucial in taking Toulon into the Heineken Cup semi-finals. Is it too much to hope that Warren Gatland will take him on the Lions tour?
Cheers Steve
STUART REPLIES: Steve, Wilkinson was indeed superb with far more distance with his punting than we saw for a long time post 2003. If he could play like this every game he would be a contender although Toulon's presence at the top of the French league damages his chances. Let's see how he goes against Saracens. Another command performance and WG might think twice about his French policy as he is not blessed with top class tens.
Hi Stuart, Clermont were the class act of the Heineken Cup quarter-finals. But do you think anyone can stop them - and if so who?
Pete
STUART REPLIES: Pete, The only team likely to stop Clermont is Clermont. I cannot see Munster testing them and that leaves Saracens and Toulon. Neither will be easy but CA has an extra gear in Europe that marks them out as clear favourites. The Heineken Cup is in their own hands.
I thought Chris Ashton took his try superbly against Ulster and has been a touch harshly treated by the critics in recent months. But with Simon Zebo and Tommy Bowe returning at the weekend, and Wales' Alex Cuthbert and George North certain to go, who do you see being the Lions wingers this summer? Or will there be a left-field pick?
Phil
STUART REPLIES: Chris Ashton took his try well but WG cannot change his mind every time someone excels/mucks up. Thw Welsh duo are certs and I think Zebo and Bowe are the next likeliest. Wade could just be a midweek wild card but I would not bet on it.
Hi Stuart, It was a magnificent afternoon at the Stoop for us Munster fans. With Paul O'Connell and Ronan O'Gara turning back the clock, do you think we can get past Clermont and claim another Heineken Cup?
Cheers Tony
STUART REPLIES: Tony, It is always great to see men like POC and ROG reminding us of their class but enjoy the semi. You are not winning in Montpellier, Clermont Auvergne are a different class to Harlequins, I fear they might be all too much for your lads.