Quins tie down Chisholm
Full-back commits through to end of 2014-15 campaign
Last Updated: 03/09/12 9:32pm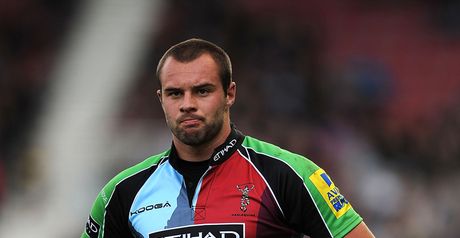 Ross Chisholm: Quins youngster has scored five tries in 24 senior appearances the club
Harlequins full-back Ross Chisholm has signed a two-year extension to his contract.
The 21-year-old was one of the stars of Quins' Aviva Premiership success last season and the champions have now retained him until the end of the 2014-15 season.
Chisholm has scored five tries in 24 senior appearances, and director of rugby Conor O'Shea is delighted the academy product has committed his future to the club.
"Ross is another prodigious talent who is always looking to improve and become a better player," said O'Shea.
"He does what we all like to see in a full-back which is that first and foremost he does his basics well.
"Once you have that you have a chance as a full back, but when you run lines and have the pace that Ross has, then you can compete anywhere across the back three."
Chisholm added: "I've benefited from my time in the academy, in particular the hours spent working on basic skills and tactical awareness.
"We're a relatively young squad with great confidence and belief in each other. It is going to be another exciting year for the club and I am delighted to have re-signed."