Evans - Right result needed
Scotland back determined to take his chance against England
Last Updated: 01/02/12 10:01pm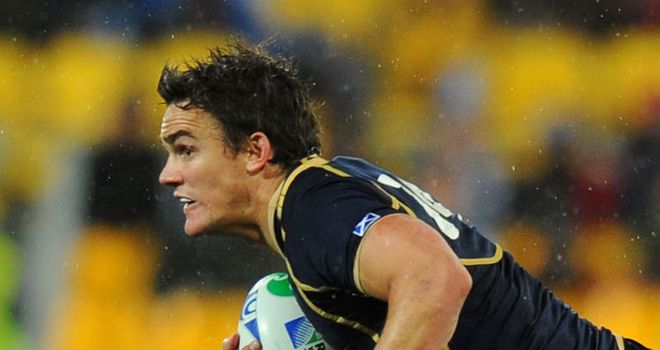 Max Evans: Insists that Scotland must deliver on their potential against England
Max Evans is determined not to let any more opportunities slip through Scotland's fingers in their RBS Six Nations opener against England on Saturday.
Scotland have lost their last two encounters with England by narrow margins, with the eventual champions claiming a 22-16 win at Twickenham in last year's competition.
Then in the World Cup at Eden Park, Andy Robinson's side were again close to victory but fell to a 16-12 defeat that helped eliminate them from the competition in the pool stages.
Evans claimed a neat solo score in the former encounter and is now keen to ensure that England do not go away with their first win at Murrayfield since 2004.
"The big talk we've had within the squad is that now's the time to deliver," he said.
Involved
"The big talk we've had within the squad is that now's the time to deliver."
Max Evans Quotes of the week
Of his own contribution, he added: "I would have liked to have been involved a bit more and maybe featured more on the try count going into the Six Nations.
"But maybe it's time for me to peak during the Six Nations and start getting some tries. I'm feeling confident and optimistic."
Evans also wants to help Andy Robinson claim a first victory over the side he used to coach, the current Scotland boss having seen his side draw in 2010 and lose twice last year.
"They were a missed opportunity and that's something we all hope to make amends for in this game," Evans added.
"Andy's big on having those emotions coming in. There's all the hype coming up leading into internationals and there's that much more to talk about when you come to a Calcutta Cup match.
"There's already that buzz and the chat about missed opportunities gone by. I just hope we can put in another good performance and come off the field with the result we all want."