Spain's Plan B
Guillem Balague looks at the controversial decision taken by Vicente del Bosque that sealed Spain's victory.
Last Updated: 26/02/13 3:14pm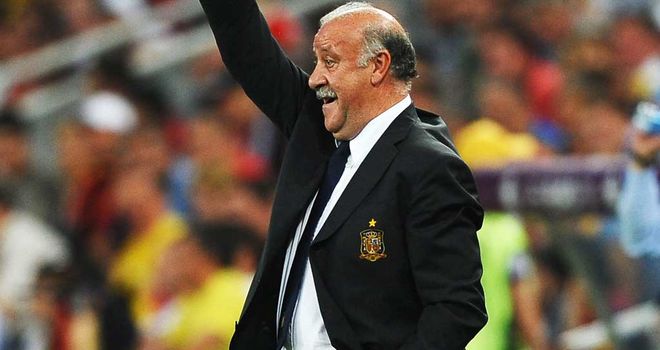 Against France, Spain took one major decision that influenced the performance: having a striker like Torres added penetration to the team, but Vicente del Bosque, in the absence of David Villa let's not forget, decided to use Cesc as a false striker as he had done against Italy. Why?
The extra midfielder guarantees more control and circulation of the ball but it also created one of biggest football arguments to take place - not only in the public forum - but also within the Spanish camp. Del Bosque selected a formation that counted on players (that false striker but also midfielders) that, instead of waiting for the ball, will make runs to where the ball goes: something that is more difficult to defend.
The first goal was the perfect example of what Spain is trying to do. Firstly, it means that Spain has scored more goals without a striker than with one - funny stat that one eh! Secondly it came from Iniesta leaving Cabaye stranded; playing a ball to the full back Jordi Alba (converted into a winger), who looks up and sees that Cesc, making the run of a striker, has taken the centre back and the left back with him - leaving space for Xabi Alonso to arrive and exploit, as Malouda had failed to track his run. It was 100th cap for Spain and after becoming part of another debate -should Busquets and he play together - that argument has now been put to bed.
The opening goal also represented another goal without playing with a striker. Can Spain do that more often? Of course they can and should, but after taking the lead at 1-0 and controlling the ball, it was down to France to attack and they couldn't.
By the way, Jordi alba is waiting to see what happens with his future. Barcelona and Valencia are negotiating a fee and Manchester United are keeping an eye on it. Barcelona are very much the favourites to sign him as they have already agreed terms with the player.
Back to the game, the French were surprised about the line up: Blanc mentioned in the press conference after the game that they thought Torres was going to play so he had to prepare a team to defend deep. But when he saw the Spain team he asked his troops to push up ten-fifteen metres higher. Now, he admitted to do that properly you have to work at it for weeks and he didn't have time. So playing without a striker on that occasion is another success of del Bosque. Having a Plan A and B per game - with so much quality available - is certainly an asset for Spain.
Was it a tight game? It didn't feel like it for the neutral but for us Spaniards it was really tense. And if it wasn't a closer encounter, is that the fault of the team that is winning and keeping the ball or of the team that has to turn the game around but can neither keep the ball for long or win it back from the Spaniards?
Guillem Balague's Euro Diary will become, along with added entries and interviews, an eBook at the end of the tournament.
For more info, check www.guillembalague.com