Brave at the Bridge
Ray Wilkins says Chelsea must believe in their ball-playing ability to avoid being picked off by Barcelona.
Last Updated: 17/04/12 9:36pm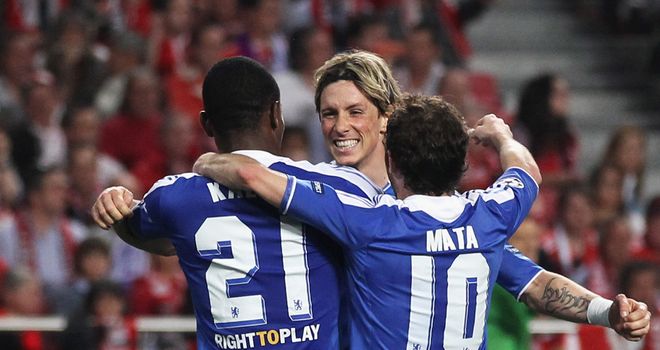 Chelsea will be champing at the bit to have a go at Barcelona after beating one of their biggest rivals of all time in a showpiece occasion at Wembley.
I've no doubt the lads are flying after that 5-1 victory over Tottenham and with Barcelona enjoying an upturn in form, Wednesday's game is a mouth-watering prospect.
This is the fifth time that these two sides have met in the knockout stages of the Champions League but it will be only the second time that they have met in the semi-final - following that astonishing night three years ago when Barca went through on away goals.
Eight of Chelsea's current squad played in the home leg that night but they can't afford to go into the game with revenge on their mind; cool heads are needed otherwise Barca will just pick them off.
The odds favour the defending champions but Roberto Di Matteo is doing such a remarkable job at the Bridge that there is hope for Chelsea.
Andre Villas-Boas tried his upmost to turn Chelsea around but it wasn't to be - and things definitely seem to be going in the right direction for Roberto, Eddie Newton and Steve Holland.
While I'd imagine Roberto would have to enjoy a wonderful showing in the Champions League for him to get the job permanently, it would be very pleasant if he was given the opportunity given what he's achieved so far.
Confidence
Although Chelsea's second 'goal' against Tottenham was controversial, it shouldn't detract from a wonderful job well done; it's quite a feat to score five goals against Spurs and that result must have given the players the utmost confidence.
Stamford Bridge will be rocking come Wednesday and I'm sure the players can't wait to take on one of the best club sides the world has ever seen.
Unfortunately it looks as though David Luiz will miss out due to injury, but Gary Cahill now has a fantastic chance to come in alongside John Terry and prove what he can do against the very best.
Gary has now played at international level so he shouldn't have a problem and when I spoke to JT the other day he said Gary is getting on extremely well.
John Obi Mikel is another player who has been doing remarkably well since he came back in and I'd expect him, Michael Essien and Frank Lampard to all feature at some point.
I thought Fernando Torres would play against Tottenham and Didier Drogba would be saved for the Barcelona game to give the Spaniards a bit more of a physical test, but Roberto has decided to use his strikers the other way around and I assume now that Torres will start as part of a 4-3-3 system.
That has been a very, very good formation for them over the years but they also have the option of playing two in front of the back four and allowing Juan Mata to drift just in behind the central striker.
Whichever way Chelsea go, they have to match Barcelona in midfield and play as directly as they can. It's important that they get Barca's midfield players facing their own goal as often as possible.
They've got to be brave with the first pass they make; it can't be a panic pass. Barcelona press in so many numbers that if they can get a ball through then they'll have an opportunity of making a counter-attack.
The Chelsea boys are good ball players; they should believe in their ability and try to put Barcelona on the back foot but they've got to attack with a bit of caution as well because they can't leave themselves exposed.
This is a remarkable Barcelona side and on the counter-attack they play with so much pace that they can be too hot to handle; Chelsea won't want to make their job more difficult than it already is.
Genius
Lionel Messi will need no second invitation to take centre stage. It's never easy to contain genius and Messi is one of the best players to have ever graced our planet. He's having another incredible season and it's hard to see where he can improve.
He's better and more experienced that when Chelsea faced him in 2009, which means he has a wider range to his game. The Chelsea players have to try to put him in areas where they want him - they can't afford to dive in and make life easy for him.
Chelsea have to replicate what Bayer Leverkusen did in the initial stages of their encounter with Barcelona in Germany: they packed the midfield and kept things very tight, ensuring that there was no gaps between their lines.
Messi wasn't too prominent initially as a result but once Barcelona scored, Leverkusen started to chase the game and they went on to lose it 3-1.
Chelsea can't afford to do that. If the worst comes to the worst and Barcelona score first, you've got to keep your composure otherwise it is game over. They must go to the Camp Nou still in the tie and I honestly believe that the lads can.
Of course, it's always very pleasant to take an advantage to a place like the Camp Nou but even if you go there at 0-0 - or even one goal down - you have an opportunity because you never know what might happen in football.
Barcelona's defence isn't the strongest you'll ever see - and if it means going Route One to break it then so be it. That's the way we played them when they were last at Stamford Bridge. We put them under immense pressure and caused them a few problems.
Personally I think Chelsea will win at the Bridge but unfortunately I think Barcelona will score; it wouldn't surprise me if this first leg finished 2-1 to Chelsea.
Bayern Munich v Real Madrid, 7pm, Tue, Sky Sports 2 HD
Barcelona may have the strongest first XI in club football, but I honestly believe that Real Madrid have the best squad.
Bayern have their fair share of extremely talented players too - they certainly have the firepower to trouble the best - but they worry me defensively; in my view, they aren't sufficiently well equipped to take on the big boys of European football and I think this might be a game too far for them.
Cristiano Ronaldo has now scored 41 goals for Real this season and, as we saw at the weekend, he's a remarkable header of the ball.
It must be heart-breaking for him to wake up in the morning and find he's still only the second-best player in the world despite all the goals he scores and all the enjoyment he gives people!
Bayern's Champions League progress has caused them to fall short in the Bundesliga this season; they've had one eye on this competition and the other on league games they've felt they should win automatically. But football isn't like that - you have to focus on every game you play.
Real will get a rude awakening when they go to Munich but it will be nothing like the atmosphere when Bayern go to the Bernabeu.
From a Sky Sports perspective, I'm hoping that Bayern take a lead to Real Madrid and that we see the La Liga side open up at home. Who knows what might happen then?
However, I expect Real Madrid to go through over the two legs. Jose Mourinho's side simply have too much class.