Napoli ever after
Ray Wilkins thinks City will survive a tough test in Naples and United will beat Benfica to go through.
Last Updated: 21/11/11 5:20pm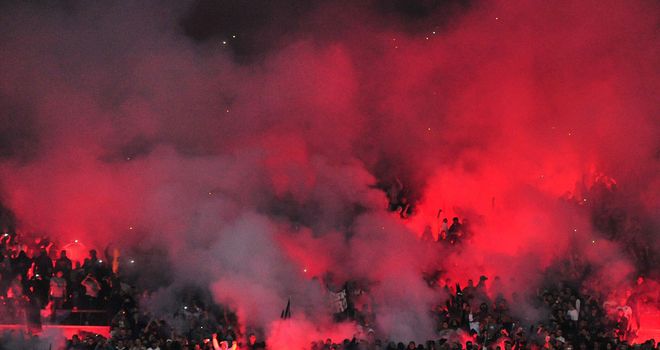 I've played in Napoli and the atmosphere down there is absolutely electric.
It is something very, very special and it is something the Manchester City players and all you Sky Sports viewers should cherish - and it will make this a tougher task for Roberto Mancini and his men.
The Stadio San Paolo will be packed long before kick-off and it will be volatile.
Italian football, like football across the globe, has had its financial problems and Napoli suffered more than most.
They dropped right down to Serie C but the fact that even at that level, they drew a crowd of over 50,000 for one game, shows you what City are up against on Tuesday night.
We often talk about quietening the crowd down, but I am not sure that is going to be possible, here. Some crowds you can turn against their team with a solid start but from what I remember of my visits to Naples, this lot will remain loyal to their team from minute one to the end. Italian teams might not be the best away from home but my word are they tough on their own dirt.
This Napoli side need to be respected anyway because of the excellent performance they turned in at the Etihad Stadium in the first meeting. Walter Mazzarri set his side out perfectly in a 3-4-3 and they counter-attacked beautifully - and could have got something more than a 1-1 draw.
The way they drifted between the lines was wonderful and in Edinson Cavani they have a lively lad up front who was a willing runner and constant threat.
But that was way back in September when City were just finding their feet in the Champions League. I am not having the idea that the players need to get used to this competition because they have all played in big games, in World Cups and the like, but I do think that formation was something they weren't used to. And back then, they were not entirely used to each other.
Now it is a different story and a different Manchester City. They are absolutely flying and now they seem to have put the whole Carlos Tevez issue to one side - for now at least - it looks like a happy club and a happy team.
In fact the biggest problem Roberto has is who to play and who to leave out in Italy. Edin Dzeko seems to be his striker of choice in Europe, but does Mario Balotelli have a point to prove in Italy? I am pretty certain David Silva will come in having been rested on Saturday, but whoever he turns to you know they are going to be world class.
I would expect Pablo Zabaleta and Aleksandar Kolarov to come back in as the full-backs, just for a little bit of stability, but whichever way you look at it Roberto is spoilt for choice. It is seen as a problem for some, but what a lovely problem to have!
I just think this City side, compared to the home game against Napoli in September, is full of confidence and a happy team to be involved with. They will look at this as a game they can win and I do think they will relish going into the Stadio San Paolo, which is a unique experience in itself.
Napoli will be dangerous but I am not sure the counter-attacking football of the first meeting is going to work here, so much depends on how they cope with the onus being on them.
The crowd will be a 12th man and will urge them forward but I can see City coming back from Italy having avoided defeat. If they can nick a win, then even better.
Manchester United v Benfica
No-one knows the value of finishing first in your group than Manchester United - and a win over Benfica will secure that.
I do think Sir Alex Ferguson, given past experience in the Champions League, will want to nail down that top spot and to be honest, I can't see Benfica stopping them.
Okay, they got a 1-1 draw in Portugal earlier in the group, but playing at Old Trafford when United are in form and fully focussed is another matter altogether.
Besides, every year United seem to have one little hiccup at home in the group stages and we have to assume that was the 3-3 draw with Basel. I can't see them making the same mistake twice.
I can't see them letting in three, that's for sure. Since they got hammered by City, Sir Alex has set them out not to concede - and they are not.
Having Rio Ferdinand and Nemanja Vidic back together give them a great stability, although I do think the pair of them - if they play - will be in for a fairly comfortable ride on Tuesday evening.
This might also be a game for the younger lads, like Danny Welbeck, if he's passed fit, and Phil Jones to shine in. Jones has done tremendously well wherever he's been asked to play but he does have a little problem.
He's as versatile as an egg, which means he is yet to establish himself in any one position.
I think we all agree centre-back is where he'll end up but for now, it's a lovely luxury to be able to slot him wherever and know he'll do a fantastic job - and that includes midfield.
Welbeck has also done well this year and I wouldn't be surprised to see him start against Benfica. If Wayne Rooney continues in central midfield, Welbeck could get the nod up alongside Javier Hernandez, and deservedly so.
Benfica have some tidt little players like Javier Saviola, Pablo Aimar and their main goal threat, Oscar Cardozo, and might cause United one or two problems technically.
But the Portuguese league is nothing compared to the Premier League and away from home I just can't see them living with a United side in form, not conceding goals and knowing a win will secure top spot in the group.