In from the cold
Ray Wilkins feels that the visit of Genk is the perfect game for Chelsea to give Fernando Torres a run-out.
Last Updated: 18/10/11 7:05pm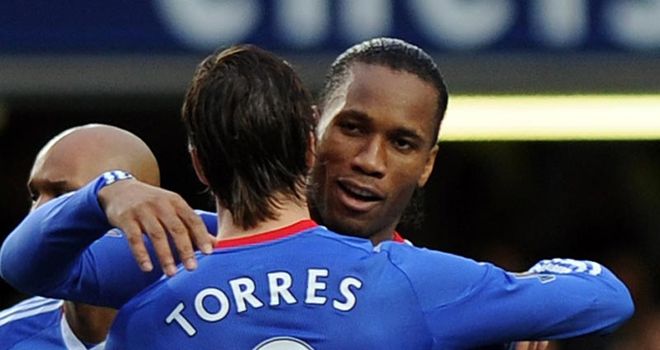 Wednesday night's visit of Genk looks like a formality for Chelsea - and the perfect game to give Fernando Torres a run-out.
Let's be honest - you would expect the Blues to beat the Belgian side every day of the week. They seem to be struggling in their domestic league and lost 3-1 to Lokeren at the weekend, so maybe the Champions League is already taking its toll on their squad.
Torres is of course serving a three-match ban domestically and with the international break in the middle of that, that means a long time without club football.
I wouldn't be at all surprised if Andre Villas-Boas started with him on Wednesday, just because he needs to stay sharp. He was just starting to show his true form and let's be honest, any side with Fernando in, is going to be better.
What that means to the Chelsea line-up remains to be seen, but there is no reason why Torres and Didier Drogba can't hit it off. I didn't see much of the game against Everton on Saturday, but people have told me Didier might not have been at its best.
Dedicated
Well I can tell you first hand no-one wants Chelsea to succeed in the Champions League more than he does. This guy is not only a lovely human being, but one of the most dedicated professionals I have seen. I thoroughly enjoyed working with him and can tell you all first-hand, he is one of those you have to drag off the training pitch; he was always staying behind, practising his finishing or dead-ball striking.
People say he sulks and gets distracted, but to me that's a load of nonsense. He might get the hump from time to time, but don't we all? And there's nothing wrong with getting upset, providing it's for the right reason.
It wouldn't surprise me to see them both face Genk because it seems that under Villas-Boas, Chelsea are a little more attack-minded. I wouldn't say he has made too many major changes and the personnel is largely the same, but there might just be a little more energy about them this year.
One of the big differences of course is Juan Mata. Much like David Silva at Manchester City, he is a wonderful little player to watch and the pace at which he plays his passes into people is just a joy to behold. It's no surprise he and Torres have linked up well, but I would argue that all Fernando needed was someone to pass the ball to him, because it's not that simple.
You cannot tell me that Frank Lampard, John Obi Mikel and Michael Essien cannot pick a pass; it's just that when Mata drifts in from the left to make the play, he is Chelsea's most advanced midfielder so only has one line of players to pick his way through - the backline.
Contain
Chelsea might need him to unlock a Genk side whose best bet of success in this group is going to be on their own patch. They are likely to come and contain and hope they can pick something up in the return in Belgium in two weeks' time.
But that is going to be a tall order. In fact any team in the Champions League is going to find it a big ask getting anything from Stamford Bridge. It is something Chelsea seem to have locked down in this competition and the way they beat Everton, who have a history of causing them problems, suggests they are bang in form.
I know everyone is talking about the Manchester clubs in the Premier League, but Chelsea will be quite happy going under the radar. With Ramirez now settled well into the midfield, Torres proving last season was just one of those off periods all players have, and Mata pulling the strings, they might just have something special going on at my old club.
I can't see Genk living with them. Chelsea have too many goals in their side, too many attacking options. I think they will win this one fairly comfortably.