Football Expert & Columnist
That winning feeling
Jamie Redknapp expects Liverpool to win the Carling Cup and says it could act as a springboard.
Last Updated: 24/02/12 8:14am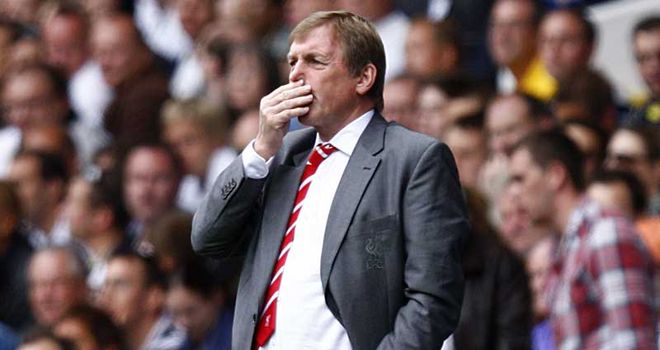 I often get asked is it more important to play Champions League football or to win a trophy? I think it changes throughout your career but, ultimately, it's about winning things.
When you hang up your boots you are judged on what you've won, not whether or not you got to the quarter-finals of the Champions League.
Tottenham had a fantastic run in the Champions League last season, but what did the players have to show for it? The only thing you come away with is memories.
Liverpool's history has been built on winning trophies and that's exactly what they'll be aiming to do on Sunday against Cardiff.
People might say the Carling Cup isn't the most important trophy in the world, but winning is a habit and you only have to look at what happened last year to see that.
Arsenal went into the final against Birmingham absolutely flying. They were still in the hunt for the Premier League, FA Cup and the Champions League at that point, but they lost to Birmingham and it really knocked the stuffing out of them.
Compare that with Manchester City, who won the FA Cup and are now going for the title, and it becomes pretty obvious what a difference winning just one trophy can make.
City have got bigger resources than Arsenal and have spent a lot more money, but having a winning mentality is priceless. Up to that point City always seemed to have a bit of an inferiority complex, having spent so many years in the shadow of Manchester United.
But they beat United in the semi-final last year, beat Stoke in the final and have gone from strength to strength. Liverpool will be hoping a win on Sunday can do the same for them.
Winner
Kenny Dalglish is a winner, he always has been, and he will be trying to instil that into his players. The club have had a bad few months and, as a former player and captain, I have to admit it's been hard.
Liverpool, Kenny Dalglish and Luis Suarez have all accepted where they went wrong and I think everyone just wants to move on now and this is a great opportunity to do that.
They are obviously massive favourites to win, but Cardiff will start the game with exactly the same chance as Birmingham did last year - and we all know what happened there.
Birmingham were a Premier League side and Cardiff are in the Championship, but Birmingham were sitting in 16th in the table when they headed to Wembley and I don't think there would've been a great deal of difference between that Birmingham side and Malky Mackay's men right now.
Malky's done a fantastic job getting them to the final and they're doing well in the Championship, too. I played against him as a player and I always had a feeling he would go on to be a top manager, which is why his success hasn't surprised me.
But If Cardiff are to win this trophy they will need a little bit of luck, but it's not out of the realms of possibility.
Experience
They'll also need their experienced players to have good games, the likes of Peter Whittingham, Kevin McNaughton, Kenny Miller and Stephen McPhail who, as long as he is fit, I can see starting on Sunday.
He hasn't been a regular this season, but he's a quality player and you need to keep the ball at Wembley, so his experience will be invaluable, as will Miller's.
McNaughton is a lovely footballer, too, and a nice right-back who always shows quality on the ball, but Whittingham is definitely the man who makes that team tick.
He's become their talisman since moving into central midfield. He takes all their free-kicks and corners and someone in the Liverpool midfield will have to get a hold of him, or he will cause them problems.
As for Liverpool, Kenny's got a decision to make up front. Suarez will definitely start, but he'll have to decide if he wants to go with Andy Carroll or Craig Bellamy alongside him. It's a tough one and whoever he leaves out will be really hurt, but it's a nice problem to have.
Carroll has been playing well recently, but Bellamy is a Cardiff boy and this match will mean so much to him, so I'd be amazed if he didn't start.
That said, the Liverpool gaffer might decide, and I'm only speculating here, that the emotional side of the occasion would be too much for Bellamy and he'd be better off bringing him on off the bench if they need a winner.
There's also the chance that he goes with all three. Suarez played a lot of his football at Ajax on the right-hand side of a three-man attack, so it's something he can do.
But the bottom line is Kenny has a lot of options, more so than his opposite number, and that's not a bad place to be going into a final.
Redknapp reckons
Cardiff will go into this as underdogs, but we all saw what happened to the underdogs last year. They'll need their big players to perform, especially Peter Whittingham and I wouldn't be surprised if Kenny Miller got himself on the score sheet, but they're going to need a fair bit of luck, too. Liverpool are rightly favourites and you have to fancy their chances with so many match winners in their side.
Jamie's gem
LUIS SUAREZ (Liverpool):Whether you love him or hate him, Luis Saurez strikes me as the sort of guy who won't let anything that has happened affect him. I'm not saying that's a good thing or a bad thing, but in a way you have to admire someone who is that mentally strong. He'll be buzzing around the pitch the way he always is and if there's one thing I'm certain about, it's that he will be the one making all the headlines on Monday morning.