Saturday summary
Torres fires Chelsea, Arsenal are spot on and Saints win... Get the Soccer Saturday verdict...
Last Updated: 08/12/12 6:00pm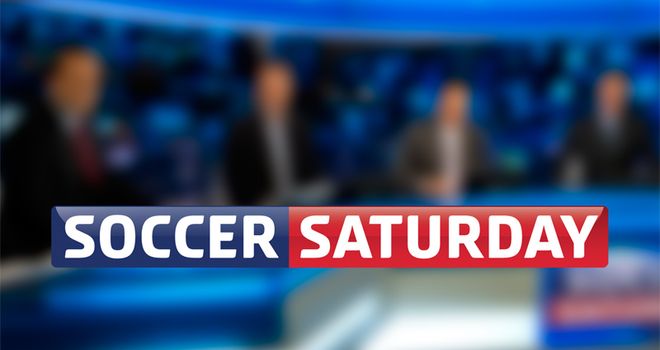 Matt Le Tissier and Paul Merson on Arsenal's defeat to Swansea
LE TISS: "Arsenal were very lacklustre; they spent a fair bit of time in Swansea's final third but in terms of creating chances I don't remember too many and Swansea keeper, Gerhard Tremmel, will probably not have an easier game in the Premier League. Gervinho played as a centre-forward but he wasn't really at the races today and I was surprised he played instead of Olivier Giroud who has been starting to find his feet. Arsenal lacked a cutting edge; the passing is a bit laboured now and there is not as much fluidity as the Arsenal team of the past, where players popped up where you didn't expect them to."
MERSE: "It isn't good enough and sooner or later something has to happen there. I wouldn't sack Arsene Wenger because who would Arsenal get and who would take the job? Pep Guardiola wouldn't it in in a month of Sundays. They have to bring in a better quality of player in January, though, as it is unbelievable how far that club has gone backwards. Seven or eight years ago they were probably they best team you will ever see in Premier League history and they should have gone forward - but not one player in this current team would have got in the 'Invincibles' team."
Click here for our match report
Charlie Nicholas on Southampton's dodgy defending against Liverpool
"Liverpool should have been 4-0 up at half-time but Southampton got a lot of luck defensively However, Daniel Agger eventually scored the only goal; a good, if simple, header. But it came from a Glen Johnson cross that four Saints defenders failed to deal with, which is typical of how they have been defending.
"Southampton played some nice stuff in the second half. They didn't get the ball up to Rickie Lambert enough but I do like the look of Gaston Ramirez; he probably needs more games to get him up to the pace of the Premier League but his touches were lovely. However, the match will be remembered for Luis Suarez trying to force the ball into the goal with his arm. He got a yellow card but a lot of people will say it is a disgrace and they were right because it was shocking."
Click here for our match report
Paul Merson on why a poor substitution cost Man City two points against Everton
"Man City passed the ball very slowly in the first half but then they got a penalty, scored it and after they came out for the second half they had a 20-minute period where they played as well as they have all season and dominated. Carlos Tevez, who had scored the penalty, looked lively, made things happen and worked his socks off, but then, for some reason, Roberto Mancini took him off and that ended the match as City never looked like scoring another goal after that and Everton were as comfortable as could be.
"Everton definitely deserved a point as in the first half they were outstanding, took the game to City and kept them very quiet. As usual, everything Leighton Baines did was good; he makes the right decisions, never gives the ball away, and put in a great cross for the goal. But Marouane Fellaini is a monster; Yaya Toure tried pushing him over and he went bouncing off him! He plays the game at his own pace and is such an outlet - and is one of the best players in the Premier League on current form."
Click here for our match report
Chris Kamara on why Harry Redknapp will be content with QPR'S draw
"QPR created quite a few chances against Aston Villa and they might have thought they could have won it, but it's not a bad start; Harry will think everybody performed well and no-one was slacking and, although he will be slightly worried that he lost central midfielders Samba Diakite and Stephane Mbia, he will be pleased by the progress.
"Rangers went behind but didn't fold, and Adel Taarabt impressed me; Harry gave him that licence to roam and when he was in possession of the ball he always looked like he had a pass on and could beat someone - but they couldn't get him on the ball enough in the second half and that is something Harry will try to address."
Click here for our match report
Charlie Nicholas on why tying down Theo Walcott is paramount for Arsenal
"The feedback coming out of Arsenal is that Walcott is very keen to sign a new contract, but they are not doing enough to convince him. It must be a financial thing that it has not been resolved; Arsene Wenger and club are stunning at balancing the books, but if they want to sign Walcott, they have to do it now. All Arsenal are doing now is sell their best players and if they keep doing that, in the blink of an eye, Jack Wilshere will go, too, so if it takes £100,000 a week to keep Walcott, do it, as he could go for nothing.
"Big clubs and big managers sort of contract problems out and don't argue over 10 or 20 grand, and if Arsenal don't have the people to do that, get new people in - and, perhaps, bring David Dein back. This club has to get back to the standards it has set in the past. Making millions but only getting to the last-16 of the Champions League is not good enough."
Paul Merson on Darren Bent's Aston Villa exile
"Darren Bent is probably the second-best English finisher behind Jermain Defoe and he doesn't even get on the bench so you cannot tell me that it is not personal or financial. Surely his contract is worth nowhere near what it would mean to stay in the Premier League as the Premier League next year is even bigger and you have to stay in it. Even if you are paying an extra £2million - and I'm not the brightest - that's better than going down."
"I think he would be a great signing for QPR and could keep them up but I don't think Rangers could afford the price that Aston Villa would be wanting, while he might not want to go to a club that might get relegated because his wages could be slashed if they go down, whereas if he stays at Villa he will keep his full salary."
Charlie Nicholas on the mistakes being made by Chelsea's hierarchy
"The owner sits there and dictates everything at Chelsea but there is no leader. Everyone working under Roman Abramovich is playing the 'Yes' game; no-one has said to the owner: 'We either keep Roberto Di Matteo through this tough period or we go and get a manager with a bit of flamboyancy'. Abramovich has the right to control everything because he has put a bagful of cash in to the club, but someone has to tell him that some of the decisions he is making will see the fans turn on him.
"For the first time since Abramovich came in, Chelsea fans are saying the soul has been taken out; they are not talking about cash and buying players, they are talking about the fabric of the club. Roman was embarrassed last season with the Andre Villas-Boas situation and he was very angry with the players, whole you can see that he is concerned by the way Rafa Benitez has been booed by the supporters, so he does care - but he needs to be told a few home truths."
Click here for our match report of Chelsea's defeat to West Ham