Football League Expert & Columnist
It's a knockout
Peter Beagrie previews the League One Play-Offs and says all the pressure is on the Yorkshire clubs.
Last Updated: 10/05/12 5:05pm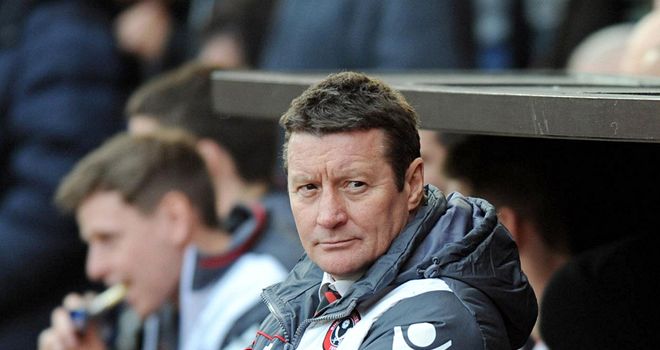 If the League One Play-offs are anywhere nears as exciting as what we've seen in the Championship then we're in for an absolute treat.
There were 10 goals in those four games with my two choices, West Ham United and Blackpool, proving victorious and looking forward to a monumental day at Wembley for fans and players alike.
For the League One sides it's time to forget about what has happened during the 46 titanic league matches. All four teams know there are three cup ties between them and promotion and it should be a fascinating few days.
These are the games that footballers want to play in. There'll be big crowds, great atmospheres and the ultimate prize is a game at Wembley.
You can make a case for all of the teams. Let's take a look at the match-ups...
Stevenage v Sheffield United
Previous results this season: Stevenage 2-1 Sheffield United / Sheffield United 2-2 Stevenage
Sheffield United are the obvious favourites after missing out to arch rivals Wednesday in the race for automatic promotion, but they must now overcome a Stevenage side that held them to a draw in their last home game; a result that severely dented their chances of finishing second.
The Blades are a big club with a massive fanbase and will go into these end-of-season games like wounded animals. They believe the club belongs in a higher division, but now they need to lick their wounds and go out and earn it.
The biggest worry for them is that they were over-reliant on Ched Evans, who is now unavailable following his prison sentence. It remains to be seen who will provide the goal threat in his absence.
Stevenage, meanwhile, are looking for a double promotion after upsetting the odds to beat Torquay in the League Two Play-Offs last year.
This game should be a contrast in styles with Stevenage very direct, physical and organised. They'll be no pushovers for Sheffield United.
Can the Blades handle the disappointment of missing out on an automatic spot? Can they get themselves up for these two games?
A lot could depend on which side settles the quickest in the early part of the tie.
MK Dons v Huddersfield
Previous results this season: MK Dons 1-1 Huddersfield / Huddersfield 1-1 MK Dons
When it comes to attractive football, this one must be classed as the glamour tie.
MK Dons have survived the loss of Sam Baldock, who may become a Premier League player if West Ham go up, but I'm sure his former club will be content with moving up just one division.
Personally, I thought it was more important to keep the manager, Karl Robinson, than it was to hold on to their star striker. He and his chairman resisted overtures from a couple of Championship clubs and he insists he has unfinished business with the Dons after their Play-Off misery last year. He'll be hoping that loyalty is rewarded with a Wembley appearance.
They're pitted against a Huddersfield side that will be regarded as the favourites to progress by many.
They have the best squad in the division and went on a fantastic, record-breaking unbeaten run at the start of the season. However, they drew too many games and must now face the lottery of the Play-Offs.
Will Jordan Rhodes light the blue touch paper for them after an outstanding individual season? After two years of Play-Off heartache, I'm sure everyone associated with the club hopes so.
Huddersfield probably possess the biggest threat to any of the teams if they get to the final. On a wide open pitch they have the capability to exploit any side and within the football fraternity they'll be heavily fancied.
But MK Dons are probably a bigger threat to Huddersfield than Stevenage are to Sheffield United.
Peter's summary
The two Yorkshire clubs are the favourites with MK Dons and Stevenage playing the role of underdog. However, that hasn't stopped teams like Doncaster getting promoted via the Play-Offs in the in the past.
All the pressure is on Sheffield Untied and Huddersfield. People say it's only the Championship, but for these clubs it's a stepping stone back to the big time; which is somewhere they've both been regularly throughout their histories.
Those factors build pressure and can the players handle it? Will the favourites come through or will it be the year of the underdog?
It's a time for heroes. Join us on Sky Sports over the next few days to find out the answers to those questions.