Football League Expert & Columnist
Saint that funny?
Southampton top and Leicester mid-table... Beags says the Championship hasn't gone to script!
Last Updated: 20/01/12 4:23pm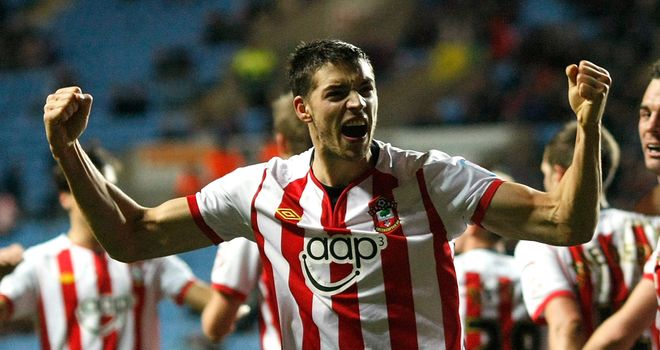 Championship
At the start of the season you would probably have positioned Southampton and Leicester the other way round to where they are right now!
Many of us thought Leicester would be top of the table and the Saints would be around the middle of it, but ahead of our live Sky Sports match on Monday night it's Nigel Adkins' men who lead the way.
He has worked miracles this season and they picked up a very important win against Nottingham Forest last week. They had a blip in December, but have just enjoyed back-to-back victories against difficult opposition despite the absence of their talisman Rickie Lambert.
The sending off in the Forest match probably changed the game. I didn't feel Luke Chambers deserved to be red carded - I felt he elevated his arm rather than going in with his elbow - but I suppose those wearing a Southampton shirt will have a different view. For me, it was a yellow card at most.
With a man advantage, Southampton popped the ball around and made life difficult for their opponents. The won the game and opened up a 10-point gap between themselves and Birmingham in seventh. A play-off spot is well within their grasp, but they will want more.
Meanwhile, Leicester are seven points off the top six and this is a massive game for Nigel Pearson, who perhaps underestimated the size of the task on his hands.
As we saw under Sven-Goran Eriksson, the Leicester squad is full of quality but it's hard to find the best XI to send out onto the pitch. Because there are so many options, there is a temptation to make five or six changes instead of sticking with your team.
Leicester have plenty of talent, but they are really underachieving at the moment. We've seen guys like Lloyd Dyer flourish under Pearson and in David Nugent they have someone who can shoot them into the play-off places.
But some of the others are not doing the business and they need to have a real good look at themselves.
Player of the Week: Ricardo Vaz Te (Barnsley) - He was involved in both goals in Barnsley's 2-1 win at Leicester and has been a revelation since he signed from Hibernian, not only with his goals, but with his pace, skill and trickery on the break.
Performance of the Week: Birmingham City - Even though Barnsley produced a great performance against struggling Leicester, I'd have to go for Birmingham's 6-0 win over Millwall, even though they played against nine men for much of the game. It's brilliant news for their goal difference and keeps them hot on the heels of the play-off sides. They've been involved in the Europa League for a long time, but they'll be hoping to extend their season by two or three games by reaching the play-offs.
Goal of the Week: Inigo Calderon (Brighton) - Brighton have struggled of late, but their 2-0 victory over Bristol City was highlighted by Inigo Calderon's fantastic right-foot shot into the top corner after a rampaging run.
League One
Last weekend, Charlton and Sheffield United picked up big wins and Huddersfield leapfrogged Sheffield Wednesday after their home defeat to leaders Charlton.
Chris Powell's side are now four points clear with a game in hand, but Sheffield Untied have won eight out of the last nine with in-form striker Ched Evans scoring 13 goals in their last 12 games (all competitions). They are staying hot on the heels of the leaders.
I should also mention Yeovil, who'd lost six of their last nine, but have benefitted from the return of Gary Johnson. They say you should never go back, but they'll think he should never have gone away after their great win over Tranmere.
On Saturday evening you can see third-placed Huddersfield against Brentford on Sky Sports and Lee Clark's side had a bit of a lull after their Football League record of 43 unbeaten games came to an end.
They lost to Charlton at the end of November, then only won one of their next five, but they put that right the last time they were on Sky Sports with a 6-0 thumping of Wycombe. I was fortunate to be there and enjoyed their very fluid 4-2-3-1 formation. That was an awesome display.
They won again at home to Oldham at the weekend, Alan Lee scoring the only goal in a 1-0 win, but things would be looking even more rosy if they had conceded fewer late goals and if the hadn't drawn so many games. Only Scunthorpe and Walsall can beat their record of 11 League One draws so far. However, they are ever-entertaining, having scored a joint League One high of 52 goals, and Jordan Rhodes has scored 48 per cent of those.
Brentford will have their work cut out on Saturday. A bit like Huddersfield, they have drawn too many games but Uwe Rosler's side are strong and resolute away from home with their 4-3-3 formation.
They've signed good players such as Jonathan Douglas and Clayton Donaldson, while Gary Alexander, Marcus Bean and Sam Saunders have been offered new contracts. The manager had a lot of things to sort out in his first job as an English league manager, but I think he's doing brilliantly.
He pays great attention to detail and after watching them against Wycombe, I'm sure he'll stick somebody on Lee Novak, who assisted the first three goals. They will have to soak up pressure and rely on the pace of Donaldson on the break.
Goalscoring has been a problem and they could cause an upset, but on a big pitch I expect Huddersfield to provide enough ammunition for Rhodes and Novak to secure the win.
Player of the Week: Luke Freeman (Stevenage) - Stevenage enjoyed an incredible 5-1 away win over Rochdale following the departure of Graham Westley. It was also a great day for him as he won his first game in charge of Preston. Luke Freeman was the star of the show for Stevenage, though.
Performance of the Week: Charlton - I would have gone for Stevenage on any other day, but Charlton inflicted Sheffield Wednesday's first home defeat and came through some real pressure.
Goal of the Week: Johnnie Jackson (Charlton) - Luke Freeman scored a cracking goal against Rochdale, but it wasn't quite as good as Johnnie Jackson's given the circumstances. The captain returned and played a skipper's role, leading his troops to victory with a fantastic free kick up and over the wall, which proved to be the only goal of the game. Perfect execution in front of nearly 27,000.
League Two
Crawley slipped up with a disappointing 0-0 draw against Rotherham, a result that the bookmakers would never have forecast given their goalscoring form.
As a result, they were subjected to some football leapfrog at the top of the table as Southend and Cheltenham both won.
Mark Yates has continued to do a good job with Cheltenham. Aldershot have put the skids under a few teams this year, but Yates' men navigated that banana skin well and they won 2-0. They continue to impress, entertain and win games in style.
Meanwhile, Swindon are hot on the tails of the top three after their win over Rotherham. Four of the top five sides won last weekend, so it won't be easy to get promotion from that league.
Player of the Week: Matt Ritchie (Swindon Town) - Ritchie scored both goals in a 2-1 away win for Paolo Di Canio's sensational Swindon side against Rotherham, the strikes coming within two minutes of each other. He's gone from strength to strength after moving from Portsmouth and is definitely going to have a say on whether Swindon go up.
Performance of the Week: Barnet - Barnet put five points between themselves and the relegation zone and they did so by beating an Accrington side who were previously unbeaten in 10. An away win against an in-form team was so important for them, especially with Hereford winning as well.
Goal of the Week: Matt Ritchie (Swindon Town) - I'm going for the second goal by that man Matt Ritchie. He cut in from the right onto his left foot and struck it sweetly into the far right-hand corner. Swindon's star performer has done it on numerous occasions this season and it's no wonder that a lot of people are looking at him from higher divisions!