Gunning for goals
Paul Merson shares his views on the Sky Live games between West Brom and Fulham, Southampton and Arsenal and Everton and Newcastle as well as the rest of the top flight fixtures.
Last Updated: 31/12/12 2:33pm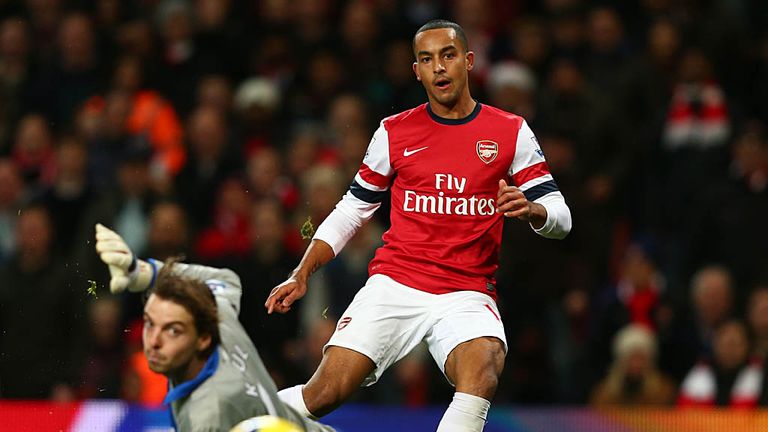 The Premier League teams are back in action in the first fixture of 2013.
Soccer Saturday expert Paul Merson will be a keen observer and ahead of the clashes, he gave skysports.com his take on where the games could be won and lost.
Read below for his views on the Sky Live games between West Brom and Fulham, Southampton and Arsenal and Everton and Newcastle as well as the rest of the top flight fixtures.
And don't forget to have you say by filling in the feedback form below...
West Brom v Fulham
12.45pm, Tuesday, Sky Sports 1 HD
Fulham are having one at the moment - I don't know what has gone wrong with them. At the start of the season Dimitar Berbatov was on fire, the team was playing good football and they were winning games. And when they weren't winning, they were playing well and probably should have got results.
But that's all gone now. So this is a big game because they are starting to get dragged back into the relegation battle. Teams like Wigan have been there so many times that you almost fancy them to get out of it, which is a real worry for all of the other teams. So I cannot see anything other than a West Brom win, I really can't. I think they are an absolute banker. I think it will be easy.
PAUL PREDICTS: 3-0
Southampton v Arsenal
5.30pm, Tuesday, Sky Sports 1 HD
I thought Southampton did brilliantly against Stoke on Saturday. But they would have been kicking themselves at the end after they let 10 men get back into the game as Cameron Jerome scored a 90th minute equaliser.
Having said all that I just don't think they keep the ball well enough at the moment to get the results they need. They have done great so far but I just don't see how they can stop Arsenal, who thrashed Newcastle 7-3 last time out.
Although, I do think that it will be a good game. I know my prediction of 4-2 to Arsenal seems like a strange score but I think it will be a very open game. I see Southampton scoring goals but I see Arsenal scoring more.
PAUL PREDICTS: 2-4
Newcastle v Everton
8pm, Wednesday, Sky Sports 1 HD
I thought Everton were as good as you can get for 30 minutes against Chelsea. They were absolutely fantastic but they just couldn't get that second goal against and they ran out of steam. It was a real kick in the teeth too when Chelsea scored in the last five minutes of the first half. As players they will have gone in and thought we can't play much better and it is 1-1. I just think that knocked the stuffing out of them.
Newcastle are very entertaining at the moment and scoring goals. But they could lose Demba Ba this transfer window and, although I don't seem them going down, if they don't win this game they are in trouble as well.
I have got to go with Everton, especially with Marouane Fellaini back, which is a massive boost for them.
PAUL PREDICTS: 1-2
Manchester City v Stoke
PAUL PREDICTS: 3-1
I was disappointed in Stoke on Saturday. They were outstanding against Liverpool when they won 3-1 and then against Southampton I think it was a case of them thinking they would just turn up and win. That is not Stoke. That is not in the nature, normally. I think Man City need to win every game now to keep the pressure on Manchester United and I think they will have just too much for Stoke.
Swansea v Aston Villa
PAUL PREDICTS: 2-0
This is a banker, an absolute banker for Swansea. Aston Villa have completely gone. You can hold your hand up if you get beaten by Chelsea 8-0 and Tottenham 4-0 because they are top-four and top-six teams. But then they played Wigan, who are relegation rivals, at home and would have been thinking they can get a result and kick clear of them, which would make things not too bad. But watching the game they got absolutely slaughtered by Wigan. I don't see anything but an easy Swansea win - at least 2-0. Villa are in serious trouble.
Tottenham v Reading
PAUL PREDICTS: 2-0
Reading had a good result when they beat West Ham 1-0 but Tottenham are flying. Reading have changed the way they are playing now, which I think is very good. They have moved to a 4-5-1. I think Brian McDermott realised they had to stop losing games and start again That is what Norwich did 10 weeks ago - they were a bit too open and letting goals in for fun and Chris Hughton said, 'let's stop the goals and start from there'. That is what McDermott has done and worked against West Ham. So I think Reading will make it hard for Tottenham. But I think Tottenham will just have too much.
West Ham v Norwich
PAUL PREDICTS: 2-1
Norwich have had a few defeats now - three on the trot in fact - while West Ham will be looking to get back to winning ways. So this is an important fixture for both teams as they look as they could quickly get sucked back down the table despite being mid-table at present. I am going to go for West Ham. I think the fact that they are at home will be the decisive factor in a game between 11th and 12th. West Ham are a difficult team to beat at home under Sam Allardyce and that should be enough for them to get the result.
Wigan v Manchester United
PAUL PREDICTS: 1-3
Wigan will be in this game - they are just one of those teams. They will play their football but they just don't get that bit of luck against top teams. They play well and then they go the other way and they just don't have that little bit extra to win those games. I have got to go with Manchester United. Robin van Persie did not start against West Brom and they still won 2-0. Van Persie came on as a sub so he will be fresh to face Wigan and will Man United to another win.
Chelsea v QPR
PAUL PREDICTS: 4-0
I can't see anything but a Chelsea win. For me QPR's defeat to Liverpool signalled relegation for them, especially when they got to half time 3-0 down against a Liverpool side, who are not that great - we all saw them get well beaten the other week against Stoke. Before the game I thought if QPR can come out, play at 100mph and play that way they might get a result. I just think there are too many players there who are not too fussed, which is not right. If Harry Redknapp can't get you out of trouble then no one can. There is no way it is the manager. So for me it is going to be a convincing Chelsea win.
Liverpool v Sunderland
PAUL PREDICTS: 1-1
The problem with Liverpool is that they win a game then they lose to a team they should beat. At home to Aston Villa you would expect them to win, which would have extended a good run, but they went and lost to them and then lost to Stoke having just beaten Fulham convincingly. Then they went to QPR and won easily. It is the inconsistency that is hitting Liverpool hard at the moment. I think Sunderland will make a tough contest and I think it will be a difficult game for both teams.
Stay up to date with all the New Year's Day scores by tuning in to Soccer Special, from 12pm on Sky Sports News HD.