Raf and ready
Merse predicts a big win for Benitez, defeat for the North East clubs and more agony for QPR.
Last Updated: 23/11/12 5:00pm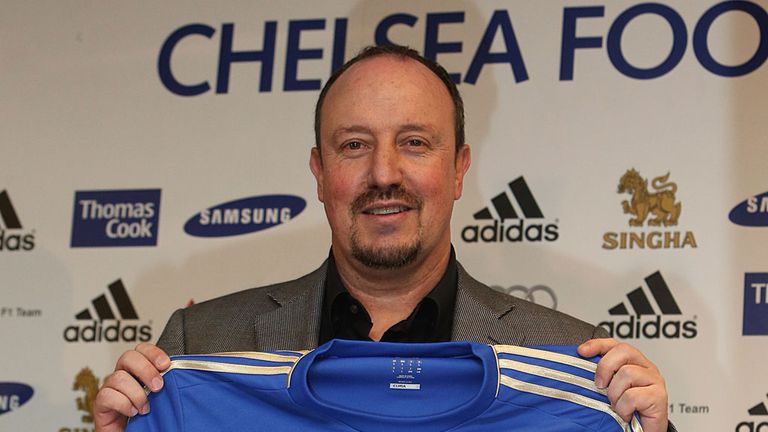 As ever, you can follow all the Premier League action this weekend on Sky Sports.
We asked Soccer Saturday expert Paul Merson to look at the fixtures and give us his verdict on where the games will be won and lost.
Every week he'll be here on skysports.com to share his views on who he expects to be the winners and losers of the weekend.
So read on for his shouts and don't forget to let us know your views via the comments box...
Ford Super Sunday: Chelsea v Man City
3.30pm, Sun, Sky Sports 1 HD
I'm not sure about Rafa Benitez going to Chelsea. I just don't get it.
Roman Abramovich wants to play a certain way, but I've said on Soccer Saturday loads of times that they won't win anything playing that way because they're too open. They're not good enough at the back and they don't provide any protection.
Roberto Di Matteo has got the sack for playing the football that Abramovich wants and now they've got someone in who plays completely the other way. Benitez will make them tighter, but to do that then the three amigos - Oscar, Hazard and Mata - can't all play at the same time. Suddenly the chairman will want to know why all these players that he's spent a fortune on aren't playing!
He's a good manager, don't get me wrong, but when he was at Liverpool he often went out trying not to lose games, rather than trying to win them. He took Liverpool as close to the title as they have been for a long time by doing that, but I don't see how that's going to work for Abramovich.
Fernando Torres had his best time in England under Benitez and I'd have thought he will get the best out of him, but I can't see them winning the league this season. Watch this space, I suppose.
This is a nice first game for him. If they get beat he can say it's not his fault because he's only just taken over and if he wins then he's an instant hero. He'd rather have this game than Sunderland at home or whatever.
He's had some quotes that have upset Chelsea fans over the last few years. He spoke about them giving out flags to get an atmosphere and things like that, but if they beat Man City then you know what football fans are like; they'll all be cheering his name from the rafters. All fans just want to see a winning football team.
I think the Benitez factor and the injury to Vincent Kompany might just see Chelsea win this game, but I'd still take Man City to win the league. They haven't lost a game yet and being out of the Champions League will be a big advantage.
PAUL PREDICTS: 2-1
Ford Super Sunday: Swansea v Liverpool
1pm, Sun, Sky Sports 1 HD
Swansea have done well lately and I don't think they need to do anything different against Liverpool.
I know it's Liverpool and I know it's the return of Brendan Rodgers, but I don't think they need to raise their game more than they normally would. They have a good chance here.
Ashley Williams had a big dig at Luis Suarez in his book, so it will be interesting to see what happens when those two come face to face. It'll also be interesting if Suarez scores because I'm sure he'll make a beeline for him!
I still think Liverpool rely on Suarez too heavily though. In the first half against Wigan they didn't look like scoring in a month of Sundays, but then Suarez got involved and it was suddenly all over.
Beating Wigan 3-0 is a better result than people realise. Remember, Wigan went and won at Spurs two weeks ago, they're no pushovers, and the momentum is building for Liverpool. They haven't lost in their last seven league games, so things aren't going too bad for Rodgers.
But I honestly think Swansea are a threat and deserve to be respected. Michu is the one who arrives late and scores goal, but Pablo Hernandez might be the main threat. He looks lively and could be an unknown quantity for Liverpool.
I'm going for a Desmond.
PAUL PREDICTS: 2-2
Ford Football Special: Sunderland v West Brom
12.30pm, Sat, Sky Sports 2 HD
I tipped West Brom to beat Chelsea last week and I'm backing them again here.
They play brilliant counter-attacking football, both home and away, and get their shape very quickly behind the ball. All of the players know what they're doing and they break with unbelievable pace.
Sunderland will be buoyed after their last two games (a good display against Everton and a very good win at Fulham) and their confidence will be back, but I think that may make them push on.
That could play into West Brom's hands because they love to catch teams on the counter-attack. Shane Long, Peter Odemwinigie and Romelu Lukaku provide speed no matter what combination they go with up front.
They're playing outstanding football, but I wouldn't get too carried away with them just yet. They need to get to 40 points first and there's still a lot of the season to go.
But they are playing very well and I think they'll win this match.
PAUL PREDICTS: 1-2
Everton v Norwich
PAUL PREDICTS: 3-1
I didn't see Everton losing to Reading or Norwich beating Man United last week - but that's the Premier League all over (you don't see shocks like that in any other top league in the world). Norwich are flying now and this is a much harder fixture for Everton than it would have been five weeks ago, but I'd still be surprised if it's not a home win.
Man Utd v QPR
PAUL PREDICTS: 3-0
What can QPR expect to get out of this game? Air miles... and that's about it! We had some big shocks in the Premier League last week, but this would be the biggest shock of them all. QPR haven't won in 12 games and they were well beaten by Southampton at home last week, so I just can't see it. I've got to go for a comfortable home win.
Stoke v Fulham
PAUL PREDICTS: 3-1
This is the home banker of the week. With no Brede Hangeland I don't see how Fulham can cope with the corners and the throw-ins of Stoke. They're a small team and he heads everything for them and I just see Fulham being under the cosh from every single set piece.
Wigan v Reading
PAUL PREDICTS: 1-1
This is an important game for Reading. They've won their first match now and they need to make sure they get at least a draw because that will keep the momentum going. If they get beat, then the win over Everton goes out of the window a little bit. I'll go for 1-1 - and that would be a good result for Reading.
Aston Villa v Arsenal
PAUL PREDICTS: 1-3
I'm sure Aston Villa will play well at times in this game. They'll be enthusiastic and show a lot of energy, but over 90 minutes I don't see them beating Arsenal. If the game was 65 minutes long it might be different, but I see them running out of steam. Aston Villa would need to play to their maximum and Arsenal would need to be poor, so I'm going for an away win.
Southampton v Newcastle
PAUL PREDICTS: 2-1
Newcastle haven't exactly set the league on fire this season and this is a big game for them. Southampton got a great result against QPR last week and need to get another result to keep their momentum going. I've watched Southampton in the last two games and they've played well, so I'm just going for them again here.
Tottenham v West Ham
PAUL PREDICTS: 2-1
If Emmanuel Adebayor had stayed on the pitch it would have been a different game last week because Tottenham were the better team early on against Arsenal. West Ham were shocking in the first half against Stoke, but were very good after the break and will make it difficult for them. However, Tottenham have a better quality of player and I don't think West Ham are lethal enough. Jermain Defoe could make all the difference.