Role reversals
Merse says QPR should win, but he's not tipping Liverpool, Arsenal, Chelsea or Man City to do the same.
Last Updated: 02/11/12 12:52pm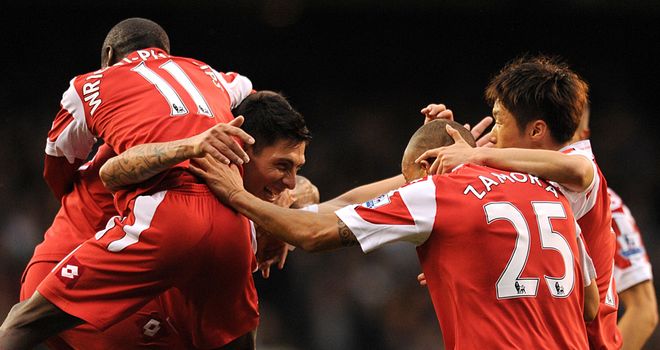 As ever, you can follow all the Premier League action this weekend on Sky Sports.
We asked Soccer Saturday expert Paul Merson to look at the fixtures and give us his verdict on where the games will be won and lost.
Every week he'll be here on skysports.com to share his views on who he expects to be the winners and losers of the weekend.
So read on for his shouts and don't forget to let us know your views via the comments box...
Ford Monday Night Football: West Brom v Southampton
7pm, Mon, Sky Sports 1 HD
Steve Clarke has done really well to put plenty of pace in the West Brom team, especially going forward.
The speed of Peter Odemwingie, Romelu Lukaku and Marc-Antoine Fortune has been priceless and makes them a good counter-attacking football team.
They should have drawn with Man City because they were in the ascendancy at the end of that game and they were unlucky against Newcastle. They've conceded last-kick-of-the-game goals to two top six teams so they're doing ok. This team is not far away.
Southampton can't defend for toffee and Nigel Adkins has started making some strange decisions. He left Rickie Lambert out two weeks ago against West Ham even though he's their best player by a million miles (with the possible exception of Adam Lallana).
Sometimes when managers are under pressure they make bad decisions and if they keep leaking goals he'll be under even more pressure. I don't see them fixing it overnight and I don't see them grinding out the 1-0 wins that they need.
I can't go with anything but a West Brom win.
PAUL PREDICTS: 4-1
Ford Super Sunday: Liverpool v Newcastle
3.30pm, Sun, Sky Sports 1 HD & Sky 3D
Liverpool missed a trick on Wednesday night by going out of the Capital One Cup.
They're a million miles off the top four in the Premier League, I don't think they can win the Europa League and the FA Cup depends on the draw. The League Cup still has Bradford in it and Arsenal and Chelsea playing weakened sides. They could win that!
Only two men in the world have earned the license to play a weakened team in the League Cup; Sir Alex Ferguson and Arsene Wenger. They can do what they want, but you have to remember that fans turn up to see their team win games.
I know Luis Suarez plays every week, but if you're going to rest him then don't put him on the bench. Plus they don't play again until Sunday so they could give the players a few days off after the Cup game. It's not good for Brendan Rodgers when the fans start booing the team off and there's so much pressure on them now.
If Liverpool play well they can beat anybody at home, but their home record is awful this year. It's probably as bad as Barnet's in 2012 in terms of games won and I really should fancy Newcastle here.
But I know Liverpool can slaughter anybody on their day, so I will go for the draw.
PAUL PREDICTS: 1-1
Ford Super Sunday: QPR v Reading
1pm, Sun, Sky Sports 1 HD
Reading fans should be majorly concerned. I would find it hard for Arsenal to beat my Sunday morning team if you gave us a 4-0 head-start.
If you defend right and do the things properly then teams shouldn't be able to come back, but Reading were very naïve. When Theo Walcott scored Arsenal's first goal they only had two men defending!
In training, you often work on forwards against defence. Sometimes a coach will put 11 attackers against four defenders and one holding midfielder and it's hard to score if they do their job properly.
I could probably play against Reading these days. They have nobody who can tackle and they're too nice; they're crying out for someone like Lee Cattermole who will get stuck in and wind people up.
It was pretty much Reading's first team on Tuesday night and as Brian McDermott said, it was embarrassing. They will be nervous even if they score the first goal against QPR and if they go 2-0 up and QPR get one back you can only imagine what they'll be thinking.
QPR haven't won a game all season, but suddenly everyone expects them to win this one. If Reading had beaten Arsenal there would have been a bit less pressure on, but now the fans, the directors and the pundits think QPR should win.
That could work in Reading's favour, but personally I think QPR will get that first victory.
PAUL PREDICTS: 3-1
Ford Football Special: Man Utd v Arsenal
12pm, Sat, Sky Sports 2 HD
Forget about the Reading game. It was a great performance from Arsenal to come back from 4-0 down, but it doesn't tell us anything about this game.
There aren't going to be many players on the pitch who played in the Capital One Cup. I doubt if four players who played in midweek are involved on Saturday, so I would play down the seven goals Arsenal scored in midweek.
I would focus on the two league games against Norwich and QPR when they only scored one goal and didn't create many chances. That's a big concern. Admittedly, they don't look like conceding goals, but they don't look like scoring either. It's almost the opposite to last season and they need to find that happy medium.
Last season they relied on Robin van Persie badly and now we are seeing why. He will get some stick from the away fans on Saturday, but I think he'll look forward to this.
Sir Alex Ferguson made a tactical masterstroke against Chelsea last week. I can't remember the last time Ashley Young kicked a ball, but he went with the wide men and Chelsea didn't know what had hit them in the first 20 minutes.
But I'm not convinced he'll do the same thing at home to Arsenal and I don't think he'll be happy to let a team keep the ball at Old Trafford like Chelsea did last week. The crowd won't be happy if they let Arsenal pass the ball around and they risk getting outnumbered in midfield if they play the same way.
I just think Ferguson will pick a team to win the game and I don't see Arsenal scoring enough goals. I've got to pick Manchester United.
PAUL PREDICTS: 3-1
Fulham v Everton
PAUL PREDICTS: 2-2
Martin Jol has a problem trying to get Bryan Ruiz and Dimitar Berbatov in the same team. They both need to play, but if he does that then then you haven't got a player going beyond the striker. I think Fulham look good going forward, but Everton are a good football team and this should be a draw.
Norwich v Stoke
PAUL PREDICTS: 2-0
Norwich thoroughly deserved their result at Aston Villa last week - they probably should have won that game - and then went and beat Tottenham in the Capital One Cup. I'm backing them to win this game because Stoke have been very poor away from home.
Sunderland v Aston Villa
PAUL PREDICTS: 0-0
Both of these would be in the category of teams that can go down. Sunderland can't score goals and Aston Villa have to make sure they don't lose the game. If I was to pick a winner I would pick Villa, despite their shocking form. I think Martin O'Neill might be a bit more adventurous and that could leave them exposed. However, both teams have been struggling for goals and I've got to go 0-0.
Swansea v Chelsea
PAUL PREDICTS: 1-1
Swansea will have their best ever chance of beating Chelsea on Saturday. Chelsea have to beat Shakhtar in midweek or else they will go out of the Champions League and they would much rather get a point in that game than this one. They've got 37 other games to get Premier League points, but this is a crucial match for them in Europe, so I think Swansea will get a result.
Tottenham v Wigan
PAUL PREDICTS: 3-1
Wigan are playing some good football and aren't doing too badly, but I've got to back Tottenham at home. They have been winning football matches lately and should do so again. Going out of the Capital One Cup was a kick in the teeth for them because they could have won that competition, but I think they'll bounce back.
West Ham v Man City
PAUL PREDICTS: 1-1
Like Chelsea, Man City have a must-win game against Ajax in midweek. I think they're out of the Champions League, but they need to win to qualify for the Europa League (but if they finish bottom of their group I think they'd be massive favourites to win the Premier League...) West Ham are very good at home and if they get their game together they can hurt Man City.
Follow Saturday's football on Soccer Saturday from 12noon on Sky Sports News HD and then see extended highlights on Football First from 8.25pm on Sky Sports 2 HD.