Would you believe it?
Ed Chamberlin reflects on a stunning Premier League finale and looks forward to the return of Frankel.
Last Updated: 17/05/12 12:28pm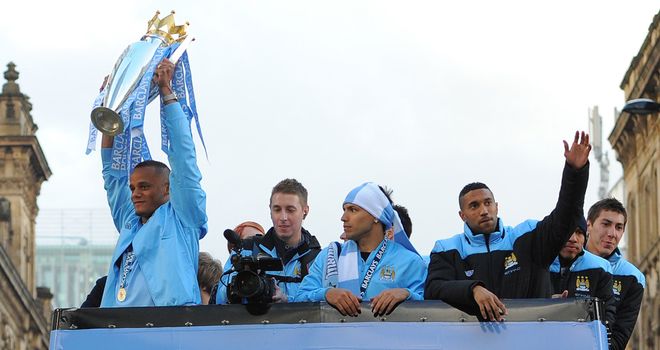 Wow. What a finale that was on Super Sunday. A crazy end to a mad season.
From the moment we arrived at the Etihad at 9am on Sunday morning, you could tell the day was 'different'. I've never seen so many people at a football ground so early and there was an expectant feel amongst the Manchester City fans, best described as a nervous anticipation.
What followed that day defied belief. Sky Bet's in-running betting best tells the story. At the start of the day Manchester City were 1/8, Manchester United 6/1. That changed, but only slightly, when United went 1-0 up after 22 minutes at Sunderland (City 1/7, United 5/1).
However, when City took the lead against QPR just before half-time, the odds suggested that was that as Sky Bet went 1/40 on City winning the title. That changed dramatically when QPR's 10 men somehow scored twice and all of a sudden, incredibly, Manchester United were favourites to retain their crown at 1/2.
That was only the start of the drama as going in to added time it looked a hopeless cause for City as they traded at 33/1 and fans were streaming out of the stadium. The shortest Manchester United got to was 1/20 with Sky Bet before the extraordinary late twist at the Etihad. Surely title odds will never swing as dramatically as they have since Manchester United were 1/40 to retain their crown after City lost at Arsenal less than six weeks ago.
Up in the studio at Man City, Graeme Souness, Jamie Redknapp, Gary Neville and myself looked on in total disbelief. We had one eye on the pitch, one eye on the monitor showing Man United's game and tried to monitor all the other scores as Champions League and relegation issues were settled. Those other games played a big part in what was an epic final day of the season.
Meanwhile, I was scribbling away and had planned my words for the final whistle fully expecting to be announcing that Manchester United had won their 20th title and handing over to the trophy presentation at the Stadium of Light.
That plan went out of the window as Martin Tyler produced that superb piece of commentary for Aguero's goal. The way Martin captured the key moment was vintage 'Tyler' but his silence during the goal celebration was pure genius. I'm sure that commentary will become an iconic Premier League moment for years to come.
Greatest finish
It was an incredible thrill to have been there to witness the greatest finish to a Premier League season, and arguably the most dramatic ever to a domestic season and watch the joyous celebrations from the City fans who had waited 44 years for a League title. Getting out of the ground was not easy.
That was also some way to end my first full season presenting the Premier League on Sky Sports. How fortunate have I been to have been involved in the season voted the best ever? I've been lucky enough to present the 8-2 at Old Trafford, the 6-1 Manchester derby, Chelsea 3-3 Man Utd and Man Utd 4-4 Everton amongst other great games but Sunday's drama tops the lot as my highlight of the season.
Sky Bet's 2012/13 Title odds: 11/8 Man City, 15/8 Man Utd, 5/1 Chelsea, 8/1 Arsenal, 25/1 Liverpool, 28/1 Tottenham, 100/1 Newcastle, 250/1 bar
It's only about 90 days until we can do it all again! Sky Bet clearly think the balance of power in Manchester has swung in City's favour as they offer 11/8 on Man City retaining their title with Man Utd at 15/8. More on that next week.
Test cricket
I'm very much looking forward to going to Lord's on Thursday for the first day of the Test match summer. I have rarely known a team so friendless in a market before a Test match.The West Indies are 8/1 with Sky Bet and I reckon they could go 16s and still see little money for the tourists.
They've had so little preparation and in chilly, seaming conditions it's hard to see them coping with England's outstanding attack. I think England are certainties and will be backing Kevin Pietersen to be England's top run-scorer.
Horse racing
This weekend's action is all about one horse: the mighty Frankel. He reappears at Newbury and it's business as usual as he's re-united with his regular bridesmaid/page boy from last season, Excelebration. Sky Bet go 1/3 Frankel, 9/4 Excelebration. Racing badly needs headlines and superstars so I sincerely hope Frankel wins again.
Richard Fahey remains in excellent form and his weekend preview is always worth a read on the Sporting Life website. He's also responsible for training the horse Sky Sports reporter David Craig will be riding in a charity race at York on June 16th to raise money for Macmillan Cancer Support.
It's a big challenge for our intrepid North-East reporter, who we know better for breaking news outside football grounds than riding racehorses. He's doing it for a great cause, which is very close to my heart, and for more details have a look at www.justgiving.com/David-Craig1