Hill's climb
Simon Veness talks racism and more with ex-Luton star Ricky Hill, now head coach of Tampa Bay.
Last Updated: 15/02/13 12:34pm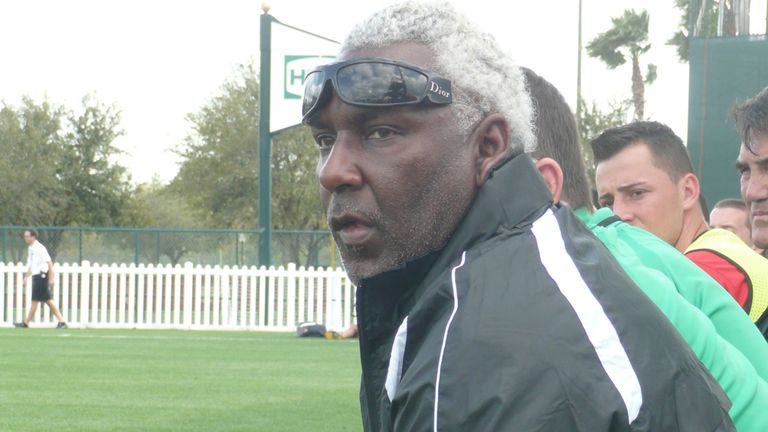 It's a long way from Paddington to Tampa Bay, especially when that route takes you from London via Luton, Le Havre, Leicester, Chertsey, Cocoa Beach (Florida), Sheffield (Wednesday), Tottenham and Trinidad.
But talk to Ricky Hill for a few minutes and you'll soon realise that journey is nothing compared to the road he travelled as a black player in the 1970s.
Hill, now 53, has walked many a mile in the shoes of recent racism victims such as Kevin-Prince Boateng, Danny Welbeck, Patrice Evra and others. In fact, Ricky and the likes of Viv Anderson, Cyrille Regis, Luther Blissett and Brian Stein all walked a gauntlet of abuse at regular intervals before the Kick It Out campaign was even the beginnings of a twinkling of an idea.
Yet even that is only part of the Ricky Hill story, a tale that is still being writ large here in my corner of Florida where 'soccer' is suddenly all the rage once again after the 1970s hey-day of the original Tampa Bay Rowdies (complete with Rodney Marsh), the Fort Lauderdale Strikers, Miami Toros and the NASL's marquee name, the New York Cosmos, Pele and all.
The Cosmos will actually burst back into life later this year when they play their first games for almost 30 years, but the ground has already been prepared for them by Hill and the Rowdies, the first team from the 'old' NASL to win a title in the 'new' incarnation of the league.
Chequered
To digress for a moment, the history of football (of the round-ball kind) in North America is an amazingly chequered and convoluted one. The NASL was originally born in 1968 and burst into brilliant life from 1975-80 when the Cosmos signed first Pele and then Franz Beckenbauer, before fizzling out in 1984 under the weight of an unsustainable business model of highly-paid stars and little or no club structure.
When the USA was surprisingly awarded the 1994 World Cup, one of the stipulations was to re-create a regular professional league, hence Major League Soccer (MLS) came into being in 1993 and played its first games three years later. Now a successful business entity with 17 years of solid growth behind it, MLS is a viable league in its own right but still has only 19 teams in a country slightly larger than all of Western Europe put together.
Imagine, you're a soccer fan in Edinburgh but your nearest team is in Paris. Or Madrid. Or Hamburg. Cue the 'rival leagues' and a three-year battle to create a viable tier system underneath the MLS. The dust from that little melee finally settled in 2011 with the new-look NASL as the official 'second tier' and the USL PRO league as another level in the sequence. Kind of. Because teams from either NASL or US PRO can petition to join MLS if they have sufficient financial backing.
But back to our story. The NASL is in the process of setting itself up as an alternative league to MLS, in parts of the country that don't have a top-tier team. Like Florida. So, with the rebirth of NASL came the reborn Rowdies and Strikers, and now here comes Ricky, taking over after a brief, unsuccessful, stint by Paul Dalglish (yes, son of Kenny).
In his first season (2011), Tampa Bay placed a creditable third and last year they went all the way to the championship play-off where they beat Minnesota Stars. Now Ricky's job is simple. Just provide even more success. Oh, and help put NASL on the sporting map as a major league.
He smiles at the thought of waging some kind of one-man campaign for soccer legitimacy. "It's certainly not all on me!" he exclaims. "But we can play our part. Because of the size of this country, there is a great opportunity for another league to succeed and here in Florida there is a growing and passionate fan base."
Considering his younger days, it should be a snip. After being plucked from the John Kelly Boys Technical College school team in Neasden by David Pleat in 1975, he became Luton's first black player and went on to make 436 league appearances as a mercurial attacking midfielder, scoring 54 goals. And being a regular target for the racists.
He recalled: "It was a sad fact of our journey and our history in football. The likes of myself, Cyrille, Viv and the handful of others, we contended with it the best we could as individuals. There were probably only five black players in the 92 clubs back then, so it was a real culture shock. And it wasn't just isolated chants but whole sections singing and singling us out for abuse.
"I don't believe that everyone who chanted was a racist. We were a threat to their team and they were just trying to do anything they could to put us off our game. But there was this hardcore who were passionate about 'their' culture who looked upon us as intruders and we weren't welcome in their game.
"Ultimately it was a handful of fore-sighted managers who gave us a chance, people like David Pleat, Ron Atkinson, Jimmy Sirrel and Graham Taylor. These were the days when we couldn't even get a trial with a pro club and people like Cyrille had to prove themselves over and over with non-League Hayes before he got his chance.
"We all grew up together in the same area, almost the same borough, and we all knew how difficult it was to break through. My brother was possibly a better player than me, and he had a great brain, too, but he could never even get a trial. That's just the way it was.
"But the few of us who had some experience of being in the pro ranks, of going away from home and getting verbally abused from start to finish by the whole crowd, we knew what it was like. I remember the looks on my team-mates' faces but it didn't bother me that much when it came down to it. It actually fuelled me, spurred me on. I wanted to prove I could play and that was the best way to shut them up."
Laughable
Hill doesn't believe his colour was responsible for his laughable total of just three international; caps in a five-year period, though.
Anderson had become the first black player to play for England in 1978, closely followed by Laurie Cunningham, and Ricky was the third in September 1982 under Bobby Robson.
"I think I was just a bit unlucky with injuries and circumstances, really. I know Bobby Robson actually liked me - he liked me! - when he was manager and, when he was still at Ipswich, he would often ask David Pleat when he would sell me to him. Then there was a game against Wales when they wanted to have a look at Gordon Cowans instead. It was just one of those things."
Recent campaigns, like Kick It Out, have served to make the lot of black players very different to those far-off days of the 1970s, and 80s but Hill knows the fight is far from won.
He added: "I am glad to say it is certainly not as prevalent now as it was back then. The numbers who want to be that way inclined have reduced dramatically. But there are still factions of that kind of person who think their behaviour lends itself to football, the hooligans and racists.
"Football still has a way to go. I saw a recent report on Sky on the Leeds-Millwall game that identified some 50-odd incidents of racist abuse and that suggests that, even though there have been major strides, there are still things we need to get to grips with."
It would be a lot worse if not for Hill and Co, though.
Coming up in part two of our chat with Ricky... remembering the Kenilworth Road riot.