Long Harg road
Jeff Stelling says Owen Hargreaves has taken a big step forward, but still has a long way to go.
Last Updated: 23/09/11 2:20pm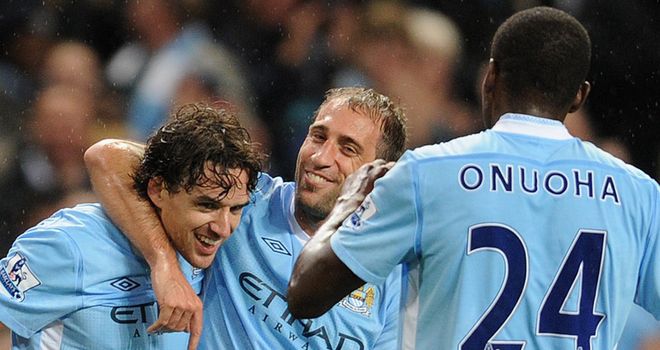 There were some great stories to emerge from the Carling Cup this week and none more so than the return of Owen Hargreaves.
Every football fan in the country, with the exception of those that support Birmingham and possibly some who support Manchester United, would have been delighted to see him score on his debut for Manchester City
You can't imagine how good he must have felt when the ball hit the back of the net, having only played nine minutes of football in the last three years and being rejected by United.
There were those who described his capture as a gamble for City when he moved in the summer transfer window, but they always had a lot more to gain than lose in my eyes.
He played nearly an hour and very well too, but the acid test will, of course, be how he felt when he woke up on Thursday morning, and Manchester City fans shouldn't expect to see Hargreaves' name on the team sheet every week because it's simply not going to happen. At least not for a long time.
It's a fantastic story though and we all know what a brilliant player Owen was. There was a reason he was a regular in the England squad and if he can get back to that level, that would be great.
He's taken a big step, but there is still a long way to go before he gets to that level again so, without trying to sound like the harbinger of doom, I would caution people not to get too carried away, just yet.
Premature
Similarly, I think talks of an England return for Michael Owen after his two goals for Manchester United against Leeds on Tuesday night are extremely premature.
Michael really needs to be starting most games for United or at least a heck of a lot more than he currently is, before he even gets close to an England recall! But he will know that himself.
The other great sight in the Carling Cup this week was that of Steven Gerrard on a football pitch again.
The Liverpool captain has been dogged by various groin complaints and his return to Kenny Dalglish's side couldn't have come at a better time after a couple of disappointing defeats at Stoke and Tottenham.
It's always difficult when you bring so many new players into a club as Liverpool did in the summer. With Steven out of the side everyone would have been looking at Jamie Carragher to be the leader, but they need more than just Jamie and the return of their talisman could just be the answer.
He's such a fantastic athlete and a real leader who inspires everyone around him and his return is not only great news for Liverpool but England, too.
I'm sure he'll be desperate to start against Wolves on Saturday, but sometimes you have to protect players from themselves and after six months out it might just be a good idea to keep him on the bench for the next couple of weeks and bring him on as an impact player like they did against Brighton.
The other Liverpool player that really caught my eye in their 2-1 win against the Seagulls was Craig Bellamy, and I can't imagine it will be too long before he gets his first start in the Premier League since returning to Merseyside.
Strength
As for Brighton they've carried on from where they left off in League One last year where they were head and shoulders above the rest.
Gus Poyet has done a wonderful job there and they won't be too far away at the end of the season I wouldn't have thought. They went toe-to-toe with Liverpool in the second-half and the way they played was even more impressive considering the strength of Liverpool's team.
With no European commitments this season, Kenny Dalglish opted to field a strong side, but the same cannot be said about most of the other Premier League big boys.
I understand why they do it, because it is a balancing act for managers, especially those with large squads and if I'm honest I don't think it has hindered the competition.
I'm not working on the Carling Cup this year, but over the years there have been some really fantastic matches. One of my favourite matches of all-time was the semi-final second leg between Burnley and Tottenham three seasons ago.
It was a wild and windswept night and the rain was absolutely lashing down at Turf Moor. Spurs were 4-1 up from the first leg but amazingly Burnley took the game into extra-time, before eventually losing 6-4.
It was a real classic and just one of many we have witnessed in recent years in the competition, and in a sense I think it's almost on par with the FA Cup these days. That's because, while the Carling Cup has gained focus, the FA Cup's stock has unfortunately dwindled over the years.
Interesting
Looking ahead to this weekend and I'll be back in the Soccer Saturday studio with the rest of the boys and while we're on air a really interesting contest between Manchester City and Everton will be taking place.
City have found goals very easy to come by this season and that in a large part is down to how quickly Sergio Aguero has settled in the Premier League, but I think this will be a tight game.
I can't see either team running away with it and along with Aguero I'm really looking forward to seeing how Royston Drenthe does.
The Dutch midfielder has a bit of a bad boy image having fallen out of favour at Real Madrid, but he's clearly a talented player and if anyone can get the best out of him I'm sure it's David Moyes.
Sundays are usually rest days for me and the Soccer Saturday team, but we've got a double header this week!
On Sunday we're heading to the Mayflower Theatre in Southampton to relive the weekend's action in front of two-and-a-half thousand people! It's the largest theatre in the South of England and although we've done similar things to this before, it's never been on this sort of scale!
So if you feel like asking myself, Paul Merson, Phil Thompson, Charlie Nicholas or even Matt Le Tissier a few questions, pop along... it should be an interesting night!
Join Jeff and the gang for Soccer Saturday this weekend at 12pm on Sky Sports News HD, channel 405.