Title takes a turn
Are Real Madrid feeling the pressure? Do Chelsea have any chance against Barca? Guillem answers.
Last Updated: 11/04/12 7:43am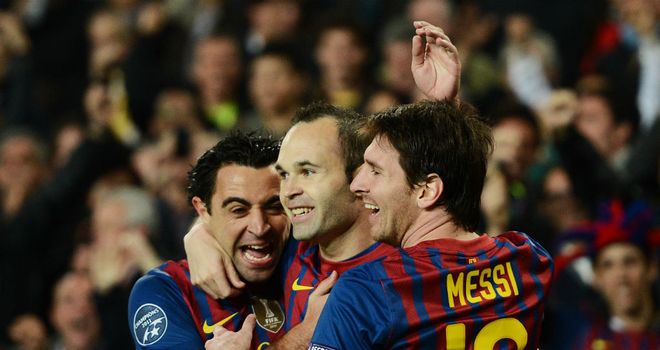 With Real Madrid's lead being cut to just four points, the race for the title is getting very exciting again.
Pep Guardiola said it was impossible for them to win the league and now everything has been turned round. It was a clever move by the Barca coach.
Firstly it took the pressure off his players and secondly it devalued Real Madrid's wins, because if your main rival throws the towel in then victory tastes less sweet. Also it puts pressure to Real Madrid who had a 10-point advantage.
Guillem answers your questions...
Got a question for Guillem? Then send it in here or use the feedback form below, and then look out for his answer next week.
CHELSEA'S CHANCES
Hi Guillem, do Chelsea have any chance of beating Barcelona in the Champions League? Hassan Khan
GUILLEM SAYS: If it were just one game then Chelsea would have more of a chance. But over two matches it will be much harder. Also Barcelona are peaking, and despite the fact that everyone will say Barcelona have a poor defence, they are a very balanced team. It will be key for Chelsea to get a 0-0 in the first-leg, not conceding especially, and then try for more at the Camp Nou. But from what I have seen this season Chelsea are not strong enough to beat Barcelona. They may surprise me but I just haven't seen it yet. On the other hand Barcelona just seem to be on the way up.
Chelsea have options. They can pressure high up the field but then they have to be very physical but I don't think Chelsea have that in them. They can sit deep but they would have to be lucky that in the 15 or so chances that Barcelona will create they won't score - which would be very risky. And they have to be very clever in the way they attack. They have to have their fast players like Torres and Mata just waiting in the wings to try to expose the space behind the defenders. It can be done because Barcelona have lost twice this season, but they have only lost twice this season.
BEST EVER?
Hi Guillem, Gerry Armstrong mentioned that this Real Madrid squad is the best in the world, and one of the best - if not the best - in their history. Do you agree with these statements? Amit Mamtani
GUILLEM SAYS: If you look at the bench, it is a very strong squad. But I don't see a number two to Xabi Alonso and I don't see a third striker, although Cristiano Ronaldo is more and more a striker. Higuain and Benzema are definitely two of the best strikers in the world. At the back Verano is a good replacement as is Albiol, who played well at the weekend. But I just feel at times they lack plan B and they look very anxious. They need to improve upon gaining more possession to create that plan B. You can argue if it is their best but certainly the squad is better than Barcelona's. If we say Barcelona have the best team in the world, may be Real Madrid have the best squad in the world.
RAFA TO RETURN?
Hi Guillem, Is there any truth that Valencia manager could change their manager soon? And could Rafa Benitez be the next manager?Doug Paterson
GUILLEM SAYS: Rafa Benitez will not go to Valencia. Valencia are looking for a cheap manager because now it is all about reducing the debt. Although Manuel Llorente is a great president from that point of view, he is looking at the money and taking them to a new stadium. At the moment he has seen a few coaches, but if Emery wins the Europa leage, if Valencia finish third and if he reduces the wages, Llorente could ask him to continue but I doubt it. There is a lot of pressure from the fans and the players.
NEXT TO REIGN IN SPAIN?
Hi Guillem, Who do you think should replace Del Bosque as the national team manager - Benitez, Guardiola or a manager with less of a reputation?Jorge Satorre
GUILLEM SAYS: Rafa Benitez could replace Del Bosque, although it may be a bit early for that. Guardiola is very Catalan, too Catalan to be the Spanish national coach. He has said in the past that he played in Spain because there was not a Catalan national team. It will have to be a manager that respects the style and you can find a few of those in Spain. I imagine Del Bosque will stay until the next World Cup in which case there is no rush to replace him.
TELLO THE TRUTH?
I've been reading that Liverpool are interested in Cristian Tello and possibly Isaac Cuenca - do you think there is any chance either will move? Also do you know of any other Spanish players Liverpool may make moves for in the summer? James Graham
GUILLEM SAYS: I have followed Tello closely and there are many clubs interested in him. Barcelona have set up talks with his agent to discuss a new deal so it is very unlikely that he will go anywhere.
LAUDRUP TO ENGLAND
My main question is about your Revista friend Michael Laudrup, who is, along with Pep Guardiola, my idol in modern football management. Has he been contacted by any clubs to return to coaching for next season? And i would also like to know your opinion on the current crisis at Liverpool, and is it possible that Liverpool will make any moves towards David Villa or maybe some Bilbao players in the summer?Barry McFeely
GUILLEM SAYS: He is in contact with clubs and he is in the position to be able to choose which clubs he wants to go to. I think he would be interested in a Premier League team that has a project, defends good football and is based on a similar football philosophy.
Bad signings have cost Liverpool and the manager needs to offer new answers to the problems because far too often his selection is confusing. The players have been disappointing and sometimes it is very easy to hide behind a manager in crisis. But I thinks the club needs new young blood at all levels and if the club were brave enough to do that, with or without Kenny, the future can be bright. It can be done with Kenny, but then the manager will have to change some of his ways (in relation to the academy, tactical work, with the press) to get again everybody on board. Also they need to sign better - specially players with pace and a goal-scorer.