The price of meet
Guillem tells you about Real's Mourinho-less meeting and if Alba, Muniain and Luiz are on the move...
Last Updated: 26/03/12 5:04pm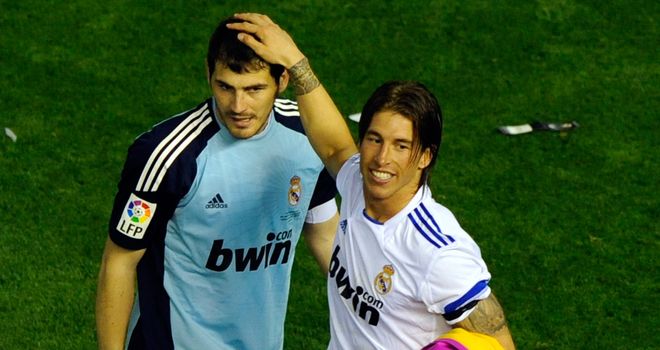 Barcelona looked sharp again during their victory at Mallorca.
They look physically strong, which means they can defend high and pressure their opponents in the way that they did last season. That's something they've done only every now and again this year.
When Thiago was sent off they defended with a lot of discipline; using two lines of four to keep Mallorca at bay. In fact, Pep Guardiola probably made a mistake by playing with three at the back at the start of the game, but he quickly changed to a back four.
Sometimes he thinks too much about things and gets it wrong, but he showed against Mallorca that one of his great assets is that he can read a game and he's the kind of manager who will change things.
It was relatively easy to see that Mallorca boast a lot of pace in Michael Pereira and Chori Castro and it was too easy for them to run into the spaces left behind the centre-backs at the start of the game. However, that was corrected and it was a solid performance from Barcelona.
As for Real Madrid, it was time to relax a bit and get three points - and that's what they did.
After their draw with Villarreal there were insults directed towards the referee from the Real Madrid players in the tunnel and, as a result, Pepe was given a two-match ban. Jose Mourinho and Mesut Ozil were also given one-match bans after being sent off in that match.
Real Sociedad didn't put up much opposition this weekend and Real got back to winning ways, but it was interesting to hear that Iker Casillas and Sergio Ramos called a meeting without the manager and the staff. They wanted to talk among themselves about the team's situation after two draws.
The impression that has emerged from that meeting is that the players don't want to get involved in any more controversy and want to focus on their football.
But Mourinho has different ideas. He needs the controversy and the pressure on referees to try and get more doubtful calls going in Madrid's favour - and also to get those calls going against Barcelona in their games! That's one of his strategies.
The Spanish players think one way over refereeing controversies and Mourinho thinks another - and that's a clash that has always been there at Real Madrid.
Guillem answers your questions...
Got a question for Guillem? Then send it in here or use the feedback form below, and then look out for his answer next week.
JORDI SURE?
Hi Guillem. I hear reports circulating this week that Barcelona have a pre-contract agreement with Santos to sign Neymar. I also wanted to ask you if you had any news on a potential deal for Jordi Alba? With the sad news of Abidal having to undergo a transplant, will Barca be looking to step up their interest? Keep up the good work, Steven Broadbent
GUILLEM SAYS: I'm glad everybody has come to the conclusion that Neymar is going to Barcelona because that's a story that I broke on Revista de la Liga and in my paper AS about two months ago. I did say that Barcelona have already made a payment to Santos and everybody now seems to be coming around to that idea (so remember to keep watching Revista for the big stories!) We also explained on Revista several months ago that Jordi Alba has a pre-contract agreement with Barcelona and while he may renew his contract with Valencia, that would only be so that Barcelona have to pay a bigger fee (around 15million euros). The smart money is on him going to Barcelona.
WHO LIKES IKER?
Hi Guillem I enjoy reading your comments. After a fantastic performance against Manchester United, Athletic Bilbao players are on the mouths of everyone. What are the chances of Iker Muniain leaving this summer to clubs which are able to afford him? How much is the release clause of Iker Muniain? Mo Abdul (AC Milan fan)
GUILLEM SAYS: I think Muniain will leave Athletic Bilbao at some point, but not just yet. His buy-out clause is 35million euros and he's under contract until 2015. He's certainly a player that Barcelona, for instance, like a lot. It may not be this year, but he's the type of player that Barcelona would fight for in due course.
MAKING HIS MARKEL
Hi Guillem, It irks me slightly that every time Athletic Bilbao are mentioned, it is always Llorente, Muniain or Martinez that are praised. I wanted to know your thoughts on Markel Susaeta? Thanks, Mabs (London)
GUILLEM SAYS: I agree on Susaeta and I also like Oscar de Marcos and Andoni Iraola. They have a strong team, although they haven't won in their last four games in the league (three defeats and one draw). They haven't won a La Liga game since they beat Real Sociedad in the derby and there a number of different reasons for that. Marcelo Bielsa exploits his players and demands a lot of them physically, so they can't always perform the way they did against Manchester United, especially because he doesn't rotate a lot. They were also without Fernando Llorente in three of those games and they didn't really have a plan B. I'm sure they will raise their performances in the Copa del Rey Final and in the Europa League against Schalke, but it won't be as easy against the German side as people seem to think.
IS SANCHEZ AL-RIGHT?
Dear Guillem. First of all, big fan, always picking up your blog and it's always better when you're in the studio for the Spanish games. I am a massive Barcelona fan and what I want to know is, Alexis Sanchez has been here for almost eight months now and I can't help but notice that he's not really part of the team. I want to know if it's just me that's picking this up or is it just my mind? I feel that he doesn't get the ball a lot, when he does get the ball if he makes a mistake or the wrong decision nobody is seeking to lift his head up like they would anybody else and even more so with Messi. Is there something in this, are the players getting along with Alexis? Thanks in advance, Andrew Hendry
GUILLEM SAYS: Thanks for your kind words. Alexis was the number nine striker against Real Madrid and did really well. He adds something different to the side and Pep is really happy with him, although he made it public that he wasn't happy when he played 90 minutes for Chile. The main concern is that he's injury-prone and he needs to be more clever about the international friendlies he plays. Also, he sometimes works too hard on the pitch and needs to learn to rest more. There's also tactical issues which he needs to learn and he is a work in progress, but I can tell you that Pep is happy with him.
WORK OF ART
Hi Guillem, I was wondering what your thoughts are on Mikel Arteta's performances for Arsenal in these last few weeks? Ashley Williams (Arsenal fan)
GUILLEM SAYS: One of the key reasons for Arsenal's rise up the Premier League table is not so much Robin van Persie's goalscoring (everyone else seems to be scoring the goals at the moment), but the team generally adapting to what they have. I feel they have dropped a little bit deeper than they did when Cesc Fabregas was there and in Arteta you have a midfielder who lacks the dynamism of Cesc, but is more disciplined. At times Cesc was like a forward, moving everywhere with plays going through him and the other players moved around him trying to get on the end of his passes. With Arteta there is more discipline; perhaps that makes Arsenal more predictable, but when they lose the ball it's more difficult to break on them because they haven't lost their positions as they might with Cesc in the team.
LU MUST BE JOKING
Hi Guillem, there are reports in the English press that Barca are planning to bid £35million for David Luiz! Firstly, I was under the impression they had little money to spend on transfers and secondly why spend so much on such an accident-prone defender? Seems like Chygrynskiy all over again. Surely Thiago Silva or Chiellini would be of similar price but better value for money? Hoolio Borneo (Barcelona fan)
GUILLEM SAYS: We will talk about this on Revista (so tune in at 6pm on Sky Sports 1 HD on Tuesday night), but there's no chance of Barcelona paying that money for Luiz. He's not on the list of centre-backs that they want at the moment.
Got a question for Guillem? Then send it in here or use the feedback form below, and then look out for his answer next week.
For more from Guillem throughout the week you can follow him on Twitter @GuillemBalague