Wander-ful scenes
A fitting Fabrice tribute, a good point for City and perspective for Liverpool... it's Kammy's talking points.
Last Updated: 27/03/12 9:19am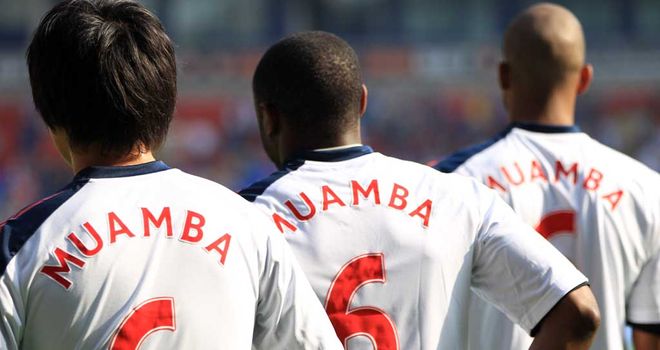 Every Saturday afternoon, Chris Kamara heads to stadiums up and down the country to deliver his unique match reports for Soccer Saturday.
On Sundays you can see him back in the Sky Sports studios as he brings you all of the highlights as well as in-depth analysis of all the action on Goals on Sunday.
And then on Mondays you can find Kammy right here on skysports.com as he brings you his views on the weekend.
Join us every week as he runs through his highs and lows of the Premier League...
You wouldn't have wanted to be the opposition at the Reebok Stadium on Saturday
It was a no-win situation for Blackburn Rovers because everybody wanted Bolton to win for Fabrice Muamba. I'm sure if the opponents had been different then Steve Kean would have felt that way too. Nevertheless, the tribute that the club gave was outstanding and when Fabrice is fit and well again he'll see the lengths that people went to for him. It shows what an outstanding character he is for all of this to be happening.
Let's not forget that this was an important three points for Bolton too. If Fabrice comes back, they want him to come back as a Premier League player. It's an old cliché, but life carries on and even though this unfortunate circumstance has happened Bolton remain desperate to keep their Premier League status, perhaps even more so now.
It was a point gained for Manchester City at Stoke
No ifs or buts, that was a good result for Man City at the Britannia Stadium. Roberto Mancini knows that going to Stoke is difficult under any circumstances, but when Peter Crouch produced his world-class goal - the sort of goal you only see once or twice a season - there was nothing that any team in the world could do about it. You can't defend against that. All you can do is come from behind to salvage a draw and that's exactly what they did. I think it was a great point for them in the end.
But what a goal. Crouchy has got that in his locker and I think he gets the ball played to his head too much at Stoke when he'd prefer it to his feet. He's a talented player and it's the best individual goal we've seen this year; the sort of goal you see from Lionel Messi or Paolo Di Canio. We've seen some great team goals in the Premier League, but that was the best individual goal so far.
It's too early to judge Kenny Dalglish and Liverpool
The clubs at the bottom would have expected Wigan to lose at Anfield and they'll have been devastated by that result. The newspapers have been asking if Kenny Dalglish is the right man for the job, but I don't agree with those questions. They've won the Carling Cup and they've got another day out at Wembley in the FA Cup semi-final with a chance of getting to another final. This is a competitive division with a lot of money being spent - just ask Arsene Wenger who has been waiting seven years for a trophy - but Kenny's got one in the bag in his first full season with a possibility of another.
Some of the players have been disappointing. Jordan Henderson will hold his hand up and say he hasn't performed anywhere near the way he did at Sunderland and Andy Carroll is similar (but he could argue they aren't playing to his strengths). But you can't write those players off just yet. Let's see who Kenny brings in at the end of the season to power Liverpool on next year. He won't be happy to have lost to QPR and Wigan, but let's get things in perspective. They could end up with more trophies than Chelsea this year - and look at how much money they've spent.
It's hard to fathom what Djibril Cisse was thinking against Sunderland
Under the circumstances that QPR are in, the last thing they need is for their new striker to get sent off for a second time. The reaction from the QPR players told the story; normally the players all go around the referee hoping to get him to change his mind (of course, he never does), but not one player came to his defence after his foul on Fraizer Campbell.
Cisse is a very good player and he scores goals for fun, especially in one-on-one situations, but he's doing a lot of damage to QPR. He is missing games and he's making life harder for his team-mates. It's just criminal what he's done.
Wolves need a lift from somewhere
Wolves didn't give themselves a chance against Norwich. They took the lead, but gave it away again almost immediately and the defending was so amateurish. We had Mick McCarthy in the Goals on Sunday studio and he says Terry Connor can do the job. He's a very good coach and has waited a long time for an opportunity, but unfortunately things aren't going right. It's going to be hard for them to survive. They need a boost somewhere along the line.
I don't think Arsenal will drop out of the top four now
I thought Arsene Wenger's time was up at Arsenal because, for someone of his pedigree, he'd gone such a long time without a trophy. We all know how much he hates losing and I wondered if his time was coming to an end. However, he deserves all the credit in the world because the quality of their play was so high against Aston Villa. They had a freshness about them and he no longer looks like a manager who is coming to the end. Maybe next year will be their year?
Everton did their homework very well on Swansea
I was at Swansea v Everton and David Moyes got his tactics spot on. They pushed three up at times to squeeze the back four and they dropped off at other times. Swansea played the same way that had earned them so much good press last week, but they were out-thought by Everton. Brendan Rodgers had been looking forward to the game, but it was another lesson for him to take away. Teams will play like that against them more and more and they need to find a way to combat that next season.