Football Commentator & Columnist
Comeback kings
Arsenal's comebacks, the oldest centurions and a clean sheet for Rovers... Martin Tyler has the stats.
Last Updated: 14/03/12 1:25pm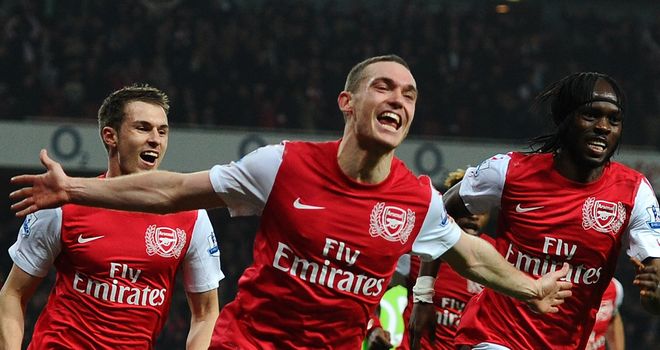 Martin Tyler's stats and facts column is here!
Every week he will be here to offer you statistical gems to make your day, impress your mates and, on occasion, to settle the odd bet.
Sky Sports' voice of football and his back-up team of experts are here to answer your questions and queries on all things statistical and historical from the beautiful game.
If you have spotted something from a game or have been stumped by a pub quiz question, simply email
skysportsclub@bskyb.com
and he will do his best to help.
Tyler's Starting Stat - Han's the man
I watched Wigan and Norwich play out a 1-1 draw on Sunday, just as it was on the opening day of the season when Wes Hoolahan also scored. It was his 150th appearance for Norwich in all competitions and the 249th of a career in which he has scored 46 goals, three of them coming in the Premier League this season. Not bad for a £250,000 signing from Blackpool!
Victor Moses scored his third Premier League goal of the season and he's played in all of Wigan's league games so far (26 starts, two as a sub). Ten days earlier, he won his first cap for Nigeria having previously been capped for England Under-21's when he came on as a second-half substitute against Rwanda.
Wigan played well, but have only one win in their last 13 in the Premier League. However, they've only lost one of their last five - the disappointing home defeat to Swansea. This is only the second season ever that Wigan and Norwich have been in the same division. They met in the Championship in 2003/04 when it was 1-1 at Wigan and 2-0 to Norwich at Carrow Road.
David Fox played very well in midfield and he reminded me of my first ever TV commentary game when his father Peter kept a clean sheet for Sheffield Wednesday at Southampton on December 28, 1974. What made me feel really old was that when Peter did that he was 17 - and I obviously wasn't!
LOADING THE VAN
Dear Martin. After Robin van Persie equalised against Newcastle on Monday, I have noticed he has now scored against 16 different teams in the League this season. What is the record held by an individual player scoring against the most opposition teams in a single Premier League season? With games against Wolves and Manchester City coming up, Robin could further increase his tally (and then he'd have only failed to score against Fulham!). Youssef Rifai
MARTIN SAYS: We discussed this in the column a few weeks ago and Robin van Persie is closing in on the record for scoring against the most teams in a 38-game Premier League season. As you point out, he has scored against 16 teams and the record stands at 17. That tally is held by another Arsenal goalscoring great - Ian Wright - who scored against 17 of his 19 opponents back in 1996/97 with Sunderland and Manchester United the only sides he failed to net against.
Two other players have scored against 17 teams in one campaign, but they both did it in seasons when there were 22 teams in the Premier League. Back in 1994/95, Alan Shearer scored against every side except Norwich, Man Utd, Nottingham Forest and Crystal Palace, while back in 1993/94 Andy Cole scored against 17 teams, but not Tottenham, Coventry, Swindon, QPR or Chelsea.
Van Persie has become only the fourth player to score against 16 different teams in a 38-game season after Wright, Alan Shearer (1996/97) and Cristiano Ronaldo (2007/08). He will level the record if he scores at home to Man City on Sunday April 8 and will beat it if he then goes on to score at Wolves on Wednesday April 11. As you mentioned, the only team he cannot score a goal against this season is Fulham, having failed to score in either of Arsenal's Premier League games against them this year.
Most teams scored against in one season:
SEVENTEEN
Ian Wright, 1996/97
(NB: Andy Cole (1993/94) and Alan Shearer (1994/95) did it in 42-game seasons)
SIXTEEN
Alan Shearer 1996/97, Cristiano Ronaldo 2007/08, Robin van Persie, 2011/12
(NB: Alan Shearer (1993/94), Les Ferdinand (1993/94) and Stan Collymore (1994/95) did it in 42-game seasons)
COMEBACK KINGS
Dear Martin, I have noticed that Arsenal, when they do win, often do so from a losing position. Have they picked up the most points from a losing position in the whole of the Premier League? Thanks. James Mitchell (Sheffield Wednesday fan)
MARTIN SAYS: As has been widely reported, Monday night's win over Newcastle meant Arsenal became the first side ever to win four consecutive Premier League games after coming from behind in each. Their comeback wins over Sunderland, Tottenham, Liverpool and Newcastle have earned them 12 points in four games - and most sides haven't won that many points from behind all season!
Overall, Arsenal have earned 19 points after going behind in games this season. They famously came from behind to beat Chelsea 5-3 in October and also came from a goal down to beat Norwich 2-1 in November, as well as fighting back to earn a draw with Fulham later that month. It obviously helps if you can score quickly, as Van Persie did on Monday. The psychology of 0-0 and 1-1 was very different for Newcastle; the game is still level, but you've lost a lead.
The other comeback kings of the Premier League this year are Wolves, who have picked up 14 points from losing positions - more than half of their total of 22 points.
You'll notice from below that the sides that have picked up the fewest points from losing positions this season are the top two - Manchester United and Manchester City. That's presumably because they don't go behind very often! United came from behind to snatch draws with Chelsea and Liverpool, while Man City came from a goal down to beat QPR in November.
Most points gained from losing positions this season (thanks to Opta for these):
NINETEEN: Arsenal
FOURTEEN: Wolves
ELEVEN: Aston Villa
TEN: Everton, Norwich, Wigan
NINE: Fulham
EIGHT: Chelsea
SEVEN: Blackburn, Swansea
SIX: QPR, Stoke, Sunderland
FIVE: Liverpool, West Brom
FOUR: Newcastle, Tottenham
THREE: Bolton, Man City
TWO: Man Utd
A CENTURY OLD
Dear Martin. I heard that Didier Drogba scored his 100th Premier League goal just a few days short of his 34th birthday. Have any players been older than him when they scored their 100th Premier League goal or is he the oldest? Craig Stanley (Chelsea fan)
MARTIN SAYS: Didier Drogba is the first African to score 100, but he's not the oldest player to join the Premier League goal-scoring centurion club (which now has 22 members). That honour goes to Manchester United's Ryan Giggs, who scored his 100th goal in the league a day short of his 36th birthday against Portsmouth in November 2009.
In fact the top three were all playing for Manchester United when they scored their 100th goals with Paul Scholes, 35, and Teddy Sheringham, 34, the second and third oldest. Drogba, as you say a few days short of his 34th birthday, is fourth on the list.
Incidentally, Michael Owen was the youngest player to net 100 Premier League goals when he scored against West Brom in 2003 at the age of 23 years and four months. Former Liverpool compatriot Robbie Fowler had led the way by reaching the mark in January 1999, when he was almost five months older than Owen was four years later. Wayne Rooney was the third youngest, joining the club at the age of 24 years and three months in January 2010.
Age of Premier League centurions when they scored their 100th goal:
1. Ryan Giggs (35y 11m 30d)
2. Paul Scholes (35y 3m 18d)
3. Teddy Sheringham (34y 6m 26d)
4. Didier Drogba (33y 11m 28d)
5. Ian Wright (33y 10m 10d)
6. Dion Dublin (33y 7m 1d)
7. Matthew Le Tissier (32y 7m 1d)
8. Jimmy Floyd Hasselbaink (32y 0m 0d)
9. Emile Heskey (30y 9m 21d)
10. Frank Lampard (30y 4m 12d)
11. Les Ferdinand (30y 4m 1d)
12. Nicolas Anelka (29y 9m 0d)
13. Dwight Yorke (29y 0m 22d)
14. Jermain Defoe (28y 6m 16d)
15. Darren Bent (27y 11m 26d)
16. Robbie Keane (27y 5m 18d)
17. Andrew Cole (27y 4m 2d)
18. Thierry Henry (26y 5m 24d)
19. Alan Shearer (25y 4m 17d)
20. Wayne Rooney (24y 3m 7d)
21. Robbie Fowler (23y 9m 7d)
22. Michael Owen (23y 4m 12d)
Dear Martin. I'm still buzzing after Swansea beat Manchester City - and we even managed to miss a penalty as well! That was the first penalty we have missed this season and I was wondering how many sides can still boast a 100 per cent record from penalties this year. Can you tell us who has the best penalty conversion record in the league and who has the worst? David (Swansea City fan)
MARTIN SAYS: Well David, there are three Premier League teams who can still boast of a 100% penalty conversion rate this season. They are: Everton, Aston Villa and Norwich. Everton top the list having slotted four penalties, while Villa have converted three and Norwich just one.
Swansea were top of the table with five out of five conversions this season before Joe Hart's save from Scott Sinclair on Sunday. However, they remain joint-fourth with Manchester City on the penalty conversion table. Both teams have netted five of their six penalties this season (83.33%). Interestingly, Manchester United have won by far the most number of penalties this season and have stuck away seven of their nine spot kicks.
By far the worst penalty takers this season have been Liverpool with a conversion rate of just 20%, having failed with four of their five attempts (Dirk Kuyt v Arsenal and Everton, Charlie Adam v Wigan, Luis Suarez v Sunderland). West Brom are second worst after scoring only one of their three penalties. The rest of the Premier League teams have at least a 50% conversion rate.
It's always struck me in my 37 years of commentating that the goals have stayed the same size, but goalkeepers have got bigger!
Thanks to Opta, here are the penalty conversion rates for each Premier League team this season:
| | | | |
| --- | --- | --- | --- |
| Everton | 4 | 4 | 100.00% |
| Aston Villa | 3 | 3 | 100.00% |
| Norwich City | 1 | 1 | 100.00% |
| Manchester City | 6 | 5 | 83.33% |
| Swansea | 6 | 5 | 83.33% |
| Manchester United | 9 | 7 | 77.78% |
| Chelsea | 4 | 3 | 75.00% |
| Fulham | 4 | 3 | 75.00% |
| Tottenham | 4 | 3 | 75.00% |
| Wolves | 4 | 3 | 75.00% |
| Wigan | 6 | 4 | 66.67% |
| Bolton | 3 | 2 | 66.67% |
| Newcastle | 3 | 2 | 66.67% |
| QPR | 3 | 2 | 66.67% |
| Stoke City | 5 | 3 | 60.00% |
| Blackburn | 6 | 3 | 50.00% |
| Arsenal | 2 | 1 | 50.00% |
| Sunderland | 2 | 1 | 50.00% |
| West Brom | 3 | 1 | 33.33% |
| Liverpool | 5 | 1 | 20.00% |
BLANKS AGAIN
Hi Martin, I heard in commentary the other day that Blackburn's 2-0 win at Wolves was their first clean sheet of the season!? Is that right, and if so, can you tell me which team has gone the longest amount of games without a clean sheet in the Premier League? Thanks, and keep up the great work! Samit Ali
MARTIN SAYS: Well you did indeed hear correctly Samit. Blackburn's clean sheet on Saturday was their first in the league since April 30 last season when they kept out Bolton in a 1-0 win. In total they went 30 consecutive games without a clean sheet.
However, they avoided breaking the record for the most games without a clean sheet. That belongs to West Bromwich Albion, who went 34 games without a shut-out last season. The Baggies' unfortunate run began against Liverpool on August 29, 2010 and only ended on May 14, 2011 when they beat Everton 1-0 at home in their penultimate game of the season.
Thanks to Opta, here are the longest runs without a clean sheet in Premier League sheet
| | | | |
| --- | --- | --- | --- |
| Team | Games without C S | First game in run | Last game in run |
| West Brom | 34 | 29 Aug 2010 | 8 May 2011 |
| Blackburn | 30 | 7 May 11 | 3 Mar 2012 |
| Burnley | 27 | 7 Nov 2009 | 9 May 2010 |
| Wimbledon | 26 | 27 Feb 1999 | 30 Oct 1999 |
| Newcastle | 25 | 16 Oct 2000 | 21 April 2001 |
| Wolves | 25 | 10 Sep 2011 | 10 Mar 2012 |
| Swindon Town | 24 | 7 Dec 1993 | 7 May 1994 |
| West Ham | 24 | 1 Mar 2008 | 8 Nov 08 |
Blackburn do now, however, hold the unwanted record for the longest start to a season without keeping a clean sheet, having gone 27 games this year before their first shut-out. The record was previously held by Bolton, who went through the first 20 matches of the 2009/10 campaign without keeping a clean sheet before preventing Burnley from scoring at the 21st attempt. Norwich City surpassed that record this season by keeping their first clean sheet in their 22nd game of this season (a 0-0 draw with Chelsea), but Blackburn went even further - not keeping a clean sheet until Saturday, their 28th game of the campaign.
BOSSES AT THE BOTTOM
Hi Martin. Having seen Aston Villa slip precariously towards the lower end of the table I was wondering, has there ever been a manager that has been relegated from the Premier League in consecutive seasons or would Alex McLeish be the first if Villa fail to stay clear of the relegation zone (providing he's still in charge)? Liam (Liverpool fan)
MARTIN SAYS: Avram Grant is the only manager to hold the undesirable record of taking a club down from the Premier League in consecutive seasons - with Portsmouth in 2010 and West Ham in 2011.
Grant was parachuted in to the Pompey hot seat in November 2009 after the release of Paul Hart and despite leading them to the FA Cup Final, where they lost to his former club Chelsea, he failed to save the club from relegation as they finished bottom of the Premier League.
Grant resigned from his role with Portsmouth in May and by June he'd agreed to take over as West Ham manager. The Hammers endured their worst ever start in the Premier League and went on to win just seven games all season. Grant was sacked after a 3-2 defeat to Wigan confirmed their relegation in May.
The only other manager to have been involved in Premier League relegations in consecutive seasons is Peter Reid. He took charge of nine games for Sunderland during the 2002/03 season and managed Leeds for 12 games the following season - with both sides going down at the end of those campaigns. However, Reid left Sunderland in October 2002 and Leeds in November 2004 and was at neither club when their demotions were confirmed.
Tyler's teaser
Fill in your answers to Martin's teaser using the feedback form below - and keep those questions coming in!