Some turnaround
As they prepare for the play-offs, Chris Burton discusses Cheltenham's turnaround with Russell Penn.
Last Updated: 10/05/12 5:27pm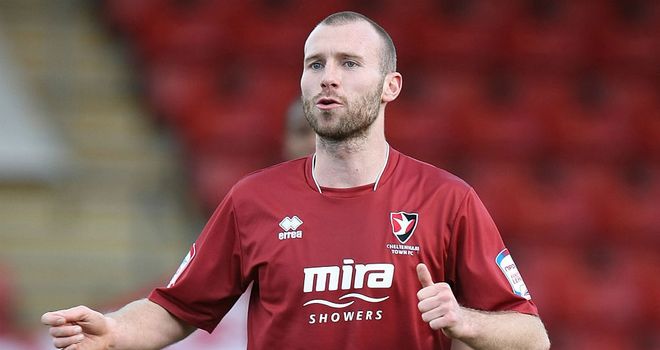 Cheltenham Town ended the 2010/11 campaign 16th in League Two, just five points clear of the relegation zone.
On Sunday, having improved by 10 places in the space of a year, they will face Torquay United in the first leg of their play-off semi-final - live on Sky Sports 1HD.
The Robins, who were looking anxiously over their shoulder 12 months ago, are now three games away from a place in the third tier and are building towards a brighter future.
It has been some turnaround at Whaddon Road, with manager Mark Yates justifying the faith shown in him by the club's board.
Few could have predicted that he would oversee such a dramatic reversal in fortune, but he has got the Robins soaring once more and they are determined to secure a return to League One.
Russell Penn was among those drafted in last summer to aid Cheltenham in that quest and he insists their success this season has been thoroughly deserved.
He told Sky Sports' Chris Burton: "I wasn't there last year but I know a few of the boys and I know the manager's staff because I worked with them before at Kidderminster. It just appealed to me to go there and we have had a great turnaround. It's been a fantastic year."
Asked if the improvement in performances and results is down to players playing to their potential, he added: "I think so. We have got no world-beaters in there, we have just come together as a unit. We have done ourselves proud. We finished sixth and we got to the FA Cup third round away at Tottenham so, all in all, the players, the staff and the chairman are really happy."
Happy
Things could have been even better for Cheltenham this season, with a top-three standing occupied for long periods of time.
Penn said: "We are disappointed that we didn't finish it off in the top three as we were in there for so long but at the start of the season if you had asked us would we take a play-off place, everyone would have bitten your hand off. We are still very happy.
"We are three games away from getting promoted to League One, so it's not finished yet and we have still got a job to do."
An untimely wobble during the spring cost Cheltenham a shot at automatic promotion, but back-to-back victories to end the campaign and four wins in six suggests the Robins are flying heading into the play-offs.
Penn said: "We are in good shape. We have had one bad month in the season, that was March, where we picked up two points from a possible 18. With a couple more wins we would have been top three, so apart from that month it's been really consistent and with four wins in six we are going into the play-offs with good form."
Cheltenham will, however, have to do something they failed to achieve during the regular season if they are to progress through the play-offs - with only one point taken off Torquay this term.
Asked if the Robins feel as though they learnt plenty from those ties, Penn said: "I do. They were two very tight games, 2-2 away at their place and just 1-0 at our place - which was from a set-piece, which was disappointing. I know a lot of their lads as well and we are quite similar in the way we play, we have got a lot of hard workers and a bit of quality could win it."
Form
While the Robins may have yet to get the better of the Gulls this term, Torquay's end of season stumble has offered them cause for optimism heading into the most important of their meetings so far.
Penn said: "They will probably be a bit down. They have spent the last couple of months in the top three so they are probably going to be hurting more than us, because they were still fighting for it in the last game of the season. Their form has probably been the complete opposite to our form, but there will be a couple of sell-out crowds in the next couple of weeks and it will be whoever takes their chances that will go through.
"It's two legs, home and away form isn't really a problem. We just have to be full of excitement and confidence and believe that we can do the job. It's all about the mentality now, the will to win, and it's like two cup finals to try and get to Wembley. Whoever comes out of this, fair play to them and hopefully they can go on and win the final."
Penn is, understandably, hoping that it is Cheltenham who come out on top, allowing him to prolong a productive debut season with the Gloucestershire club.
The former Kidderminster and Burton Albion midfielder said: "It's probably been my best season in club football. We have been top three, play-offs, all season, we have had a good cup run and the lads as a whole, it's been great to join up with them. We are a unit and we have done really well together."
All that is left to be done now is for Penn to force his way back into Yates's starting XI on Sunday, play a leading role in two crucial contests and book himself a day out at Wembley.
"Hope so, touch wood," he said. "It's a big couple of weeks for us now and hopefully we can get the job done and secure ourselves a place in League One for next year."