Pride of Lions
Jack Smith tells Chris Burton of his delight at earning a recall at Millwall and aiding their revival.
Last Updated: 14/11/11 5:58pm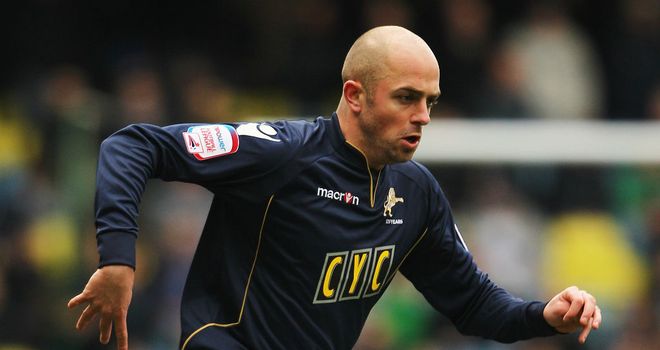 It goes without saying that you can't pass judgement on a season 10 games into it, but how a team starts can, at times, give an indication of what might be about to unfold.
Teams that stumble out of the blocks will see confidence ebb away and it can be difficult to drag yourself out of a hole once you have tumbled into it.
Desperate efforts to establish a foothold or claw your way back towards the surface can result in more earth giving way and you suddenly end up even deeper in the mire.
It is therefore a much wiser decision to keep your cool, remain unflustered and dedicate your time and effort to finding a solution.
After all, 10 games is nothing in the grand scheme of things - especially in a division like the Championship where the campaign is stretched out over 46 gruelling fixtures.
Less than a quarter of the way through that schedule is no time to panic, even if you find yourself occupying a standing much lower than anticipated.
Millwall know all too well how it feels to see the optimism and promise which greeted the start of the season begin to fade before the clocks have gone back.
On 1st October, the Lions suffered a 1-0 defeat at home to Burnley that dropped them to 23rd place in the second-tier standings.
That setback was their fourth in five outings and they would go another two games - taking their winless run to 10 matches in total - before they next netted three points.
They were, however, able to stay calm during the troubled times and have subsequently been able to clamber out of the drop zone and edge five points clear of trouble.
A five-match unbeaten run, which included three straight wins, has restored belief to the Lions and they are ready to roar once more.
They did experience a 1-0 defeat to Blackpool in their last outing, but the international break has provided Kenny Jackett with an opportunity to regroup and reorganise a squad that appears to be heading in the right direction.
Determined
Full-back Jack Smith believes Millwall are back on the straight and narrow, with the 28-year-old having returned to the starting XI over recent weeks and played his part in helping them to overcome a tricky start.
"The last couple of weeks have been quite good for me - getting back in the team, or getting in the team to be fair," he told skysports.com's Chris Burton.
"We had three good wins and against Blackpool we didn't play as well as he had done in previous games. We could have got something out of the game, it was a tight game, but one brilliant bit of skill from Kevin Phillips and a great goal settled it. While we were disappointed with how we played, we still think we could have taken something from the game."
When pressed on whether the dip in form had seen heads drop in the camp, Smith added: "We had a run of 10 games, we weren't scoring either, and that starts to play on your mind a bit. People start saying stuff and you start going into games short on confidence. But within the squad we were all determined to turn it around and we were able to do that. It started with Middlesbrough and Brighton and then kicked on from there.
"We got through it on team spirit. We stuck together and we have got plenty of players who have got Championship experience. We knew it was going to turn around, it was a case of when really."
When Millwall did turn things around, they turned them around in style - with much-fancied Leicester thumped 3-0 in their own back yard.
"I think that was a bit of a coupon-buster," said Smith.
"I don't think too many people expected us to get anything out of the game there, let alone win 3-0. But, in this league, anyone on their day can beat anyone and on that day we played well as a team and got the goals at good times. We have kicked on from there."
Those in and the around The New Den are refusing to see the 1-0 reversal against Blackpool as anything other than a minor blip, with Millwall determined to put things right when they return to Championship action against Bristol City on Sunday - in a game that can be seen live on Sky Sports HD1.
Smith said: "That's the good thing about football, you always have a next game to get over it. We would probably have liked it to be sooner because we have got a couple of weeks to dwell on it now in training. The two weeks will drag on a bit but we will be raring to go against Bristol City.
"We were on a bit of a mini-run as well. We had gone five games unbeaten before the Blackpool game, so you just want another game straight away. You want to get another win under your belt and get everyone smiling again."
Tight
Depending on other results, victory over the Robins this weekend could fire Millwall back towards mid-table and closer to a play-off chase that looks set to make for enthralling viewing.
"It is still tight," said Smith.
"We are only about six or seven points off the play-offs. If we can put together another spell where we win three games in a row, we will be right up there. As a club and the players we have and the staff here, we are always looking to get into the play-offs at least. We have still got that chance if we can stay injury-free and suspension-free."
Smith is hoping he will be given a chance to aid the play-off charge, having worked hard to force his way back into Jackett's plans.
He said: "It's difficult sometimes when you find yourself on the bench here and there for a few months, but I have had a few starts now. It's a lot harder to get on the bench now because there are only five choices, so it can be difficult. But I stuck it out in training, worked hard and the gaffer has seen that."
His hard work last season saw him rewarded with a new two-year contract, and the former Watford and Swindon defender admits penning fresh terms was a weight off his mind.
He added: "I had a similar scenario last year, in that I didn't have my first start until New Year's Day. But I played until the end of the season and the new contract was a weight off my mind. I was able to play a few games in a row and the manager handed me a contract for another couple of years. That gives you the security and you can relax a bit and enjoy your football again.
"It's a great club. Signing a new contract means I didn't have to move home as well, which is a massive bonus. All the lads get on well with each other and it's a great working environment to go into every day."
Millwall will need to ensure that their famed team spirit remains as strong as ever over the coming months, with the busy festive period likely to determine the fate of many a Football League team.
By the time we toast the arrival of 2012, the Lions will hope to have forced their way into the promotion picture and ended any lingering fears that they could get sucked into a relegation dogfight.
Smith said: "Over the Christmas period the games come thick and fast. That happens all season to be fair, there always appears to be a Tuesday game. There isn't much time to get your thoughts together. But it's an exciting time and we will want to head into Christmas having picked up enough points that we don't get dragged down."