Rover time
Tranmere skipper John Welsh tells Chris Burton that the club will be alright if they start scoring.
Last Updated: 03/02/12 5:56pm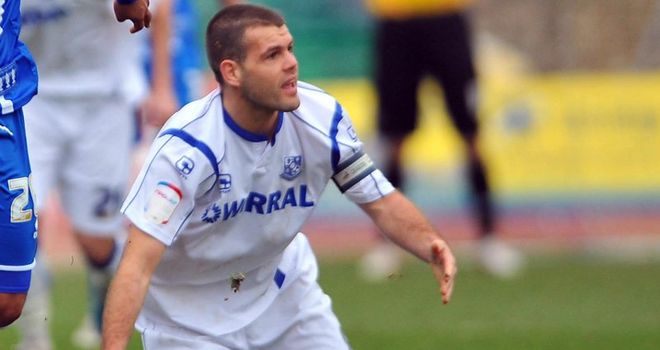 Goals win games, so if you fail to find the target - or fail to find it as often as you would like - you are always going to struggle to make progress.
Tranmere Rovers are finding out the hard way at the moment that a lack of cutting edge can overshadow levels of performance.
The League One outfit are playing well enough to grind out results, they are just finding it increasingly difficult to hold their own in the final third of the field.
A return of 29 goals in 28 fixtures this term tells its own story, with Rovers not giving themselves enough opportunities to pick up victories.
It is fair to say that the lack of goals is frustrating everyone inside the Prenton Park camp, with the club doing everything in their power to bring about a reversal in fortune.
A run of one win in 13 has done little for team morale, but heads have not dropped and those charged with the task of generating results continue to look on the bright side of life.
Club captain John Welsh is among those helping to keep the positivity flowing, with the midfielder telling skysports.com's Chris Burton that - despite what it may look like from the outside - there is not too much wrong with Tranmere at the moment.
He said: "It's not too bad. We have done okay in the last few games. The issue has been scoring goals. We have been playing okay, we just seem to be having trouble scoring goals. We are still positive.
Killer instinct
"We are playing really well and creating a few chances, we just can't seem to score. Everyone knows that. But we are creating chances, that's the main thing. We are playing well, it's just that killer instinct that we seem to lack.
"We are working hard and we got a good result against Huddersfield last week. We just have to be as positive as we can and one result could turn it around for us. We have got the players here to do it and hopefully it will turn round soon."
Rovers boss Les Parry is also working hard to bring in a proven marksman, with it still possible that the club could add to their ranks during the loan window.
Welsh said: "You never know. Football's a funny game. We have got Ryan Brunt in from Stoke, and he's been doing well. You never know who might come in. But we have got good players here and hopefully we can start putting the ball in the back of the net."
A quick glance back to the start of the season only serves to heighten Tranmere's sense of frustration at where they currently stand, with the club having found themselves in and around the top six up until the end of October.
Welsh said: "We started really well. It's just about getting back to doing what we know we can do. We know we can go on a good run of games and we have been playing well, creating chances. We just need to start putting the ball in the back of the net. We are defending okay and our play isn't too bad. It's all about putting the ball in the net because we are performing okay."
Tranmere have struggled to pick up points on the road of late as well, further hindering their cause, but they will get the chance to make amends for those recent failings when they go to rock-bottom Wycombe Wanderers on Saturday.
Welsh said: "We are going to go there and try to build on the game against Huddersfield. That wasn't just a good result but a good performance, so we can go there confident. We know it's going to be a tough game because every game in this league is tough, but we are full of confidence and looking to get three points."
Targets
Victory at the weekend would help to have Tranmere moving in the right direction again, but Welsh admits the club have been forced to rein in their ambitions in the wake of their recent wobble.
He said: "Your targets are always changing. A couple of wins and that would put us in the top ten. But a couple of losses and that would put us back down the bottom. We are just taking it game by game and our main objective has changed since the start of the season. It's just about working hard and trying to pick up as many points as possible.
"The good start was a plus for us and had us looking up, but we are just taking it game by game now. We just want to get as far up the table as we can go."
Welsh says that everyone in the Tranmere squad is doing their utmost to ensure that results improve in the near future, with it not just down to him as skipper to lead by example.
He said: "We have got a great bunch of lads here who all want to turn results around. Hopefully we can do that. We have got a big game tomorrow, so we need to start there and pick up three points.
"We will work hard to try and turn good performances into wins and try to get moving up the table as far as we can."
A top-six finish may be beyond Tranmere this season, with it more important for them to steer clear of trouble, but Welsh, who has been with the club since 2009, is adamant that Rovers are a side destined for a brighter future.
He said: "Definitely. A couple of years ago we ended up only a few points off the play-offs, and then for the last few seasons we have been among the favourites to go down. We are doing okay. We just need to start picking up points and we will start climbing up the table."