'Unfair advantage' angers Hill
Barnsley boss unhappy after defeat; Kean admits to fortune
Last Updated: September 18, 2012 11:57pm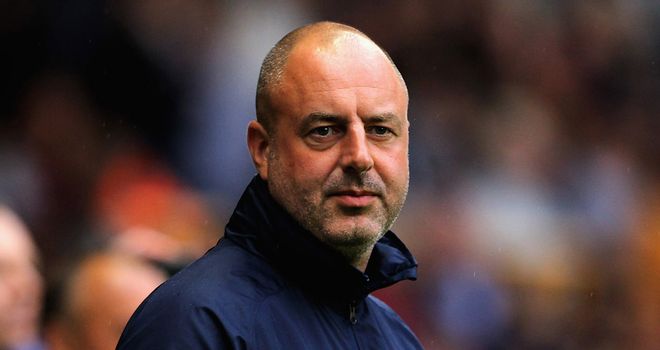 Keith Hill: Will not be changing his philosophy despite frustration at defeat
Football Betting

Football Betting

£10 Free Bet
Barnsley boss bemoaned his budget and the 'tragedy' of his team's 2-1 defeat to top-of-the-league Blackburn at Ewood Park on Tuesday.
Jacob Mellis' near-post effort gave Barnsley a deserved lead before Rovers equalised through Jordan Rhodes' shot on the turn and then substitute Nuno Gomes won it for the home side.
Hill saw his side pass the ball well and dominate the hosts for long periods and felt the result was a miscarriage of justice based on the balance of play.
He said: "It's a modern-day footballing tragedy. We've taken on the Kings of Saville Row if you like and we've taken the game to them, and to a certain degree, we have played the better football.
"But it's not about playing the better football, it's about getting results, and maybe I won't be in the business too long if I can't play football like that. I won't change my philosophy."
Hill was also frustrated by the difference in budgets between the two sides as £8million-man Rhodes was able to turn the game in Rovers' favour.
He added: "The game was won by £8m, which is a lot more than my budget.
"It is an unfair advantage that Blackburn get parachute money, or solidarity money.
"You get rewarded for getting relegated. How can you be rewarded for being relegated? Does it happen to any other country in the world? It absolutely amazes me."
Dreadful
Blackburn boss Steve Kean admitted his side were fortunate to come away with all three points but was delighted with the performance of Rhodes.
Kean said: "I must be very honest. I thought we were dreadful in the first half.
"We were well under the standards we set. We didn't pass the ball well enough in any areas of the pitch.
"But I must say credit to Barnsley. They came with a plan to close us down in the full-back areas and make it difficult for Dickson Etuhu and Danny Murphy to play.
"But I never felt we moved into positions enough or trusted each other with the ball enough to get it out from the back and I thought we were dreadful.
"At times like that you're looking for special players to produce something to get you back in the game and that's what Jordan did because Barnsley were far better than us in the first half.
"I've been impressed with his hold up play and his retention of information.
"In times when we're under the cosh and struggling in the game, if he can get one or two chances, he's going to scare the living daylights out of any defenders because his ratio of chances to goals is going to be so high."