Antonio Cassano's agent has insisted the AC Milan striker will honour his long-term contract.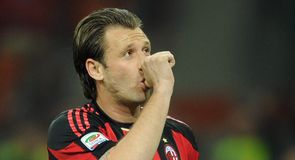 The Italy international has been linked with a move away from the Rossoneri this summer, with Fiorentina among the clubs reportedly keen to acquire the services of the 28-year-old striker.
However, Cassano's agent Guiseppe Bozzo is adamant that his client will remain at the San Siro for at least another three seasons.
Bozzo told Gazzetta dello Sport: "His rapport continues with Milan.
"Cassano will remain at Milan and will respect his contract which ends in 2014."
Cassano joined AC Milan from Sampdoria in January and has scored four goals in 17 league appearances to help them win their first Serie A title since 2004.