Sky Bet
Loading Market ...
Hearts manager Jim Jefferies has revealed that goalkeeper Marian Kello has not been considered for selection of late due to "a private matter".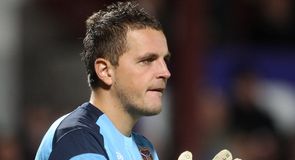 Kello was initially unavailable for selection due to a back problem, although another matter concerned Jefferies and he has since spoken with the Slovakian on a number of occasions since.
Jefferies is unwilling to divulge the exact nature of the issue as he wants to keep the details in-house, but he retains hope that the keeper still has a future at Tynecastle.
Kello will not be taking part against Scottish Cup finalists Motherwell this weekend and Jefferies wants the issue resolved so that he can be in the right frame of mind to play.
Private
"It's a private matter. About a week after he was out after his back spasm there was a report on something which I discussed with Marian and have done two or three times a week (since)," said Jefferies.
"When this was brought to our attention I asked him what he thought. In the circumstances we decided it would be better if we got it cleared up.
"Hopefully that will be soon and when it is he'll be back in the team. If that sort of thing is on his mind he wouldn't be in the right frame of mind.
"I can't discuss an internal matter because there are legal things involved and it's not right to discuss it. It's something private, internal. It doesn't matter what anybody else says."
Asked whether Kello still has a future at Tynecastle, Jefferies added: "I hope he has. He's a terrific boy and he's got my full support."