Nurnberg hold off Gladbach
Last Updated: 15/09/12 6:03pm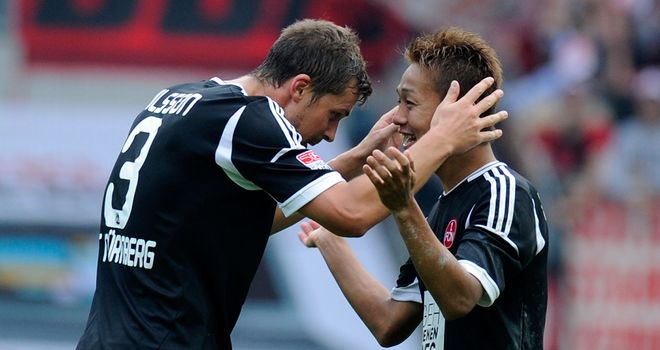 Hiroshi Kiyotake (r): Star of the show for Nurnberg
Hiroshi Kiyotake scored one goal and set up two more as Nurnberg shrugged off a Borussia Monchengladbach fightback.
The Japan international sent in the free-kick from which Timm Klose scored in the 17th minute and then a corner for Timmy Simons to head in after 25 minutes as Nurnberg took a 2-0 lead.
Luuk de Jong halved the deficit in the 45th minute and Granit Xhaka equalised after 53 minutes. But Kiyotake struck the winner in the 55th minute.
Nurnberg's second victory of the season moved them to seven points from three games while Gladbach remain on four points, suffering just their second defeat at home in 22 matches.
The first chance of the game resulted in the opening goal as Kiyotake's free-kick from the left was headed in by Klose inside the far right post from 10 yards.
The visitors doubled their lead when Kiyotake's corner from the right found Simons for a headed goal.
Nurnberg goalkeeper Raphael Schafer made a great save in the 37th minute, deflecting De Jong's shot off the left post and clear of danger.
But Gladbach pulled a goal back just seconds before the half-time break with Xhaka feeding a through-ball to Patrick Herrmann, who crossed to De Jong for a easy tap-in.
The hosts equalised just eight minutes after the break with Herrmann passing to the edge of the box where Xhaka struck home from a central position.
Nurnberg shrugged off the equaliser and Kiyotake scored his first goal for the club, fighting his way past two Gladbach defenders and then striking into the bottom left corner.
Schafer made another fine intervention with six minutes left, racing out from his goal to clear a long ball just in front of De Jong.
De Jong had one more chance but hammered a volley off the left post in the 87th minute.