Swiss and Belarus march on
Unfancied Belarus join Swiss in final four
By Raz Mirza. Last Updated: 18/06/11 10:47pm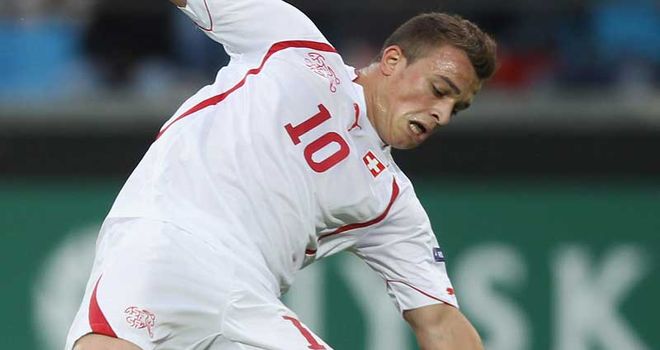 Shaqiri: Influencial throughout victory over Belarus
Belarus joined Switzerland in the semi-finals of the European Under-21 Championship despite a 3-0 defeat in Aarhus on Saturday night.
The Swiss moved onto nine points in Group A and Georgi Kondratiev's side celebrated a spot in the last four courtesy of a better head-to-head record over Iceland as they defeated hosts Denmark 3-1 in the other match of the night.
Both Belarus and Iceland finished on three points each, but the Belarusians' 2-0 victory in the tournament opener meant it was they who progressed.
The impressive Swiss made it three wins out of three thanks to a brace from Admir Mehmedi.
Mehmedi bagged his fourth goal in seven games from the penalty spot early on after Innocent Emeghara was brought crashing down by a clumsy challenge from Oleg Veretilo.
And the FC Zurich striker was on target again two minutes before the interval when a poor pass from Egor Filipenko was punished by Mehmedi, lashing home from just outside the area.
Belarus were reduced to 10-men in the second half when Sergei Matveichik was booked twice for poor tackles on the influential Xherdan Shaqiri.
And the Swiss secured a comfortable victory three minutes into stoppage time when Frank Feltscher drilled the ball past goalkeeper Aleksandr Gutor from an acute angle.
When referee Markus Strombergsson blew the final whistle, Belarus were unsure if they had qualified, but were soon given the thumbs up from the sidelines.
LIVE and exclusive on Sky Sports
Tables
European Under-21 Championship Group A
European Under-21 Championship

| Pos | Team | P | Pts |
| --- | --- | --- | --- |
| 1 | Serbia U21 | 0 | 0 |
| 1 | Denmark U21 | 0 | 0 |
| 1 | Germany U21 | 0 | 0 |
| 1 | Czech Rep U21 | 0 | 0 |
European Under-21 Championship Group B
European Under-21 Championship

| Pos | Team | P | Pts |
| --- | --- | --- | --- |
| 1 | Sweden U21 | 0 | 0 |
| 1 | Italy U21 | 0 | 0 |
| 1 | England U21 | 0 | 0 |
| 1 | Portugal U21 | 0 | 0 |
Related
Related Profiles