Tired and tested
Barry Cowan explains why he thinks Rafael Nadal should - but won't - miss the Australian Open.
By Barry Cowan
Last Updated: 11/01/12 9:09am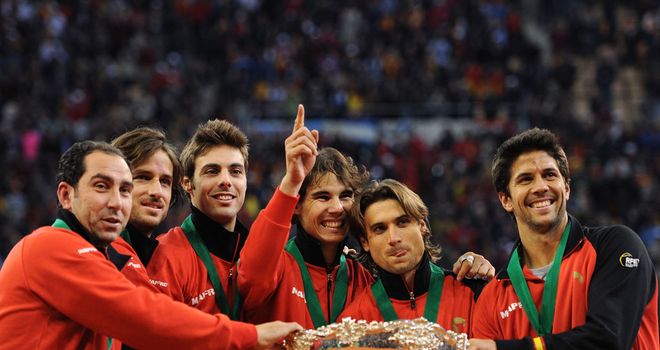 The atmosphere at this year's Davis Cup final matched the quality of the tennis - it was absolutely incredible.
Back in 2004 I watched from afar as Spain overcame the United States in Seville. Seven years on I sampled the atmosphere within the Olympic Stadium for myself and was overwhelmed.
Hosting a tennis event in what amounts to an athletics stadium sounds like a risky business but the Spanish Federation thought outside of the box and came up with a way of accommodating 27,000 passionate fans in an indoor arena.
Inspirational
The seats could have been sold many times over and with good reason because Spain and Argentina put on a show from the start. Juan Martin Del Potro's match against David Ferrer was exceptional and by the time Rafael Nadal had secured victory for the home side, the fans had run the full gamut of emotions.
That goes for the players too, especially Del Potro, who gave absolutely everything for nine sets across the three days but eventually came away with nothing.
His 6-1 4-6 1-6 6-7 defeat to Nadal doesn't tell the story of the match by a long shot. Del Potro won seven games in a row early on and broke to go 1-0 up in the second set but as well as he was playing, Nadal was awful.
However Nadal, as he has done so often, somehow found a way to get back and Del Potro looked down and out when he trailed 2-0 in the fourth.
Then came one of those inspirational moments that only the Davis Cup can inspire.
Around 2,000 Argentineans - a comparatively small pocket of fans in the stadium - started singing and the Spanish joined in for a good two or three minutes.
In many ways it reminded me of 2005 when Liverpool where 3-0 down in the Champions League final in Istanbul but the fans carried on singing at half-time.
That support seemed to galvanise Del Potro; he was transformed into a totally different player and that set - crammed with so much emotion and ups-and-downs on the court - became one of the best of the year.
Refreshing
Nadal has won the Davis Cup three times but this was the first time he secured the winning point and I was so pleased for him because he clearly is jaded - even though he's just had five-and-a-half weeks off!
Seven years of playing at the very highest level has clearly taken its toll. He spoke about that before the draw without any prompting and I feel the best thing he can do now is miss the Australian Open and take a good couple of months off returning, perhaps, for Indian Wells in March.
He won't - he has stated very clearly that his aim in 2012 is to get back to being World No 1 - but I do think he should miss Australia, take some time off and then work on his game. It may seem a drastic step but it may just be the tonic he needs to help him kick on again.
I remember Juan Carlos Ferrero making similar noises in 2004; he went to Australia, reached the semi-finals but then got Chicken Pox and was never the same player again. Obviously he was incredibly unlucky but my point is this: Nadal needs to look at the bigger picture. The last thing I want is to see him really struggling.
Nadal has already said he won't play in next year's Davis Cup which gives us a good indication of where he is at in his career. I find it quite refreshing that he is thinking about his longevity.
There will always be those who say 'it's terrible - he should want to play for his country' - but the bottom line is that he can't do everything and he has rightly prioritised the Olympics.
The Davis Cup may only be a three-day event but it takes a hell out of players - emotionally and physically - yet I still wouldn't like to see the format drastically changed because the competition has such a beneficial impact on Federations around the world.
Some people argue that it should become a two-week event but that's total nonsense.
Picture the scene. A ten-day-long Davis Cup tournament is being staged in America. How many people will turn up to watch Chile play Belgium? I warrant not many!
I'm not saying the competition can't be tweaked but the basic format of teams playing home and away must be retained.
Otherwise tennis risks losing spectacles such as the one I was lucky enough to witness this weekend.