French Open 2013: Nadal and Djokovic on collision course
Barry Cowan says it's a shame Nadal and Djokovic are in the same half of the French Open draw.
Last Updated: 30/05/13 3:41pm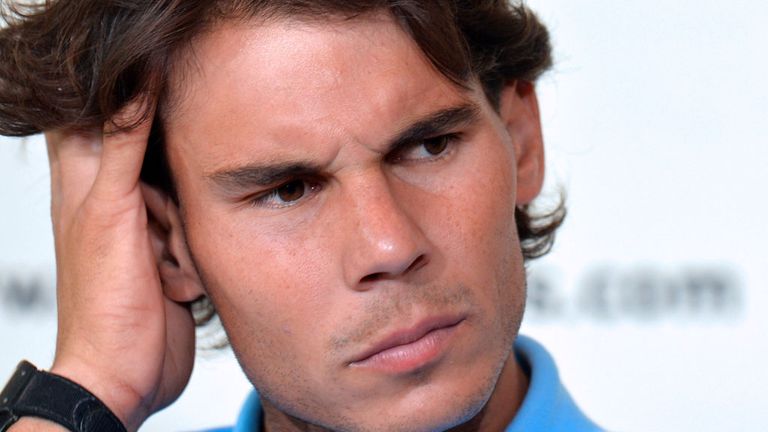 There would have been serious questions raised and issues to resolve if Nadal had gone into the draw as the No 2.
Unless either Djokovic or Nadal loses early in exceptional circumstances - and Djokovic may well have to face his conqueror in Madrid, Grigor Dimitrov, in what would be a spicy encounter - they should meet in the last four denying us the chance to see the best two players competing in the final.
On the flip side, it means there's a great chance for someone to come through in the bottom half and, hand on heart, I'm struggling to say who that player will be.
Fresher
In previous years I would have said without hesitation that Roger Federer is a lock-in to reach the final because I couldn't see him losing to David Ferrer but his form of late means his progress isn't assured.
Ferrer has been unlucky in the last couple of weeks in the sense that he's pushed Nadal only to find the Spaniard at the peak of his powers on clay.
I thought Federer played really well last week but his recent lack of matches left him exposed against one of the best because as well as he played to get to the final, he didn't have the toughest run. The lack of competitive matches he's had since the Australian Open caught up with him.
On a more positive note he did look a lot fresher overall and seemed to be moving better even though his forehand was all at sea in the final.
If Federer was to play Ferrer in the semi-finals then I would take Federer because of their head-to-head record - but I would take Tomas Berdych to beat Federer if they played in the last four, but Berdych has a really difficult draw. He will have to be at his best against a rejuvenated Gael Monfils in the first round and if he gets through that he will then have to play Ernests Gulbis in the second.
Confidence
However, Berdych has been playing really well of late - he performed well in Madrid and beat Djokovic in Rome.
Perhaps more importantly he's caused Federer a lot of problems in their recent meetings, beating him in last year's US Open and again in Dubai.
Nadal will go into the French full of confidence after winning six titles from eight finals since his return and that spells bad news for those in his quarter, Stanislas Wawrinka and Jerzy Janowicz in particular.
For the record, I think Andy Murray has done the right thing by pulling out of this year's French Open.
It looks as though he's taken the decision that he wants to be 100 per cent for Wimbledon, which can only be right, because he has more chance of winning in SW19 rather than Roland Garros.
It would be a disaster if he played the French and aggravated the injury, and therefore could not play Queen's and went into Wimbledon undercooked.
Pressure
In the women's draw for the French Open, I think it is brilliant that Laura Robson will get a crack at Caroline Wozniacki in the first round because we'll learn a lot about where her game is.
She's had a strange year in some respects; she has shown a lot of positives in the last couple of weeks after struggling to maintain the high that she hit in Australia.
I thought she played well against Serena Williams in the second round at the Italian Open. She managed to take four games off the French Open favourite, which was the equal best anyone did against her!
She was a match for Serena from the back of the court but the serve was an issue. When she irons out a few technical issues Laura will become an even better player.
If the weather is good, conditions in Paris should be quicker which will help Laura against someone like Wozniacki. I'd say this is a match that she can definitely win because Wozniacki is in a poor run of form that has seen her lose her last four matches on clay.
It will be interesting to see how Laura copes with the pressure of playing someone who, in terms of her ranking at least, is the tournament favourite but who Laura will feel she should beat.
I'm convinced that it's not long until Laura goes deep into a major again and, who knows, this might just be the time. If she was to win three or four rounds at the French, it would be a huge boost to her confidence ahead of Wimbledon where she could make the semi-finals if everything clicked.
It's great to see Heather Watson in the draw too - it's a very welcome return.
I know from personal experience how draining glandular fever can be and have every sympathy for what she's been through.
She has just got to go out there and enjoy the experience because she shouldn't have any expectations this early in her comeback.
Barry Cowan is raising money for The Motor Neurone Disease Association with his Sky Bet Charity Bets throughout the French Open. Find Barry's top tips here.