Serving up a treat
The quality of Andy Murray's first serve bodes well for his semi-final with Jo-Wilfried Tsonga, says Barry Cowan.
Last Updated: 05/07/12 10:24am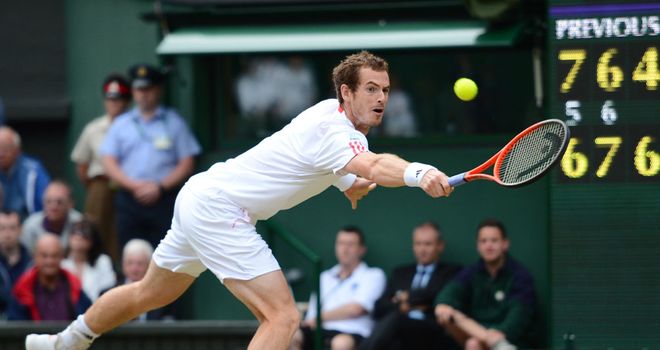 Andy Murray's impetus is building very nicely.
He had to dig deep to beat David Ferrer in the quarters but when he did, the quality and ruthlessness that he'll need if he is to win the title were there.
I've never seen Andy serve as well as he did in the fourth and final set - especially in a match as big as this. He was 90 per cent for first serve points won and wrapped up victory in impressive fashion.
If Andy can start his semi-final against Jo-Wilfried Tsonga in the same rousing way, we could be in for something special.
Rewards
The onus is on Andy to maintain that high level of quality for the rest of the tournament - something he could not achieve at the start of the quarter-final.
As expected, Ferrer came out and didn't hold back; the Spaniard served for the second and deservedly so. Up to that point he was by far the better player and should have won the opening set by a greater distance.
Sadly for him he choked when he had Murray in his sights. The 10th game of the second set was by far his worst of the match and then he squandered a 5-2 lead in the tie-break to allow Murray back in.
From that point Andy's level simply got better and better. For quite a few years now I've been urging him to play with greater aggression and when he did he reaped the rewards.
Threat
Although Andy has a decent record against Tsonga, the Frenchman is a better player than Ferrer; he's stronger and presents more of a threat.
I'm a little worried that Andy has barely served and volleyed during the tournament because it may well be that he needs to revert to that if Plan A comes unstuck. Sometimes you need to revert to other options.
The same is relevant of Federer, who still appears reluctant to serve and volley in some of the bigger matches - his match against Djokovic at the French being one example. It will be interesting to see if that changes in Friday's semi-final match between the two.
When your opponent is playing better than you then you have to come up with something different. Andy did just that against Ferrer; he came forward more and started to hit his forehand much better.
Pressure
Tsonga is a more flamboyant player who is justifying the billing I've been giving him. He served fantastically well at the French, where he had a great run, and he's confident and dangerous.
Yes, there will be huge pressure on Murray on Friday but expectation will also weigh heavily on Tsonga because Wimbledon is his best Slam.
After beating Federer in last year's quarter-finals he didn't quite hold it together when he was in a good position against Djokovic in the last four.
He realises that he has a great chance of making this year's final and I'm sure he'd much rather face Murray in the semi-finals than Djokovic or Federer.
Tsonga will try to rattle Murray with his serve - he hit 17 aces in despatching Phillip Kohlschreiber - and won't walk away from the court wondering what might have been.
It will be interesting to see what sort of tactics Murray adopts on the return of serve. Personally, I'd like to see him be really assertive. Anything else will give Tsonga the chance to get on the front foot and that's when he's at his most dangerous.
Assured
The two other semi-finalists - Federer and Djokovic - wasted little time in booking their place in the last four.
I had no doubt that Djokovic would steam-roller Florian Mayer but on paper Federer's match with Mikhail Youzhny looked less clear-cut given the Swiss' back problems against Xavier Malisse.
I didn't doubt he would win - as you'd expect given Federer had beaten Youzhny 13 times out of 13 - but he needed to put in a performance and he certainly did.
Federer looked really assured in everything he did and now he faces a genuine test of his mettle. If he doesn't beat Djokovic on Friday, then the baton has well and truly passed to the Serb because Djokovic will have beaten Federer in all the big matches on all surfaces.
Although Federer was my tip to win the title at the start of the tournament - and my heart tells me to stick with him because this is his court and he's won a lot of close matches here - it's clear that Djokovic is playing the better tennis. The World No 1 looks so confident and secure in everything he does right now.
This could just be the ultimate challenge for both players.