Taking on the king
Tim Clement provides an in-depth insight into the upcoming French Open and attempts to justify his decision to oppose the King of Clay
By Tim Clement - Twitter: @SkyTimClement. Last Updated: 25/05/13 5:39pm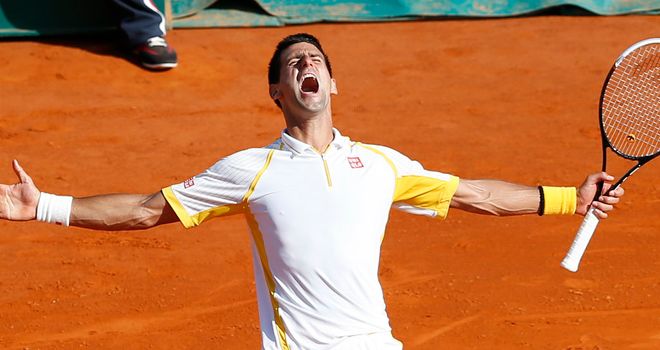 Novak Djokovic: Has beaten Rafael Nadal on clay this year
The draw may have placed Rafael Nadal and Novak Djokovic in the same half, but it remains difficult to look past one of them triumphing at Roland Garros come the final on Sunday June 9.
Seven-time champion Nadal is the odds-on favourite after returning to the top of his game remarkably quickly, claiming six titles following a seven-month lay-off.
The Spaniard has been largely imperious again on the clay with back-to-back titles in Madrid and Rome, but was defeated by Djokovic in Monte Carlo, putting an end to a decade-long unbeaten run in the principality.
Murray backs out
The question now is whether the world number one can further assert himself as the game's leading force by dethroning his great rival in his main stronghold.
Friday's draw also opens up the possibility of one of the tour's lesser names to make the final, with Roger Federer and David Ferrer opposable top seeds in the bottom half.
Sky Bet certainly see it that way, having made second seed Federer 16/1 before the draw, then chopping his price almost in half after he avoided Nadal and Djokovic.
The bookmaker report that around 95 per cent of outright stakes have been on players in the top half, with the 'King of Clay' their biggest loser.
Nadal's price of 8/11 may appear short in comparison to other tennis events, but he has typically been around 4/11 in previous years, indicating that doubts remain as to how well his knees will hold up to the longer format of best-of-five sets.
The court
French Open odds
8/11 Rafael Nadal
9/4 Novak Djokovic
9/1 Roger Federer
14/1 David Ferrer
33/1 Tomas Berdych

Click here to bet
The courts at Roland Garros are traditional clay, although the pace of the typically slow courts can differ depending on the weather. Damp and overcast conditions will slow things down even more, reducing the height of bounces and impact of top-spin, while hot and sunny weather sees the courts harden, resulting in a faster-playing court. The impact was evident in last year's final, with Nadal tearing Djokovic apart with his vicious forehand, before damper conditions reduced the impact of his power and top-spin and allowed the Serb to gain a foothold in the match. The courts eventually dried out on Monday and the 'King of Clay' safely retained his crown.
The weather
Typically, the temperature is around the mid to high teens with rain commonly interrupting play during the fortnight. This year's edition is forecasted to follow that trend. A mild first week is expected to be followed by a warmer second, but spells of rain are expected throughout the tournament.
Last year's final
As aforementioned, Nadal came racing out of the blocks when the final began on Sunday, winning the first two sets in convincing fashion. However, the increasingly damp conditions seemed to take the Spaniard out of his rhythm as the world number one launched a comeback charge, securing the third set and a break in the fourth, reigniting his hopes of becoming the first man since Rod Laver to hold all four majors at once. However, after play was finally suspended for the day, Nadal returned re-energised and refocused on Monday, breaking back instantly and then again at 6-5 to prevail 6-4 6-3 2-6 7-5.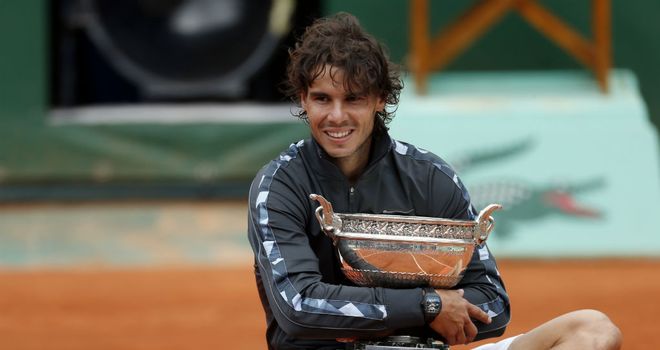 Rafael Nadal: Aiming for eighth title at Roland Garros
Contenders (and Sky Bet odds)
Rafael Nadal (8/11)
The King of Clay's dominance at Roland Garros represents one of sport's greatest reigns. Having landed his seventh title last year, Nadal now sits one clear of former record holder Bjorn Borg, with further triumphs surely destined. His ability to defend his crown looked in doubt just a few months ago amid concerns over how well he could recover from chronic knee problems. However, the 26-year-old has been phenomenal since his seven-month lay-off, reaching the finals of all eight tournaments entered, winning six. Indeed, the Spaniard has actually has collected the most ranking points in 2013 and is already back in the top four, despite missing the last two Grand Slams and suffering a second-round loss at Wimbledon.
Novak Djokovic (9/4)
Henman backs Murray decision
Djokovic will be looking to complete his career Grand Slam by winning the one major title still eluding his grasp. The world number one is considered the only player capable of stopping an in-form Nadal on clay, boasting three wins from their last six meetings on the surface. The Serb won the last meeting in Monte Carlo with relative ease but suffered some uncharacteristic upsets since, losing to Grigor Dimitrov and Tomas Berdych in Madrid and Rome. Failing to avoid Nadal in the draw has seen him drift out from 6/4 but his challenge remains the same - proving he is the best on tour by dethroning the greatest clay-court player of all time.
Roger Federer (9/1)
Federer is considered the main benefactor of the draw having been being placed in the same half as David Ferrer, who he has beaten in all 14 meetings. The 17-time Grand Slam champion's odd on securing his second title at Roland Garros were almost halved after he avoided Nadal and Djokovic, but concerns remain as to whether he is still up to the physical test. The 31-year-old will be fresh thanks to a seven-week break following the Australian Open and will be satisfied with his match time on the surface after reaching the final of the Rome Masters. However, he was well beaten by Nadal in the Italian capital, leaving him trailing his great rival 10-20 in their head-to-head.
David Ferrer (14/1)
The Spaniard may have returned to his more regular spot at fifth in the rankings due to Nadal's resurgence, but enjoys the benefits of being fourth seed due to Murray's absence. Ferrer might greet avoiding the two favourites with less gratitude than most given his wretched record against Federer, but has still seen his odds cut from 20/1. In any other era he would probably already have a title to his name here but, at 31, time appears to be running out even for a man renowned for his physical resilience.
Tomas Berdych (33/1)
The powerful Czech is considered the danger man from outside the top four, with the weapons to trouble the best and solid clay-court form. However, turning his undoubted talent into titles has always been his problem, with no majors to his name and a solitary Masters triumph back in 2005. The French Open is by far Berdych's weakest major, breaching the fourth round just once. Another early exit would not be a huge surprise given his tricky path, with potential second-round opponent Ernests Gulbis considered an 80/1 joint-seventh-favourite despite being unseeded.
Best of the rest
No retirement plans for Federer
The local hopes will lie with Jo Wilfried Tsonga (33/1) and Richard Gasquet (125/1), but their undoubted talents seem to be stifled by the pressure of the home crowd. Tsonga came agonisingly close to ousting Djokovic in his first quarter-final appearance at Roland Garros last year, but wasted four match points. Gasquet is enjoying arguably his most impressive year on tour and is seeded eighth, but is hardly rewarded as Nadal sits in his quarter. Stanislas Wawrinka (80/1), who could face Gasquet is the last 16, can trouble the best on his day but has been halted at the fourth round in the last three years. Emerging talent Grigor Dimitrov (80/1) recorded a break-through win over Djokovic in Madrid but will have to repeat that feat in the best-of-five format if he is to reach to the fourth round of a major for the first time. Nicolas Almagro (100/1) has reached the quarter-finals here on three occasions and has a favourable draw, but suffered early exits in Madrid and Rome as he struggled with a hip problem.

Conclusion
Opposing Nadal at the French Open may sound like betting against night following day to some, but I'm going to do it. Djokovic has proven he is capable of beating the King of Clay on his favoured surface and has drifted out to a backable price, despite his task being made no harder by the draw. The Serb does not do shock defeats at the majors, having made the semis in the last 10, and will be priced up at more like 6/4 for the inevitable semi-final meeting with Nadal. If that battle goes the distance then he has proven to be the toughest on tour, while the reigning champion's fitness has not truly been tested since his long lay-off. On the other side of the draw, each-way bets are the way to go. Federer's backing will certainly increase following the draw but the value has gone, while he has not beaten anyone of note on clay this year. For that reason I'm going for a few lengthy outsiders to upset the apple cart.
Best bets
Novak Djokovic to win the title - 9/4Tomas Berdych each-way - 33/1Nicolas Almagro each-way - 100/1