Murray to stay away?
Tim Clement explains why he expects Andy Murray to sit out the French Open and prioritise his Wimbledon chances
By Tim Clement - Twitter: @SkyTimClement. Last Updated: 20/05/13 8:06pm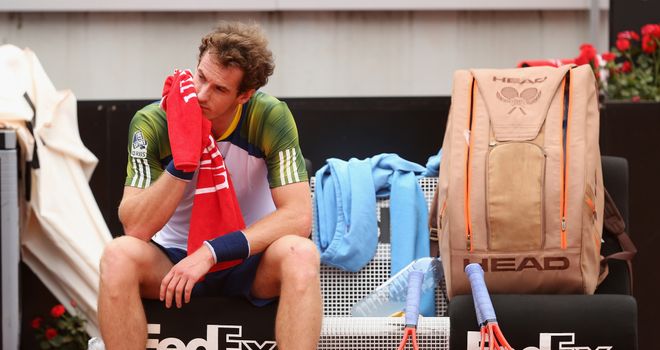 Andy Murray: Expected to miss French Open due to recurring back problem
Andy Murray is facing one of the toughest decisions of his career as he weighs up the pros and cons of skipping the French Open.
The Scot has been hit by a recurrence of a back injury which hampered his efforts at Roland Garros last year, with the agonising pain forcing him to retire in the second round of the Rome Masters.
While problem can probably be managed with the right amount of rest and painkilling injections, the bigger concern must be the future repercussions of battling on.
The ultimate question is how far he can push his body before it starts making such decisions for him.
Rankings
Sky Bet odds
Andy Murray was pushed out from 12/1 to 18/1 to win the French Open following his Rome retirement. Could he possibly win it? Or will Nadal reign again? Bet here.
Having ended his wait for a first Grand Slam title at the US Open last season, Murray has spoken openly of his other main target - becoming world number one.
His below-par results in the three Masters events on clay this year mean missing the French Open will all but end his chances of finishing 2013 at the top of the rankings.
However, even if he was to repeat his best run in Paris by reaching the semi-finals, it would be a very tall order given Novak Djokovic's command of top spot and Rafael Nadal's re-emergence.
Then there's the knock-on effects to Wimbledon, which is just over a month away and presents a far more realistic title opportunity for the 26-year-old.
While missing the season's second Grand Slam will surely benefit Murray's chances of becoming the first British man since Fred Perry to land the SW19 singles title, there are also no guarantees that the problem will be fully fixed before he heads to Queen's for the Aegon Championships, which begins on June 10.
Only Murray and his team know exactly what his MRI scans and medical advice suggest but, with both his chance of winning the French Open and ending the year as number one as number one looking very unlikely, staying away from Paris looks the sensible option.
Fitness
He need not look far to see the benefits of rest and recuperation, with Nadal coming back stronger than ever from his career-threatening knee problem after a seven-month absence from the tour.
Despite missing the Australian Open, the Spaniard has now picked up the most ranking points in 2013, with 5,000 already to his name, having reached the final in all eight tournaments since his return, winning six.
Nadal will head to France as the world number four, which ensures he will meet none of the other 'big four' before the semis.
Djokovic may been on the receiving end of upsets to Grigor Dimitrov and Tomas Berdych during the clay swing, but can take plenty of confidence from winning his last meeting with Nadal on the red dirt, having dethroned him at Monte Carlo, ending an eight-year reign in the process.
Roger Federer fell well short in his Rome final defeat to Nadal but will be satisfied with getting some much-needed playing time under his belt following a seven-week break.
While it looks an incredible ask for the 31-year-old to win for a second time in Paris, he is still the best of the rest in a two-horse race.
For Murray the words 'maybe next year' will be tough to swallow but look to be the painful reality following months of hard work.