Matchplay guide
Rod Harrington has warnings for the big names as he previews every game of the Matchplay first round.
Last Updated: 20/07/13 10:59pm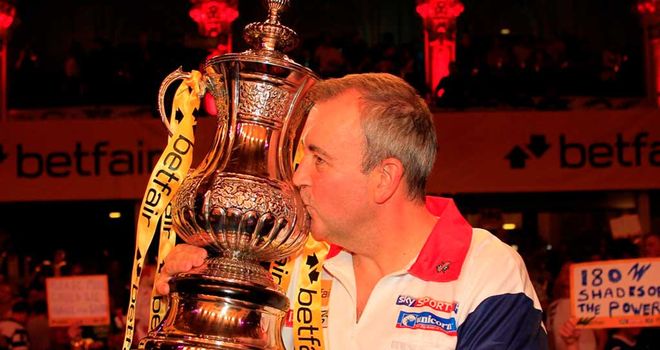 There's no question this will be the most competitive World Matchplay ever.
Tournament on tournament, the standard of our sport has been getting higher. In my day there were probably only four or five players who could win it, but nowadays there's a good dozen. I don't think it's totally wide open, but there are more people capable of winning tournaments than there used to be.
When you see people like Peter Wright and Jamie Caven consistently averaging over 100 then there's no reason why they couldn't go on and win here. I don't think we'll see a shock winner, but it wouldn't surprise me if we did.
I still think Phil Taylor is the man to beat and is 3/1 with some bookies which has got to be worth a punt. It could be his year, but then you look at Michael van Gerwen, Raymond van Barneveld, Gary Anderson and James Wade and they're all in with a shout as well.
And it was very pleasing to see Adrian Lewis win the European Championship. Everybody at the PDC has been waiting for him to get his form back because he's a major asset to the company.
People say I don't like him, but that's a load of rubbish. The kid is great for this game and without people like him, darts doesn't grow as quickly. It was very pleasing to see him win the final against Simon Whitlock in style and I thought it was an exceptional game.
There was speed, high scoring, big shots out... it really doesn't get any better. It's hard to do interviews when you lose a big final, but it was great to see Simon say that he'd given his best but Aidy deserved it and he hoped everybody enjoyed it. I can't imagine anyone didn't!
There's so much drama in our game and when you add in the crowd atmosphere and the Sky Sports production then we can match any other sport.
Here's my guide to round one in Blackpool...
Saturday July 20
7pm, Sky Sports 1 HD
Terry Jenkins (16) v Andy Smith

These two players are travelling partners and best of mates. They have both been on the slide a little bit, but of the two I think Terry Jenkins has still got a little bit more to his game. Her edges it on scoring power and is able to take out crucial shots when he needs to. I'd have to go for The Bull, because he knows you can't take Smith lightly and could be more focused against him than he might against other players.
Raymond van Barneveld (8) v Mensur Suljovic

Barney looked very lethargic in the European Championship. He'd been on holiday and missed a couple of tournaments - and if you do that and then lose then you can't really complain. We know what talent Barney has got, but if Suljovic gets chances then he will take them, as a few top players have found out. He took Wes Newton's scalp in Gibraltar and if he gets in front then you could see Barney's head go down. I'd still go for a Barney win though.
James Wade (4) v John Part

When James Wade is on top of his game he's a match for anyone who has ever played darts. He should have more tournament wins and, for me, only James Wade can beat James Wade. Sometimes he doesn't focus properly or does silly things in the middle of a match, but if you can't get focused the World Matchplay then you can't do it for anything. He has won here before and knows what it's all about and I think the heat on stage this weekend will suit him over Part, who is a big fellow. But remember, Part has been in the game for 25 years and won three World Championships. He's no mug.
Simon Whitlock (5) v Jelle Klaasen

Jelle Klaasen has slowed his throw up and that has made a big difference to his game. He has become a more deliberate player and he doesn't miss as many big numbers as he did in the past, which makes a big difference. Remember, if you miss big numbers early on it could cost you a dart at a double. Klaasen has been more consistent in his performances, but Whitlock is coming here after finishing as runner-up at the European Championship and will be on a high. I've got to go for him to win this. Upsets wouldn't surprise me, but I expect the four favourites to win on the opening night.
Sunday July 21 - Afternoon Session
1pm, Sky Sports 1 HD
Justin Pipe v (9) Mark Webster

I've had some inside information that Mark Webster has hurt his leg. At the time of writing I don't know if it's the leg he leans on or not and I don't know whether he has been able to practise properly or how bad it is, but I do know he has been getting very frustrated with his game lately. Meanwhile, Justin Pipe lost his brother a couple of weeks ago which is obviously very sad for him. It could go either way, but I will go for Pipe although a lot will depend on how the first part of the match goes.
Kevin Painter (12) v Jamie Lewis

Jamie Lewis had a great run in Gibraltar and it has been great to watch him come through the Youth Tour. He's one of the great up-and-coming players and has got a lot of bottle. However, he's up against a seasoned professional in Kevin Painter. Jamie might have won their match when they played each other in Gibraltar, but I think Kev is going to be looking for revenge. He'll take this game very seriously and that could see him edge it.
Kim Huybrechts (15) v Peter Wright

This is one of the matches of the first round. Both players have been throwing averages of more than 100 in nearly every game of late and this really could go either way. Peter Wright has been throwing exceptionally well and we know what Kim Huybrechts is capable of after he reached the quarter-final of the World Championship last year. I've got to sit on the fence with this one.
Brendan Dolan (14) v Steve Beaton

This isn't going to be a quick game, that's for sure! Steve Beaton is pretty speedy, but Brendan Dolan likes to take his time. This is such a hard game to call because Beaton is capable of playing brilliant darts but will often miss doubles and Dolan is very good at taking advantage of mistakes. I think a lot of people underestimate Dolan's scoring because he throws so slowly. It's hard to call but if Beaton makes too many mistakes then he'll be in trouble.
Sunday July 21 - Evening Session
7pm, Sky Sports 1 HD
Mervyn King (13) v Gary Anderson

What a great game this is going to be. There are signs of both these players coming back into form and if they both hit the trebles like they're capable of then we're going to see one of the best games of the tournament. However, you suspect one of them might let us down. There are a lot of variables here; both are great scorers but King checks out slightly better and that could be the telling factor. If Anderson hits his doubles then he will win. As a PDC Director, I'm not allowed to bet on darts but you wouldn't see a penny of my money going down on this anyway
Dave Chisnall (10) v Paul Nicholson

The A-Games of these two players are absolutely exceptional, but neither of them are doing it at the moment; they've been losing silly legs and silly games. Dave Chisnall lost 6-0 to Jamie Caven recently and that shouldn't happen to someone of his quality. Paul Nicholson, especially, has been getting frustrated and I'd like to see him stop getting so aggressive and winding the crowd up on stage. That's not what he's really like and I'd like to see him just go up and throw darts and forget the rest of it. This is a tough game for the first round and it could go either way. Both players have great aspects to their games, but both have elements that can go off the boil at any time. The player that does the simple things in the right way will probably end up winning it.
Phil Taylor (1) v Stuart Kellett

If this had been played over the best of 11 legs then I'd have given Stuart Kellett a chance because he's a great young player who reached the final in Minehead, but Phil Taylor is up for this and I can't see him losing over 19 legs. He didn't play well at the European Championship because he wasn't too well, but he was exceptional in Gibraltar and at the UK Open where he showed the grit and determination of a 21-year-old. He's still the bloke to beat and while there are no easy draws at the Matchplay, this is an easier first-round draw than some. Does Kellett have the experience to beat Phil over this distance in the hot weather? Maybe not.
Michael van Gerwen (2) v Colin Lloyd

Lloydy has been playing quite well lately and had a good run at the European Championship, but Michael van Gerwen has beaten him several times and has been a bit of a bogeyman for him over the last few months. If Colin can get in front of Michael then he can do some damage because he's taking out a lot of check-outs at the moment and that's giving him chances to win games. But Van Gerwen is just enjoying throwing darts at the moment. We saw at the UK Open that he sometimes needs to make things happen, rather than just throwing darts and hoping things will happen. However, on current form you'd have to take Van Gerwen as one of the odds-on favourites to win the tournament.
Monday July 22
7pm, Sky Sports 3 HD
Robert Thornton (11) v Ian White

Robert Thornton has been playing exceptionally well for the last 18 months, whereas Ian White's form has been up and down. I think this will be a very close game because White can get close to anybody if he gets out of the gate quickly and builds some confidence in his scoring and his doubles. However, I suspect Thornton will be just too good for him here.
Wes Newton (7) v Jamie Caven

This is the toughest draw that any of the seeds could have got in the first round because Caven has been playing brilliantly for the last few weeks. Wes has been playing well, but has a shoulder problem that he needs to get sorted out and he would find this tough even if he was at the very top of his game. You could see an upset here, but I wouldn't be putting any money on it, even if I could!
Adrian Lewis (3) v Ronny Huybrechts

After beating Phil Taylor at the European Championship, Ronny Huybrechts will be on a high - but Adrian Lewis won that tournament so he'll be bouncing off the ceiling. It's brilliant to see him playing so well again and I can see him being really up for this event because he'll want to prove that the win in Germany was no fluke. Ronny has got plenty of bottle and took out some great checkouts against Taylor, but Aidy should be too strong on the scoring.
Andy Hamilton (6) v Ronnie Baxter

These are two very solid players and neither of them tend to make very many mistakes. You have to play well to beat these guys and this could be a gruelling match; a real battle. I think that Andy Hamilton may nick it, but you could easily see it going all the way to a tie-break - and remember the rules have changed and we're only going five legs over the match limit before reaching a sudden death leg.