Van's in top gear
Rod Harrington says Michael van Gerwen's passion and desire could take him to the top.
Last Updated: 26/07/12 1:27pm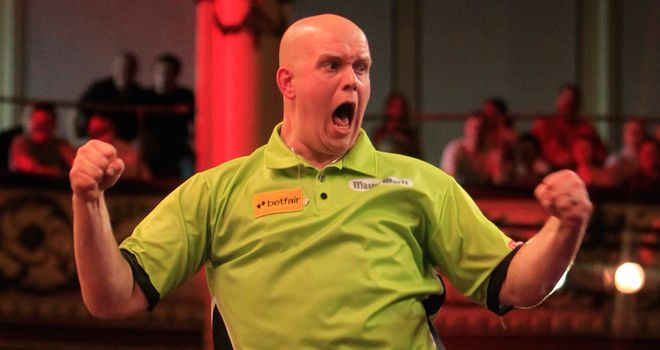 Michael van Gerwen is great for the game of darts.
When this kid gets up on the stage you can see the emotion in his face after every dart that is thrown. It's great to see someone with so much fire in his belly and a desire to both win and entertain the crowd.
In fact Andrew Flintoff, who joined us in the commentary box on Wednesday night, reckons he has more expression in his face then Glenn McGrath used to when he was steaming in to bowl.
I love the fact his emotion is genuine too; he doesn't realise that he is providing such entertainment value because he's so engrossed in his game. It's all natural and you don't find that in many players. That sort of passion entertains the crowd and that's what we're in this game for.
And of course, when he plays as well as he has done in the World Matchplay, then it's even better. In my eyes he's been the star of the tournament so far and the nine-darter he threw on Wednesday night pretty much confirms that.
I'm with the players week in, week out and I know first-hand what's going on in the game. I've been telling people for a long time that this boy has been improving his form each weekend; he's used to the PDC now and he's not missing as many doubles as he used to.
He's now starting to prove it on the big stage and his game against Steve Beaton was up there with the best I've ever commentated on. The speed of both throwers made it exciting and both players averaged over 100, so the standard was very high.
There were sixteen 180's, Van Gerwen threw six 100+ checkouts and of course there was a nine-darter as well. That was extra special because Flintoff was with us in the commentary box and he was over the moon. He was jumping off his stool and high-fiving us (and let me tell you, one of those will nearly break your arm off!)
It was everything that a spectator or pundit could want to see and I felt sorry for Beaton because it was the best he's played on TV for a long time, yet he lost. He still has a bright future and so does his opponent.
Van Gerwen now faces James Wade in the quarter-finals and that will be a much slower game. He must continue to take out those 100+ finishes and if he doesn't then his opponent may nick it.
If Van Gerwen doesn't give chances away then he has a great chance of winning, but Wade is one of the most solid blokes in the game and has been for the last 10 years. He looks very calm and cool at the moment - he did a very professional job on Mark Walsh in round two - and it should be a really close game.
But if the Dutchman carries on like this, and plays well in the World Championship, then his name would be thrown in the mix as a possibility for the Premier League, in my opinion.
Raging Bull
Elsewhere Terry Jenkins has been playing some of the best darts of his life.
He did the right things at the right time to knock out Raymond van Barneveld, who many of us tipped as a potential winner. I had a go at Jenks a few years ago because he wasn't doing things right, but he's certainly doing it now.
He's proved he is a fighter and he never gives up. Unlike some players, he never gives a dart away and he has produced good solid performances at the Matchplay.
He plays Adrian Lewis next, who had a very easy first game against Robert Thornton. He won 10-0 and nobody could have expected that.
But I think he took it too lightly in the second round against Andy Smith. It was another easy game for him, but I wanted to see more focus. If you're not careful you can walk into a brick wall and I'd rather have seen him post a big average and throw a few more big checkouts.
He won the game, but if he plays like that in the next round there's a good chance he'll lose. However, he won the World Championship by sneaking along for a few rounds and then hitting everybody with the big punch in the latter stages, so you can't write him off here.
Coming up
The bets I highlighted in my column earlier this week all came off, including the nine-darter and I really think we'll see another one at some point.
I think we're in for a long night on Thursday. Phil Taylor should be too powerful for Ian White, but the other three games should be very close indeed.
One of those games sees Justin Pipe face Wes Newton and the pair of them have had a bit of a fall-out. They've both told me that they won't be friends when they go up onto that stage.
It's interesting because they're two of the nice guys in the game. I don't know what's happened, but it seems they've had words.
Tune in from 7pm on Sky Sports 1 HD to see what happens there...