Darts of pleasure
Rod Harrington tells you what to keep an eye on as the World Championship first round draws to a close.
Last Updated: 18/12/11 1:44pm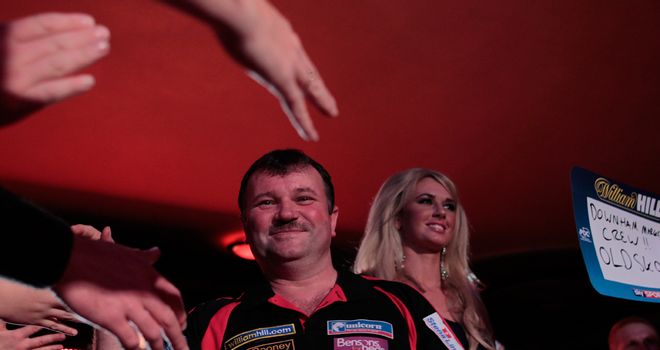 The World Darts Championship is upon us and Sky Sports viewers can expect a feast of sporting drama over the next few weeks.
We will bring you every match as 72 players from across the world fight it out in a bid to claim the biggest prize in darts.
Excitement is guaranteed at every turn, but where will the highlights be found? Where could an upset occur or a classic moment take place?
Let Sky Sports expert Rod Harrington guide you through the next few days of the tournament...
Monday December 19
7pm, Sky Sports HD2
Andy Hamilton v Antonio Alcinas
Per Laursen v Petri Korte (P)
Mervyn King v Geoff Kime
Kevin Painter v Arron Monk
James Wade v Laursen/Korte
ROD SAYS: Kevin Painter v Arron Monk is going to be a cracker because Kevin will be flying after winning the Players Championship last weekend. I don't expect Arron to win, but he is a talented young man. These two players are probably identical when it comes to their frame of mind; they both get upset with their own ability when things don't go right. The opponents don't beat Kevin, he beats himself, but he didn't allow that to happen last week and he came away with a first major. He just needs to let his experience and ability come through, but it should be a real good battle.
Mervyn King beat Phil Taylor last weekend and will be on a high from that, even though he went out of the Players Championship in the very next round. He's very good on the treble 20 and should come through against Geoff Kime. I expect Per Laursen, an experienced player, to come through the preliminary game, but I don't think James Wade will have too much trouble against him. He should step up and win that.
Tuesday December 20
7pm, Sky Sports HD2
Colin Lloyd v Darin Young
Joe Cullen v Oliver Ferenc (P)
Colin Osborne v Michael van Gerwen
Gary Anderson v Jyhan Artut
Terry Jenkins v Cullen/Ferenc
ROD SAYS: The former world number one Colin Lloyd opens up the night and we all know what he can do on a dartboard; unfortunately he hasn't shown that much in the last three or four years. He gets into positions to win, but doesn't see it through. He's up against the big American Darin Young and he can't give him any chances. Colin has to get out of the gate quickly and hold on to the initiative. He's got to get the first set because if he doesn't he may start to panic and that will upset his rhythm. There's a lot of pressure on Colin at this World Championship, but he should come through it.
Michael van Gerwen is playing some great darts at the moment and Colin Osborne won a recent tour event in Germany so that should be a tight game between firepower and experience. Van Gerwen is capable of rolling off three 12-darters in five minutes and winning the set before you realise, so Colin will have to stay focused because there could be an upset here. I could make a great case for both players and I wouldn't like to pick a winner.
Gary Anderson hasn't been playing well lately. He didn't hit a 180 against Kevin Painter last weekend, which was remarkable, and he'll need to be in a better frame of mind for Jyhan Artut. If the right Gary Anderson turns up he should win comfortably because the big stage and big crowd may intimidate his opponent.
I think young Joe Cullen will come through his preliminary match to face Terry Jenkins. The Bull is playing the best darts he's played in four years - and could have beaten Taylor last week - so I expect him to win. But he needs to learn to finish things off like he did four years ago and not doubt himself. He's due a good run and has plenty of experience and firepower.
Wednesday December 21
7pm, Sky Sports HD2
Andy Smith v Scott Rand
Devon Petersen v Jose de Sousa (P)
John Part v John Henderson
Simon Whitlock v Dennis Smith
Steve Brown v Petersen/de Sousa
ROD SAYS: This should be a good night. I fancy Scott Rand to win the first game after his great run at the Players Championship, but sometimes when you come off a great performance it can take a while to come down. Rand will come in full of euphoria and needs to be level-headed. Andy Smith doesn't care who he plays; he's a lovely, gentle giant and will play his own game so I wouldn't be surprised if he wins. I'd just lean towards Smith. Then I'd expect Devon Petersen to win the preliminary match, but Steve Brown has experience on the big stage and should be okay.
We may need to reinforce the stage for John Part's match with big John Henderson! Hendo is a lovely guy and when he starts hitting the treble 20 he's a very good scorer. There were signs of Part coming back to form earlier this season, but he didn't play very well at the Players Championship, so it should be a close game. I'd take Part to win by the odd set in five.
Simon Whitlock has been practising hard and I hear his foot injury has recovered. You would expect him to win this game, but he hasn't played a competitive match for a long time, so you don't know. A football player can play in the reserves and score a dozen goals, but sometimes when you get in the first team you're out of touch - and that could happen here under the pressure of the big lights against an experienced player. He'll be desperate to get over the first hurdle.