Rowan Cheshire timed her tricks to perfection to secure a place on Great Britain's six-strong freestyle skiing team for the Winter Olympics in Sochi.
Despite a series of impressive finishes, Cheshire's squad place still hung in the balance heading into the penultimate ski halfpipe World Cup of the season in Calgary in early January.
And Cheshire responded in a way which is becoming increasingly common when it comes to the nation's burgeoning freestyle programme - by producing a run which not only sealed her place in Sochi, but saw her become the first British female skier to win a World Cup event in 22 years.
Instantly, Cheshire went from an Olympic hopeful to an athlete with as big a medal hope as team-mates such as slopestyle stars James Woods and Katie Summerhayes, who have both claimed consistent podium places over the past two seasons.
Cheshire said: "I went to Calgary with lots of people telling me I had a chance to win it but it still surprised me - I knew my run was good but it just all came good for me on the day.
"It's great to be a part of the freestyle team because we're like one big family, and when we see success like that achieved by James and Katie, it really drives the rest of us on to believe that we can make it right up there too.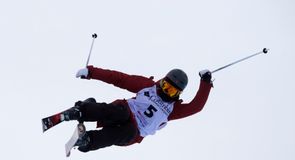 "It's like a dream come true to be going to the Games. Growing up I was always targeting the X Games because my discipline wasn't included in the Olympics. But as soon as it became possible it was something I dreamed of."
Scary
Cheshire is a prime example of why Britain's winter sports authorities increasingly see the freestyle disciplines as a potentially rich seam of future Winter Games medals, as it remains one of the few snow sports that can be adequately catered for in this country.
She started skiing on the dry ski slope in Stoke before moving on to sessions at indoor snow domes, where she first forged a long-term alliance with current British freestyle skiing head coach Pat Sharples and the likes of Sheffield-based pair Woods and Summerhayes.
Cheshire added: "It's no real surprise that freestyle skiing and snowboarding has taken off the way it has in this country.
"It's attractive for a younger generation of kids who want to do something different and it kind of relates to skateboarding. With all the dry slopes and snow domes there are a lot of facilities, and it means people can come and train quite regularly, instead of having to wait for occasional trips abroad.
"I found it quite scary at first, especially when I moved on to the World Cup circuit, and I found it quite a big mental challenge. But I think this season I really pulled things together at the right time and I am feeling very positive going to Sochi."