Tight Lines host Keith Arthur looks ahead to this weekend's Fish 'O' Mania Grand Final...
Fish'O'Mania is the premier match fishing event in the UK. Now in its 21st year, over 6,000 applications are received for the 3,150 tickets, which are allocated in the same way as those for the London Olympics. One angler goes forward to the Grand Final from each qualifier and that's what's on this Saturday. The event is open to all anglers of both genders over the age of 16. 
The Grand Final itself is fished over five hours, like most freshwater angling competitions, with the winner decided by the highest total weight of fish caught in that time. Unlike 'normal' events, to keep viewers and spectators - not to say competitors - up to speed, each angler's catch is weighed every thirty minutes, with the fish retained in a secure net until the final hooter…just in case of a query.
Arena Pool at Cudmore Fisheries is just about the fairest venue possible, being a circular 'doughnut' lake (there's an island in the middle) allowing the fish to spread evenly with no corners or hidey-holes. Everyone has exactly the same area of water to fish but, being wild animals, the quarry will go where they feel most comfortable so there will be more feeding fish in some areas than others.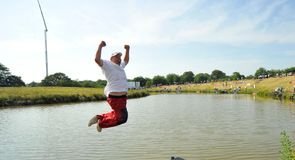 It's a really exciting line-up this year, with several newcomers and a few old hands, none moreso than Steve Cooke, back for his seventh final, hoping to repeat his triumph of 1999 when he took the trophy and accompanying £25,000. Unusually the defending champ, Jamie Hughes is back too, only he pocketed an increased £30k last year and will be determined to be the first angler to retain the title. I certainly wouldn't bet against that…but then again, the title sponsors Betway won't get fat on my gambling habits because there are none, haha. Also new this year, there's a cool five grand for the runner-up and a cash prize and trophy for the biggest fish.
And it's not just the Grand Final on offer this weekend, Fish'O'Mania is a true showcase of match fishing with the top 6 from the Ladies' National Championship fishing for their trophy on Saturday and the top 6 Juniors joining in on Sunday, when we have the Fish'O'Mania International event with teams from England, Scotland, Wales and Ireland joined by French, Dutch, Polish and Hungarian teams, targetting £10,000 for their home association. The big question there is can anyone topple the English on their home soil…remember what people said about Brazil and look what happened there - only this year the Germans are missing.
It really is a great event and with the full Sky Sports' treatment a magnificent piece of television. I only wish I could watch myself. Tight Lines.
Fish 'O' Mania Grand Final: 12pm, Sat, Sky Sports 3