Come down to celebrate the opening of the Soccer AM Stadium as Basingstoke Town FC host Woking FC in their last pre-season friendly on Saturday 2 August at 2pm.
The official launch will be a fun-filled afternoon – just how Max, Helen and the gang would want it – as the newly-named Soccer AM Stadium opens for business.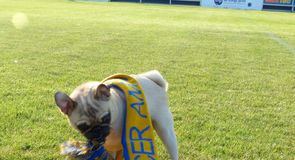 Tickets are freebies so give your support to the first club to be sponsored by Sky Sports' flagship Saturday morning show.
Familiar faces will be present, with Rocket and Franky Fryer having a laugh with fans and enjoying the match. Max Rushden will even be pulling on a Basingstoke shirt and trialling for the club! It's not too late for our Max to finally make it!
Exciting
A special guest will be Doug the Pug, the dog who made his fame and fortune by correctly predicting the Champions League final and repeating the trick throughout the World Cup. Doug will be a regular at the Soccer AM Stadium and you can read his weekly column in match programmes. Let's hope he thinks Basingstoke win next weekend…
There will also be lots of other exciting things going on including a bouncy castle, marching band and cheerleaders to help kick off the celebrations.
Following the game we will be conducting a meet the manager session with Jason Bristow, where fans will be able to quiz him about the upcoming season.
Don't miss it, get youself down to The Soccer AM Stadium on Saturday 2 August to meet the gang and watch Basingstoke take on Woking and don't forget, it's free!