England rugby union ace Christian Wade and table tennis champ Andrew Baggaley will be on this week's Game Changers.
Wasps star Wade is not involved in the current Six Nations due to injury but he'll tell us what he makes about England's performances so far and also reflect on his fantastic 2012/13 season which saw him named Players' Player of the Year and Young Player of the Year.
Fellow guest Baggaley has plenty of awards in his trophy cabinet too. The London 2012 Olympian has won six Commonwealth Games medals during his career - including two golds in Manchester in 2002.
He'll be telling us more about his sport - and showing you some top tips to improve your table tennis skills.
If you've got a question for either of our guests send it in to gamechangers@bskyb.com with 'My Question' in the subject line, along with your first name, age and region you're from. You must have permission from your parent/guardian before you contact the show.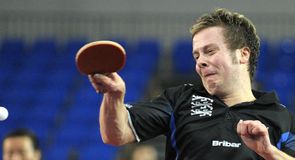 Also on this week's show:
DI V DARREN: It's back! And, with the Winter Olympics going on, this time our two presenters are going head-to-head on the bobsleigh track!
SPORTY SIBLINGS: We meet four brothers who all have their own sporting obsessions - football, golf and boxing!
NETBALL FANS: We join two sisters as they get to meet their Netball heroes, Manchester Thunder, at the start of the season... and will have a surprise waiting for them at half time.
GAME CHANGERS NEWS: We bring you up to speed with the big headlines from the past seven days in sport.
Game Changers: 9am, Sat, Sky Sports 1 HD