Andy Murray will serve up a tennis masterclass on Game Changers this week!
The Wimbledon champion will be sharing some top tips on how to deliver an ace serve and show you some drills you can practice at home to improve your game.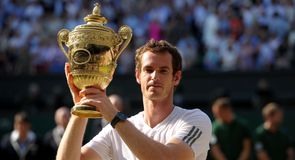 With the US Open starting on Monday now's the perfect time to dig out your racket and head down to your local court!
We'll also have Andy's mum, Judy in the studio.
Judy taught Andy and his brother Jamie how to play tennis when they were young and now works as a full-time coach and Britain's Fed Cup captain.
She'll be telling us about what Andy and Jamie were like as kids - and show you some of the skills they used to practice.
If you've got a question for Judy send it in to gamechangers@bskyb.com with 'My Question' in the subject line, along with your first name, age and region you're from. You must have permission from your parent/guardian before you contact the show.
Also on the show:
Louis learns ballet: Olympic gymnast Louis Smith is going to learn a variety of sports over the next few weeks - and he starts off with ballet. Check out this video for a sneak peak of how he gets on!
Change Your Aim: Darren takes on our basketball challenge Change Your Aim. But will he do better than Di did on last week's show? Tune in to find out - but remember, if you can guess how many points he will get you could win a basketball signed by NBA star Derrick Rose.
Street20: We'll tell you all about Street20, a fun, fast version of cricket you can play with your mates. Plus former England captain Andrew Strauss will be talking to us live from the Oval, where England will be playing Australia in the fifth Ashes Test match.
Game Changers News: Our Game Changers News presenters will be brining you all the big sports stories from the past seven days in their own unique way.
It's going to be a jam-packed show - make sure you don't miss it!
Game Changers: 9am, Sat, Sky Sports 1