The Postage Stamp, Royal Troon; chosen by Paul McGinley and Colin Montgomerie
Last Updated: 10/07/14 1:50pm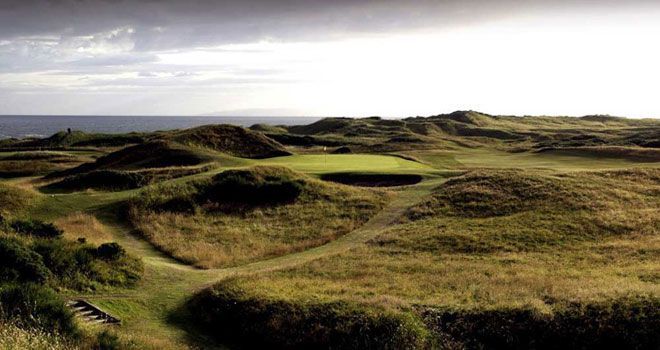 Favourite Hole: The 8th (Postage Stamp), Royal Troon
The course
"This is my 'home course'. At just 123 yards, 'the Postage Stamp' is no pushover. The tiny green is protected by bunkers and the wind that blows off the sea. Playing it is always fantastic."
Colin Montgomerie, former Team Europe Ryder Cup Captain
Royal Troon lies at the southern end of that beautiful stretch of Ayrshire coastline where golf was played long before the Troon Golf Club was founded in 1878. The Club became Royal in its centenary year of 1978 and was the last of the royal clubs to be so honoured. Several famous architects have been associated with the development of the course at it now stands. Willie Fernie, when he was club professional, James Braid and Alistair MacKenzie of Augusta fame among them. This is majestic links land with the back nine holes as demanding as any in championship golf.
The hole
Much has been written about the famous eighth hole at Royal Troon, aptly named the "Postage Stamp". The tee is on high ground and a dropping shot is played over a gully to a long but extremely narrow green set into the side of a large sand hill. Two bunkers protect the left side of the green while a large crater bunker shields the approach. Any mistake on the right will find one of the two deep bunkers with near vertical faces. There is no safe way to play this hole, the ball must find the green with the tee-shot. Many top players have come to grief at this the shortest hole in Open Championship golf. Do you agree with Paul and Monty? Make sure you have your say on Facebook.
Golf in Ayrshire and Arran
Ayrshire is the birthplace of The Open Championship. This famous golfing region is home to over 45 superb links, inland and championship courses including such famous venues as the afore mentioned Royal Troon, Prestwick and Turnberry. Dundonald Links is regarded as one of the finest courses in Scotland, while Western Gailes is a classic links course used for final qualifying when The Open is played at Turnberry or Troon. Ayrshire's latest golfing attraction, hailed as a masterpiece, is the Rowallan Castle course which was created by Colin Montgomerie.
The beautiful Isle of Arran has seven interesting courses to choose from, including the unique 12-hole Shiskine and is ideal for a few rounds of holiday golf. For information on all of Ayrshire & Arran's courses and details of how to get great value for money golf click here.
The 19th hole and beyond
Off the course there is plenty to see and do in the region widely known as 'Burns Country' due to the area's connection with Scotland's National Bard (poet) Robbie Burns. This magnificent part of the world serves as the perfect setting for history and heritage - not to mention a plethora of outdoor pursuits and a range of exciting events and festivals.
Culzean Castle & Country Park is perfect for exploring, and the waterfalls and standing stones on the Isle of Arran are only a 55 minute ferry trip away. Rich in wildlife, look out for porpoises, golden eagles, red squirrels and deer. Renowned for its local produce, not to mention its award winning whisky, your taste buds will be tempted to try all the local specialities.
For more information on all that Ayrshire & Arran has to offer click here.